KNOW INDIA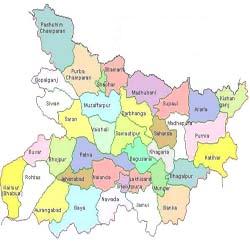 click on image for zoom
INDIAN STATE : BIHAR
General Information
Bihar is located in the eastern part of the country (between 83°-30' to 88°-00' longitude). It is an entirely land-locked state, although the outlet to the sea through the port of Kolkata is not far away. Bihar lies mid-way between the humid West Bengal in the east and the sub humid Uttar Pradesh in the west which provides it with a transitional position in respect of climate, economy and culture. It is bounded by Nepal in the north and by Jharkhand in the south. The Bihar plain is divided into two unequal halves by the river Ganga that flows through the middle from west to east.
Fact File
Geographical Area
0.94 (lakh sq. km)
Capital
Patna
Population (2001 Census) In lakhs
829.99
Gross state Domestic product (GSDP) at current prices in 2004-2005 (as of Feb 2006)
62792 (Rs. Crore)
Gross state Domestic product (GSDP) at constant price (1993-94) in 2004-2005 (as of Feb 2006)
39332 (Rs. Crore)
Net State Domestic Product at Current Prices (2004-05)
56110 (Rs. Crore)
Net State Domestic Product at Constant Prices (1993-1994) for (2004-05)
35773 (Rs. Crore)
Per Capita Income at current prices (2004-2005)
Rs.5772
Percentage of State Population to All India Population
8.07
Literacy Rate (2001 Census)
Male
Female
47.53%
60.32%
33.57%
Principal languages
Hindi, English
*Source: CSO Estimates / Official Website of Government of Bihar / Economic Survey of Maharashtra, 2005-2006
Climate
The climate of Bihar is a part of the climatic pattern of the Indian subcontinent. It enjoys a continental monsoon type of climate owing to its great distance from the sea.
Seasons and their duration:
Cold weather season - December to February.

Hot weather season - March to May.

Southwest monsoon - June to September.

Retreating southwest monsoon - October to November
Advantage Bihar
The Gangetic plain of Bihar, the biodiversity of Bihar, backed by good climate & fertile soil.

Direct access of 46% of country's population having common boundaries with UP, Orissa, Jharkhand and West Bengal and international border with Nepal & NE states with chicken neck.

The state has a strong agricultural base for setting up agro-based industries like agri & food processing units for sugar, jute, tea, etc.

The state has virtual monopoly in production of Litchi, Makhana and Honey.

Fairly motivated and hard working manpower.

The state is capable of producing mushrooms of best quality and in abundant quantity.

Traditional knowledge weavers are available in plenty.

Very close to international silk route.

Producer of tasar, eri and mulberry silk of good quality.

Water resource is available in abundance
India Resource Center
India Yellow Pages
Yellow Pages for Mumbai, Delhi, Bangalore, Chennai, Kolkota, Hyderabad, Pune and more Indian cites.
Logistics Directory
Find supply chain management consultants, freight forwarders, trucking companies in India.
Agriculture Directory
Find Fresh Vegitables, Fruits, Basmati Rice, Meat, Poultry and Seafood producers in India.
Real Estate in India
Real Estate directory of India. Find agents, builders and suppliers.
Gems & Jewellery
Find jewellery, gems and diamond merchants in India.