Infosys teams up with Nvidia to build GenAI, to train 50,000 employees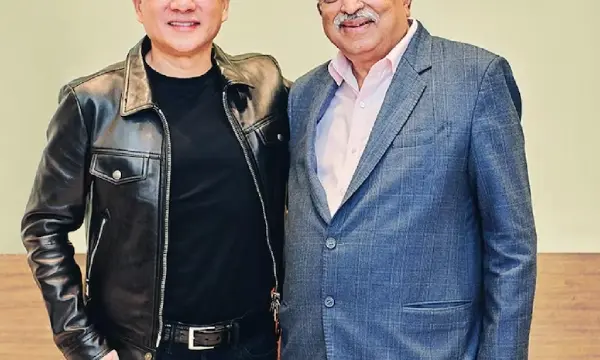 Earlier this month, Reliance Jio Infocomm and chip manufacturer Nvidia revealed their plan to create a large language model specifically designed for India, focusing on its diverse languages and optimised for generative artificial intelligence (GenAI) applications (apps) within the country. Their objective is to collaborate in constructing AI infrastructure that exceeds the computing capabilities of India's current fastest supercomputer by more than tenfold.

In a similar vein, information technology (IT) giant Infosys and Nvidia have furthered their strategic partnership, aiming to empower businesses to enhance productivity through the utilisation of GenAI apps and solutions.

This partnership will incorporate the Nvidia AI Enterprise ecosystem into Infosys Topaz, including models, tools, runtimes, and GPU systems.

Infosys Topaz is an AI-centric suite of services, solutions, and platforms designed to accelerate business value using GenAI technologies. Through this integration, Infosys will create offerings that customers can quickly adopt to integrate GenAI into their businesses, the companies said in a joint statement. Additionally, Infosys has plans to establish an Nvidia Center of Excellence.

This hub will be dedicated to training and certifying 50,000 of its employees in Nvidia AI technology, thus providing GenAI expertise to its extensive network of customers across various industries.

In a separate initiative earlier this month, Nvidia announced its intention to upskill over 600,000 employees of Tata Consultancy Services, India's largest IT services firm, in AI skills.

The partnership with Infosys is part of Nvidia's broader plan to collaborate with other IT services companies and Indian universities to train employees and students in AI.

Nandan Nilekani, co-founder and chairman of Infosys, said, "Our clients are also looking at complex AI use cases that can drive significant business value across their entire value chain. Infosys Topaz offerings and solutions are complementary to Nvidia's core stack."

Jensen Huang, founder and chief executive officer of Nvidia, emphasised, "The Nvidia AI Enterprise ecosystem is ramping up quickly to provide the platform for GenAI. Together, Nvidia and Infosys will create an expert workforce to help businesses use this platform to build custom applications and solutions."

Infosys is utilising the full-stack Nvidia GenAI platform, including both hardware and enterprise-grade software, to innovate across its business operations. This includes assisting customers in creating GenAI applications for various aspects of business operations, such as sales and marketing.

Additionally, this collaboration extends to digitalisation apps, with a particular focus on developing solutions for enterprise use cases in fields like 3D workflows, design collaboration, digital twin technology, world simulation, and others.

Infosys and Nvidia are also jointly working on AI-powered solutions in areas such as 5G, cybersecurity, and energy transition.