Bajaj Auto Limited Related news
&nbsp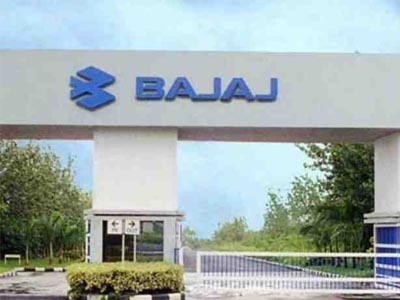 MUMBAI: Bajaj Auto today reported a marginal decline in consolidated net profit at Rs 1,193.58 crore for the September quarter, 2017-18.
The Pune-based company had reported a consolidated net profit of Rs 1,200.72 crore for the July-September period of last fiscal.
---
&nbsp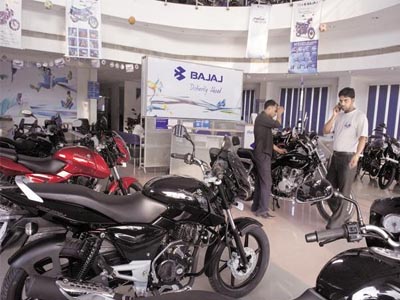 Bajaj Auto Ltd has shifted into the fast lane in September, ending a long ride in the slow lane. Motorcycle sales bounced back while its commercial vehicle (three-wheeler) segment revved up growth. This does signal an improvement in prospects, assuming sales growth sustains, but what is equally important is whether this can translate into higher profit margins.
Domestic motorcycle sales in September comprised 58% of total sales during the month, and rose by 7.3% over a year ago. This has come after 10 successive months of declining sales growth. Better still, Bajaj Auto has regained some lost share—rising from 18% a year ago to 20%—and the management is confident that it can increase further to 25% by end-fiscal year 2018 (FY18).
---
&nbsp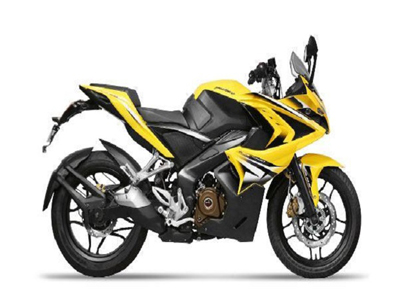 Bajaj Auto hits a new high of Rs 3,208, up 3% on BSE after the company reported a highest ever total sales of 428,752 units in September against 376,765 units sold in the same month last year. The company recorded sales growth of 14% in September, its highest monthly sales growth rate since March 2016.
Bajaj Auto's commercial vehicles sales were up 32% at 59,074 units as against 44,789 in the corresponding month last year. Motorcycle sales were at 369,678 units as against 331,976 in the year-ago month, up 11%, the company said in a statement.
---
&nbsp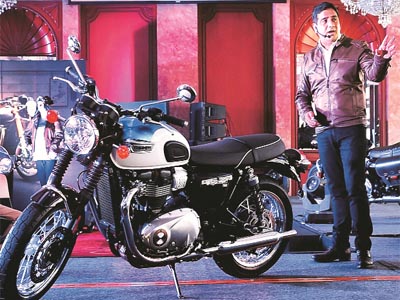 Bajaj Auto hit a record high of Rs 3,129, up 3.5% on BSE in intra-day trade to regain its status as the country's most valued two-wheeler company in terms of market capitalisation (market-cap).
The stock surpassed its previous high of Rs 3,122 touched on September 9, 2016 in intra-day trade.
---
&nbsp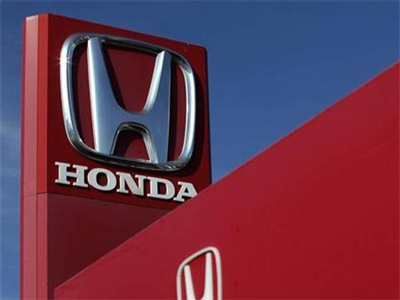 Honda Motorcycles and Scooters India (HMSI), the country's largest scooter manufacturer, has managed to increase its market share in the motorcycle segment to 17% in the April-August period of the current fiscal, compared with 13% in the corresponding period last year.
As a result the Japanese two-wheeler manufacturer has overtaken Bajaj Auto and TVS Motors in motorcycle sales to grab the second spot in terms of unit sales in states like Bihar, Jharkhand, Uttar Pradesh and Odisha.
---
&nbsp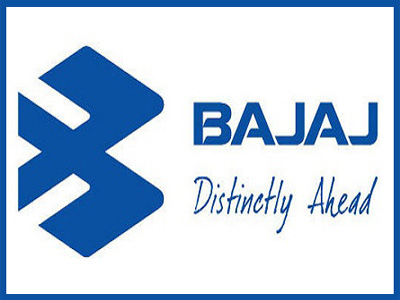 Shares of the two-wheeler maker Bajaj Auto gained over 3% on Friday after the company reported a 3% rise in the sales for the month of August. The automaker posted an increase of 2.98% in the total sales to 3,35,031 units for the month of August 2017 versus 3,25,347 units in the August 2016. The stock of Bajaj Auto rose as much as 3.9% to the day's high of Rs 2,918.1 on BSE today. Meanwhile, the benchmark Sensex was trading 141 points or 0.45% higher at 31,871.83 points.
---
&nbsp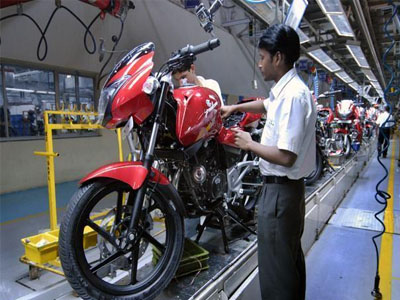 Mumbai: Bajaj Auto Ltd and Triumph Motorcycle UK have got into a global partnership, the companies said in a joint statement on Tuesday.
The objective of this "non-equity partnership is to deliver a range of outstanding mid-capacity motorcycles benefiting from the collective strengths of both companies," it said. With the partnership, the companies hope to draw from the individual strengths, including brand position, perception, design, development technology, quality, cost competitiveness and worldwide distribution, it added.
---
&nbsp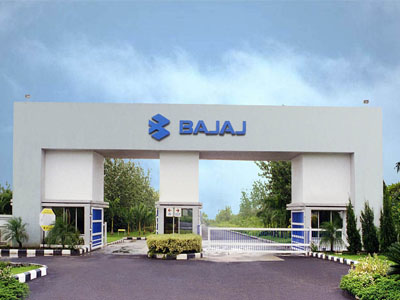 MUMBAI: Bajaj Auto will revamp its seven-model portfolio over the next half year, as managing director Rajiv Bajaj charts an aggressive plan to bump up the company's share in the local motorcycle market beyond the quarter mark.
The company will gun for a 26% share in the fiscal year starting April 2018, Bajaj said at its annual general meeting, where shareholders raised questions about the India market position that fell to 15% based on dispatches from factories in the April-June quarter.
---
&nbsp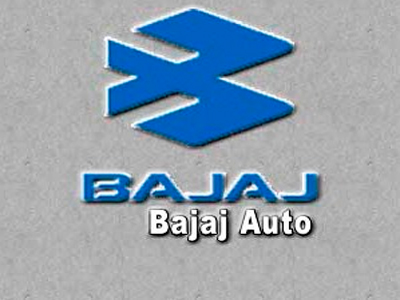 Bajaj Auto reported 19.51 percent decline in consolidated net profit to Rs 836.79 crore for the June quarter of current fiscal, on account of lower sales on Thursday.
It had posted net profit of Rs 1,039.70 crore in the April-June quarter of last fiscal. Bajaj Auto said in a BSE filing that its total income from operations during the quarter under review stood at Rs 6,177.66 crore as against Rs 6,355.84 crore in the April-June quarter of 2016-17.
---
&nbsp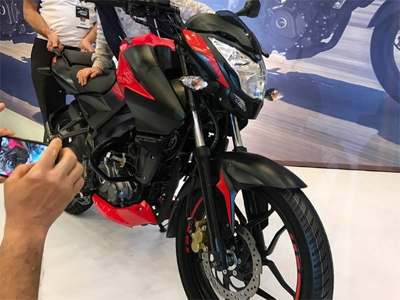 Bajaj Auto on Friday announced the launch of 160cc Pulsar NS160 in the country, priced at Rs 80,648 (ex-showroom, Mumbai).
The new generation Pulsar NS 160 caters to the fast- growing segment of customers who seek premium quality, international style and performance, Bajaj Auto said in a statement.
---