DLF's new business model may cheer home buyers but at premium pricing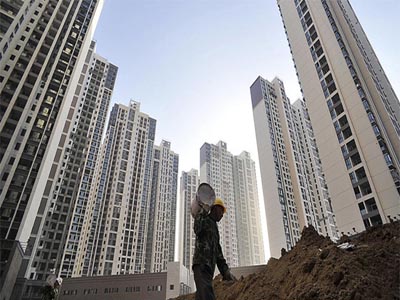 DLF Ltd, India's largest real estate developer, may bring cheer on home buyers' faces with a new business model, which is to move from launch-driven company to selling down old inventory, even as it will Rs 11,000 crore from promoters to repay debt. "Our business model is changing with this capital infusion. We are not going to be a launch-driven company. We have on our books almost Rs 15,000 crore plus of completed inventory. The next few years our intention is to actually sell down that inventory," Saurabh Chawla, Senior ED Finance, DLF told ET Now.
A board meeting has been called on December 1 to approve the proposals to issue shares through qualified institutional placement (QIP) and warrants or debentures to promoters. DLF is required to launch QIP and also issue of warrants or debentures because of proposed infusion of about Rs 11,000 crore by promoters into the company.
Infusion of capital by promoters will lead to increase in promoters' stake in DLF to more than 75%. So, the company plans to launch a QIP to maintain the minimum public shareholding limit of 25%. "We are a large company with very large land holdings across the country. Land diligence is a critical part of the diligence process so it takes time to prepare but we are fully committed doing it as early as possible," Saurabh Chawla said. "The fourth quarter should start reflecting a new DLF."
Qualified Institutional Placement (QIP) designation of a securities issue given by the Securities and Exchange Board of India (SEBI) that allows an Indian-listed company to raise capital from its domestic markets without the need to submit any pre-issue filings to market regulators. "…once the project is completed and the community starts to settle in, there is almost a 40-50% pop in the value of that completed product. We should be able to participate in that pop," Saurabh Chawla said.
"We will get into a cycle of a three to four years where we sell down the old inventory and build out the new inventory," he said, adding that this is how home deals are made in advanced countries.
"We will be probably the first ones to do it here I am not sure about what others really follow but if you go to places like Singapore, Hong Kong this is a pretty much a norm. You do have some pre-bookings over there but their business model is not predicated on money being paid by customers and you are constructing based on that money flow. People construct and at a very advanced stage, they start selling. So we are getting into that paradigm of selling, completed inventory," Saurabh Chawla explained.
In late August, DLF promoters sold the entire 40% stake in its rental arm DLF Cyber City Developers Ltd (DCCDL) for Rs 11,900 crore.