United Airlines sending layoff notices to nearly half of its US employees
Posted on 9th July 2020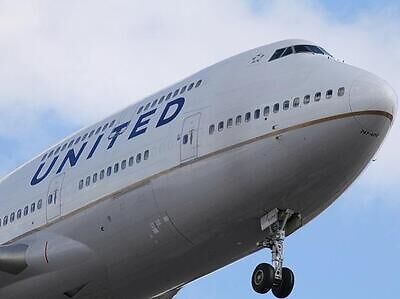 United Airlines will send layoff warnings to 36,000 employees - nearly half its US staff - in the clearest signal yet of how deeply the virus outbreak is hurting the airline industry.

The outlook for a recovery in air travel has dimmed in just the past two weeks, as infection rates rise in much of the US and some states imposed new quarantine requirements.

United officials said Wednesday that they still hope to limit the number of October layoffs by offering early retirement, and that the 36,000 number is a worst case scenario. The notices being sent to employees this month are meant to comply with 60-day warning ahead of mass job cuts.

The furloughs would include 15,000 flight attendants, 11,000 customer service and gate agents, 5,500 maintenance workers and 2,250 pilots.

The United Airlines projected furlough numbers are a gut punch, but they are also the most honest assessment we've seen on the state of the industry," said Sara Nelson, president of the Association of Flight Attendants. This crisis dwarfs all others in aviation history, and there's no end in sight. If United carries through on the notices, furloughs would take effect on or shortly after Oct. 1. United can't lay off workers before then as a condition of the $5 billion in federal payroll aid it began receiving this spring.

The flight attendants' union and other airline labor groups are lobbying Congress to approve another $25 billion in payroll aid to protect jobs through next March. But a senior United executive expressed doubt that Congress would approve the spending in an election year.

We do not feel like we can count on additional government support to survive, said the official, who spoke to reporters on condition of anonymity.

United executives said the notices covered 45% of the airline's U.S. staff. Another 1,300 management and support staff will be laid off Oct. 1, the company said. Including international employees, United has a work force of about 95,000.

Air travel plunged about 95% from March 1 until mid-April, then began a slow recovery. The number of U.S. air travelers around the July 4 weekend was the highest since mid-March, but was still down about 70% from a year ago.

In recent weeks, the number of new reported cases of COVID-19 has roughly doubled to about 50,000 a day. New York, New Jersey, Connecticut and Chicago have announced that people arriving from states with high infection rates will have to quarantine, throwing up a new roadblock to travel.

United's traffic at its hub in Newark, New Jersey, has slumped more deeply than the rest of its network since those quarantine rules were announced.

Executives of other airlines have predicted their companies will be much smaller, with fewer employees, in October. Delta Air Lines recently told employees that it will send layoff notices to more than 2,500 of its 14,000 pilots.
Noida gets 400-bed Covid-19 hospital, CM Yogi Adityanath reviews facilities
Posted on 8th August 2020
Uttar Pradesh Chief Minister Yogi Adityanath on Saturday inaugurated a dedicated 400-bed government hospital for COVID-19 patients in Noida.

The facility is located in Sector 39 of the city and has come up in association with the Tata Trusts and the Bill and Melinda Gates Foundation, according to officials.
---
Gold price today at Rs 56,050 per 10 g; silver at record Rs 76,510 a kg
Posted on 8th August 2020
Gold prices today jumped to Rs 56,050 from Rs 55,350 per 10 gram, while silver climbed to Rs 76,510 from Rs 73,500 per kg, according to Good Returns website.

Gold jewellery prices vary across India, the second-largest consumer of the metal, due to excise duty, state taxes, and making charges.
---
US election: China would love to have me lose to 'sleepy' Biden, says Trump
Posted on 8th August 2020
US President Donald Trump on Friday (local time) said that China would love to have an election if he lost to his sleepy Democrat presidential candidate Joe Biden.

China would love for us to have an election where Donald Trump lost to sleepy Joe Biden. They would dream (that) they would own our country. If Joe Biden was president, China would rule our country, he told reporters here.
---
Facebook builds 600 affordable homes to address housing crisis in US
Posted on 8th August 2020
Facebook has produced and preserved approximately 600 affordable homes near its headquarters in Menlo Park, California, of which roughly 70 per cent are reserved for extremely low and very low-income residents.

The company said it is on track to creating approximately 750 affordable homes by 2022.
---
Amazon, Flipkart set to witness business worth $600 mn during sale events
Posted on 8th August 2020
E-commerce companies Amazon and Flipkart are expecting to witness a total business of about $600 million during their ongoing sale events. This is at least 25 per cent higher in terms of sales compared to the business these firms would have generated for such small scale events during pre-Covid times, according to the industry insiders and analysts. They are also witnessing an increase in volumes (number of orders) which is 40 per cent higher than the normal times. Walmart-owned Flipkart is running the 5-day 'Big Saving Days' sale till Monday, coinciding with Amazon's 48-hour Prime Day sale which ended on Friday night.
---
Be the first person to write a business review for United Airlines sending layoff notices to nearly half of its US employees