India smartphone shipments rise 9.3% in Q3; Xiaomi leads the list
Posted on 11th November 2019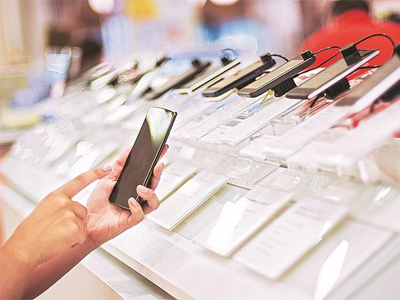 Multiple online sales festivals, new launches and price corrections on a few key models by brands helped smartphone shipments in India grow 9.3 per cent in the July-September quarter to touch record 46.6 million units, research firm IDC said on Monday.

Sequentially, Smartphone shipments were higher by 26.5 per cent in the third quarter ended September 2019 compared to the previous quarter. IDC expects the smartphone market to see only mid-to-high single-digit year-on-year growth in 2019.

"This can be attributed to a strong undercurrent of passive consumer sentiment and muted shipments in the last quarter of the year due to a record Q3 2019 when channel stock levels went up," IDC India Research Director (Client Devices and IPDS) Navkendar Singh said.

Additionally, the unabated aggression of the online players will continue to be a challenge for the offline channel, which remains the largest channel for smartphones in India, he added.

"All these give us an indication of sluggish growth next quarter," Singh said.

The feature phone market, which accounted for 43.3 per cent of the total mobile phone shipments, registered a 17.5 per cent year-on-year (y-o-y) decline in the September 2019 quarter to 35.6 million units.

Shipments of 4G-enabled feature phones declined 20.3 per cent y-o-y due to heavy inventory in the channel, while that of the 2G and 2.5G market fell 16.2 per cent in the said quarter, IDC said.

"The continued aggression by the online platforms with attractive cashback and buyback offers as well as affordability schemes like no-cost EMIs (equated-monthly instalments) and financing options were key in taking the share of the online channel to a record high of 45.4 per cent with y-o-y growth of 28.3 per cent," IDC India Associate Research Manager (Client Devices) Upasana Joshi said.

According to IDC, the offline channel "continued to face challenges", leading to a 2.6 per cent y-o-y decline in the third quarter.

Even as the offline channel players tried to match their offers in line with the online players, they fell short of the attractive deals that a consumer could grab in the online space and were still dealing with leftover inventory from previous quarters, the report said.

Consumer enquiries and footfall were relatively slow at the retail counters through September, compared to the previous years, it added.

Xiaomi continued to lead the tally with 27.1 per cent share, followed by Samsung (18.9 per cent), Vivo (15.2 per cent), Realme (14.3 per cent) and Oppo (11.8 per cent).

The average selling price for the overall smartphone market was $ 159, up 2.7 per cent y-o-y.

The low-end price segment of $ 200 accounted for 80 per cent of the smartphone market in the September quarter, while the mid-range segment ($ 200-500) contributed 18.9 per cent of the shipments.

The fastest-growing segment was the $ 300-500 with double the shipments y-o-y as models like the OnePlus 7, Xiaomi Redmi K20 Pro and Vivo V15 Pro saw good traction, IDC said.

The premium (over $ 500) segment saw Apple continuing to dominate the market with a share of 51.3 per cent on the back of "affordability offers and price drops on previous generation models".
Gold price at Rs 49,100 per 10 gm, silver continues rally at Rs 51,900 a kg
Posted on 10th July 2020
Gold prices jumped to Rs 49,100 from Rs 48,7000 per 10 gram, while silver climbed to Rs 51,900 from Rs 50,020 per kilogram, according to Good Returns website.

Gold jewellery prices vary across India, the second-largest consumer of the metal, due to excise duty, state taxes, and making charges.
---
US Supreme Court allows prosecutor to obtain Trump's financial records
Posted on 10th July 2020
The U.S. Supreme Court on Thursday firmly rejected President Donald Trump's arguments for sweeping presidential immunity and ruled that a New York prosecutor can obtain his financial records but prevented - at least for now - Democratic-led House of Representatives committees from getting similar documents.

The twin 7-2 rulings authored by conservative Chief Justice John Roberts mark another milestone in Trump's tumultuous presidency and in the short term prevent details of his finances from becoming public because lower courts must resolve lingering issues.
---
Reliance to load Venezuelan oil cargo under fuel swap deal: Report
Posted on 10th July 2020
India's Reliance will load its first cargo of Venezuelan crude in three months this week in exchange for diesel under a swap deal the parties say is permitted under the U.S. sanctions regime on the Latin American country, according to a Reliance source and a shipping document from state oil firm PDVSA.

Washington has exempted some Venezuelan oil trade from sanctions, when transactions are in exchange for fuel and food or to repay debts rather than for cash.
---
---
PM Modi to dedicate to nation 750 MW Rewa Solar Project today
Posted on 10th July 2020
Prime Minister Narendra Modi will dedicate to the nation the 750 MW Solar Project set up at Rewa, Madhya Pradesh on Friday.The project exemplifies India`s commitment to attain the target of 175 GW of installed renewable energy capacity by 2022.

The Project comprises of three solar generating units of 250 MW each located on a 500-hectare plot of land situated inside a solar park (total area 1500 hectare).
---
Be the first person to write a business review for India smartphone shipments rise 9.3% in Q3; Xiaomi leads the list