PMC Bank Crisis: Gurdwaras face severe fund crunch before Gurpurab, over Rs 1000 crore deposit locked in accounts
Posted on 7th October 2019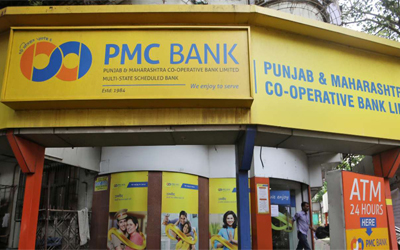 Several Gurdwaras are on the brink of trouble as they face a severe fund crunch before Gupurab on November 12, on account of not being able to withdraw deposits in the fraud-hit Punjab and Maharashtra Cooperative (PMC) Bank worth over Rs 1,000 crore in aggregate due to withdrawal restrictions imposed by the Reserve Bank of India (RBI). Several of the Gurdwaras which had deposited their money in PMC Bank accounts expressed their agitation on Monday over the withdrawal limit, citing religious reasons.

PMC Bank account holders have been allowed to withdraw Rs 25,000 from the bank in the next six months. The curb on withdrawal has been imposed by the RBI after the fraud came to light. The apex bank had initially allowed the withdrawal of only Rs 1,000 within six months which was later increased to Rs. 10,000 and then hiked to Rs 25,000 on Thursday, i.e. October 3.

RBI Chief General Manager Yogesh Dayal in a press release had stated that the decision to modify the withdrawal limit was taken after reviewing PMC Bank's liquidity position and in order to reduce the hardships faced by the depositors.

Earlier, it was said that the RBI-appointed administrator of Punjab and Maharashtra Cooperative Bank (PMCB) is open to allowing the troubled bank to resume normal banking operations within a month if large depositors give a commitment that they would not withdraw their deposits for three years.

On Saturday, Waryam Singh was arrested from Mahim. This is the third major arrest in the case in the past three days. Earlier on Thursday, the police nabbed HDIL Chairman and Managing Director Rakesh Kumar Wadhwan and Sarang Wadhwan, respectively, and their assets worth Rs 3,500 crore were frozen. The bank had given Rs 6,500 crore of loans to HDIL, which is 73% of the bank's advances in contravention of RBI's regulations, which only allows 15% of the funds to be lent to a single entity.

A whistle-blower, who is an employee of the bank, alerted RBI about large loans sanctioned to real estate developer HDIL. Depositors say that it is RBI's fault that audits were certified when in fact the bank was dressing up the accounts with dummy accounts for the past 8 years.
AIMPLB to decide on filing Ayodhya verdict review petition in SC today
Posted on 16th November 2019
The All India Muslim Personal Law Board (AIMPLB) is likely to take a call on whether to file a review petition in the Supreme Court's final verdict in the Ayodhya land dispute case.

A meeting of AIMPLB is expected to take place today in Lucknow to decide on call to be taken by the board in the Ram Janmabhoomi-Babri Masjid case verdict by the Supreme Court.
---
Maharashtra: BJP afraid MLAs may defect, says NCP's Nawab Malik
Posted on 16th November 2019
The Maharashtra BJP is bedevilled by the trepidation that politicians who joined the party ahead of the October 21 Assembly polls will defect and, hence, its leaders are claiming they will form government in the state, the NCP said on Saturday. NCP chief spokesperson Nawab Malik made the remarks a day after Maharashtra BJP chief Chandrakant Patil said his party will soon form the government and claimed it can count on the support of 119 MLAs, including Independents, in the 288-member Assembly.
---
SAT pulls up Sebi for 'shabby' handling of complaints from investor
Posted on 16th November 2019
The Securities and Appellate Tribunal (SAT) has hauled up the Securities and Exchange Board of India (Sebi) for giving computer-generated response to investor complaints filed on its online platform Scores and for disposing of the matter without settling the case.

"We find the approach adopted by Sebi to be a strange one. Such computer-generated disposal of a serious complaint speaks volumes on the conduct in treating the minority shareholders in this shabby manner," the tribunal said while delivering a judgment on a matter related to an investor complaint.
---
US to extend licence for its firms to continue business with Huawei: Report
Posted on 16th November 2019
The Trump administration is set to issue a two-week extension of a licence allowing U.S. companies to continue doing business with China's Huawei Technologies Co Ltd, two sources familiar with the deliberations said.

The extension of around two weeks is far shorter than the prior 90-day extension and a longer extension is in the works but has not yet been finalised due to regulatory hurdles, said one source who was briefed on the matter.
---
SC sets aside NCLAT order, paves way for Arcelor to acquire Essar Steel
Posted on 16th November 2019
The Supreme Court on Friday brought down the curtains on an epic battle for debt-laden Essar Steel, paving the entry of the world's largest steel maker, ArcelorMittal, into the second-biggest steel market, India.

In a ruling that would have a far-reaching impact on cases under the Insolvency and Bankruptcy Code (IBC), the apex court has set aside the National Company Law Appellate Tribunal (NCLAT) order that put a different class of creditors — financial vis-a-vis operational creditors as also secured and unsecured financial creditors — on a par.
---
Be the first person to write a business review for PMC Bank Crisis: Gurdwaras face severe fund crunch before Gurpurab, over Rs 1000 crore deposit locked in accounts