Ashok Leyland's domestic sales drop 57% in September to 7,851 units
Posted on 1st October 2019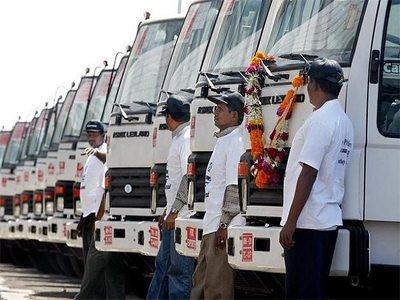 Ashok Leyland reported a 57 per cent drop in domestic vehicle sales in September to 7,851 units from 18,078 units in the year-ago period.

The company's domestic sales of medium and heavy commercial vehicles (M&HCV) slumped 69 per cent to 4,035 units from 13,056 the previous year, while those of M&HCV trucks were down 74 per cent to 3,131 units from 11,837 units. Bus sales dropped 26 per cent to 904 units from 1,219 units and LCV sales were lower by 24 per cent to 3,816 units from 5,022 units.
Overall, domestic and exports sales dropped by 55 per cent to 8,780 units in September 2019 as compared to 19,374 units in September 2018.

Sales of medium and heavy commercial vehicles (M&HCV) trucks dropped by 73 per cent to 3,343 units from 12,553 units in the year-ago period, while bus sales were down 17 per cent to 1,401 units from 1,680 units. Light commercial vehicle (LCV) sales dropped by 21 per cent to 4,036 units from 5,141 units, a year ago.
Indian diplomat harassed in Pakistan, ISI tails his car to intimidate him
Posted on 5th June 2020
Pakistan's Inter-Services Intelligence (ISI) has been harassing and intimidating India's top diplomat in Islamabad.

Reportedly, ISI has put up multiple persons in cars and bikes outside his residence to harass him.

In a note sent to the foreign ministry in Islamabad in March, Indian High Commission protested against the continuous harassment of its officers and staff by Pakistani agencies. India had cited 13 incidents of harassment of its officers and staff in the month of March itself.
---
COVID-19 in India live updates: 9,851 new cases take India's count to 2.26 lakh, recovery rate at 48.27%
Posted on 5th June 2020
The number of coronavirus cases in India has marked significant and consecutive highest jumps over a major part of the last two weeks.

On Thursday, the total number of confirmed cases of COVID-19 infection in India crossed the 2.25 lakh-mark, while the death toll breached the 6,300-mark as well. With this, India has now become the world's seventh worst-hit country in terms of coronavirus cases, according to the World Health Organisation's (WHO) COVID-19 tracker.
---
---
Consumer confidence collapsed to historic low in May, says RBI survey
Posted on 5th June 2020
As the coronavirus pandemic continues to trouble India's economy, the consumer confidence has collapsed to a historic low, a survey by the Reserve Bank of India has showed.

Consumer confidence collapsed in May 2020, with the Current Situation Index (CSI) touching historic low and the one year ahead Future Expectations Index (FEI) also recording a sharp fall, entering the zone of pessimism, said RBI's Consumer Confidence Survey (CCS).
---
Maharashtra CM Uddhav Thackeray to visit Raigad to take stock of damages caused by Cyclone Nisarga
Posted on 5th June 2020
Two days after cyclone Nisarga made a landfall in Raigad district's Alibaug of Maharashtra, state chief minister Uddhav Thackeray will visit the affected areas on Friday to take a stock of the damages.

The visit comes a day after the CM held a video conference with the authorities to monitor the situation in the aftermath of the cyclone and asked the authorities to complete the 'panchnamas' or inspection and submit a report on the damages caused by Nisarga withing two days.
---
Be the first person to write a business review for Ashok Leyland's domestic sales drop 57% in September to 7,851 units