ASHOK LEYLAND BAGS ORDER FOR 300 BUSES FROM BANGLADESH
Posted on 18th August 2018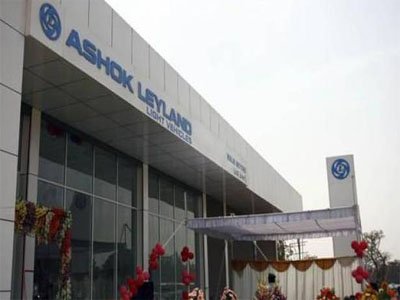 Hinduja flagship firm Ashok Leyland on Friday said it had bagged an order from Bangladesh Road Transport Corporation (BRTC) for supply of 300 buses.

The order is for double decker buses which have been procured against a tender under Indian Line of Credit, the company said in a statement.

The delivery of the buses to BRTC would take place within eight months, the Chennai-based commercial vehicle major said in the statement.

"Bangladesh is one of our key export markets and this order further strengthens our position. Winning this order in Bangladesh is yet another testimony of our leadership in the country," Ashok Leyland managing director Vinod K Dasari said. He further said: "Exports have been a strong focus for us to de-risk from cyclicality in Indian market and to globalise our product portfolio. This is a significant win for us and builds on the strong export growth we had last year.

Recently, Ashok Leyland's UK subsidiary Optare PLC bagged an order for supply of 31 units of 'electric double-decker' buses from Transport for London.
Punjab National Bank in better state, but momentum is still soft – reduce holdings
Posted on 18th February 2019
Punjab National Bank (PNB), post three quarters of muted profitability (losses), reported PAT of `2.5 bn in Q3FY19. This was led by better-than-expected asset quality even as business momentum continued to remain soft.

(a) slippages were restricted at sub-Rs 40 bn (3.7%). This, with better recovery, led to dip in GNPL; (b) that said, business momentum continued to be soft (albeit improving), which with sustained NIM pressure restricted core operating profitability; and (c) improved coverage led to dip in NNPL & sequential traction in domestic growth was encouraging.
---
The Tata way: Cyrus Mistry or N Chandrasekaran, it's all about crown jewel TCS
Posted on 18th February 2019
Two years after a change of leadership at the Tata Group, it is abundantly clear that whether it's Cyrus Mistry or Natarajan Chandrasekaran, cleaning up after Ratan Tata is not easy. Today, the sprawling conglomerate is even more about TCS than when Mistry left it.

The software major accounts for 73% or nearly three-fourths of the combined market capitalisation of ten top 10 companies; this share was just 59% in February 2017, when Chandra took over the reins at the group as chairman, Tata Sons.
---
Amazon's deep bench calms investors amid Jeff Bezos scandal, NYC rift
Posted on 18th February 2019
It's been a rough few weeks for the world's wealthiest man. Amazon.com CEO Jeff Bezos announced his divorce. He became engulfed in a tabloid scandal complete with blackmail allegations. And, on Thursday, his company abruptly scrapped plans to invest $2.5 billion and hire 25,000 people for a giant new office in New York City.
---
Airtel, Voda Idea see green shoots after weeding out low-end users
Posted on 18th February 2019
Both the incumbents changed their subscriber definition and plan to focus on revenue-generating users, who will go for a minimum recharge plan every month. Earlier, in one recharge, a subscriber could receive incoming calls for six months. No doubt, the incumbents are moving cautiously to improve their Arpus, and subsequently revenues through such measures.
---
Shocker from Kamal Hassan: Actor-turned neta demands plebiscite in Kashmir, says what is India 'afraid of'
Posted on 18th February 2019
Actor turned politician Kamal Hassan has made a shocking comment demanding plebiscite in Jammu and Kashmir. According to reports, Kamal Hassan made this statements while talking to reporters in Chennai.

He not only called for a plebiscite in J&K, he also asked what India is afraid of. He accused the country of not taking Kashmiris into confidence. Hassan also branded the terrorists operating in the Valley as 'jehadi fighters' and also called Pakistan occupied Kashmir as 'Azad Kashmir'.
---
Be the first person to write a business review for ASHOK LEYLAND BAGS ORDER FOR 300 BUSES FROM BANGLADESH