Essar Oil UK FY18 PAT, Ebitda fall on maintenance shutdown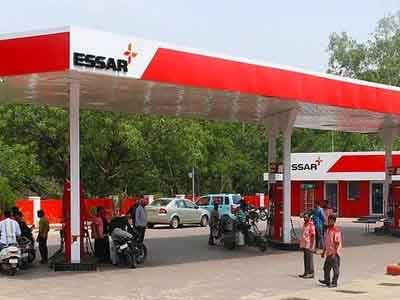 Essar Oil UK, the operator of Stanlow refinery, reported a 4.2% year-on-year fall in net profit for FY18 to $161 million, while earnings before interest, tax, depreciation and amortisation (Ebitda) fell 4.2% to $300 million on account of planned shutdown of the refinery for two-and-a half months. The shutdown also impacted the throughput that fell 20.9% to 7.19 MMTPA.
The total revenue from the refinery that contributes 16% of the UK's road transport requirements rose 10.2% to $5.4 billion, while the gross refining margin (GRM) rose 100 basis points to $9.4 per barrel, a $4 per barrel premium over the North-West Zero benchmark.
Essar Oil UK chief executive officer S Thangapandian told FE: "When we took over the refinery from Shell in 2011, the premium over benchmark was hardly $1 per barrel. The turnaround activities undertaken by us and the diversification of crude basket helped us increase the premium to $4 per barrel."
"The company has used around 53 crude oil since the refinery was taken over. We were also one of the first to use US shale crude for the price advantage we got from it," Thangapandian said.
To further improve the performance of its refinery the company closed down its 50,000 barrels-per-day unit producing base oil, bitumen and fuel oil, and increased the capacity of the main unit producing diesel, gasoline, and aviation turbine fuel to 200,000 barrels per day from 175,000 barrels earlier. "Our entire focus has shifted to high value high margin products," Thangapandian said. "It is expected the margin improvements will yield an incremental margin of $75 million to $80 million annually in the prevailing market," he said.
Essar Oil UK has 50 fuel retail outlets in the country. The company plans to increase the count to 400 outlets in the next four years. "We plan to renegotiate contracts with owners of fuel stations who lease out stations on five-year contract. The advantage that Essar Oil has in Manchester region is that stations are closer to refinery and the supply is directly from refinery, and can be done seven-days-a-week," Thangapandian added.
Essar Oil UK chairman Prashant Ruia said, "Stanlow has emerged as a top-tier refinery in Europe, with 16% market share in the UK and a growing presence in the retail and aviation sectors. We will continue to make proactive investments in technology to build a sustainable business that remains competitive in the rapidly changing global energy market."