HDFC Bank turns India's 2nd most valuable firm, beats TCS, but only for a while
Posted on 13th September 2017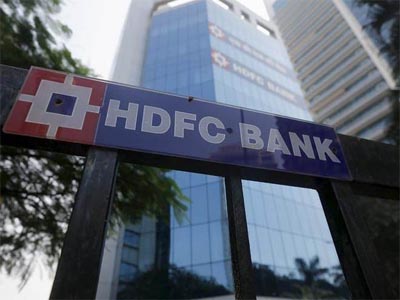 Shares of HDFC Bank hit a fresh life-time high on the Bombay Stock Exchange (BSE) on Tuesday and surpassed Tata Consultancy Services (TCS) during the day's trade to become the country's second most valued firm in terms of market capitalisation.

The market capitalisation of HDFC Bank touched a high of Rs 4.73 lakh crore. However, in the afternoon trade, shares of TCS regained the lost ground and ended the session with a market capitalisation of Rs 4.76 lakh crore, data from the stock exchange showed.

Shares of the private lender have climbed nearly 12% in the last three months adding Rs 52,450 crore to its total market cap. On the other hand, shares of TCS lost the ground by losing 8% of the value during the same period, which allowed the lender to overtake.

So far in 2017, HDFC Bank has outperformed the market by surging 52.3% as compared to 21% rise in the S&P BSE Sensex. On the other hand, the technology major TCS, underperformed with 5.3% gain. In fact the stock had lost 3.2% of its value last year as well. IT stocks have been faring badly in the recent past because of multiple headwinds such as US government's crackdown on work visas and appreciation of Rupee against the US dollar.

As of Tuesday, 86.8% of the 53 analyst that track HDFC Bank had a buy recommendation on the stock with those of JP Morgan having a one year price target of `2,100 per share as compared to Tuesday's closing price of Rs 1,834.15 observed that "The bank's high share of retail loans – high-yield non-mortgage segments will drive strong revenue income."

The brokerage which has an overweight rating on the stock also said that the strong digital platform should drive market share and cost efficiencies over the next two to three years and strong corporate underwriting should result in stable asset quality in the longer term. According to the research house, the premium valuations are supported by 20%+ EPS growth in prospects and high return ratios.

Mukesh Ambani-led Reliance Industries claimed the numero uno position with a market valuation of Rs 5.36 lakh crore.
BS Yeddyurappa resigns as Karnataka chief minister ahead of floor test
Posted on 19th May 2018
Two days after taking oath as Chief Minister of Karnataka for the third time, Bharatiya Janata Party (BJP) leader BS Yeddyurappa resigned from his post ahead of the floor test. Yeddyurappa's move came after it became clear that he would fail to prove majority in the house. Yeddyurappa's resignation came in less than 48 hours after he took oath as the state chief minister, replacing Congress' Siddaramiah.
---
NTPC puts off solar projects auction amid developers concerns on evacuation
Posted on 19th May 2018
New Delhi: State-run power giant NTPC has deferred auction of 2,000 MW solar capacities to the first week of June as developers have sought resolution of inter-state connectivity issue before going ahead with the sale, people familiar with the matter said.

Besides, the Solar Energy Corporation of India (SECI) is likely to extend the bid submission for 2,000 MW solar capacities scheduled for the first week of June, industry people with knowledge of the matter said.
---
Over 100 dead after Boeing 737 crashes after taking off from Havana
Posted on 19th May 2018
More than 100 people were killed when a Boeing 737 crashed soon after taking off from Havana in what appeared to be Cuba's worst air disaster in nearly 30 years, and there were only three survivors, officials and State media said on Friday.

The passenger plane, on a domestic flight to Holguin in eastern Cuba, crashed at 12:08 p.m. (1608 GMT). There were 105 passengers, including five children, plus crew members, State media reported.
---
Axis Bank increases MCLRs by 10-15 bps
Posted on 19th May 2018
Axis Bank, the country's third-largest private lender, on Friday raised marginal cost of funds-based lending rates (MCLRs) by 10-15 basis points (bps). The one-year MCLR at the bank now stands 10 bps higher than earlier at 8.5%, the highest among large banks. MCLRs for shorter tenures will range between 8% and 8.4%. The two-year and three-year MCLRs stand at 8.6% and 8.65% respectively.
---
Lanco Teesta RP invites EoI from bidders
Posted on 19th May 2018
The resolution professional (RP) for Lanco Teesta Hydro Power on Friday invited expressions of interest (EoIs) for the company from interested bidders under the corporate insolvency resolution process (CIRP). In March this year, the Hyderabad bench of the National Company Law Tribunal (NCLT) had admitted a petition filed by ICICI Bank to initiate insolvency proceedings against Lanco Teesta. The tribunal had appointed Huzefa Sitabkhan as the RP.
---
Be the first person to write a business review for HDFC Bank turns India's 2nd most valuable firm, beats TCS, but only for a while