Airtel, Apollo Hospitals partner for healthcare services in Africa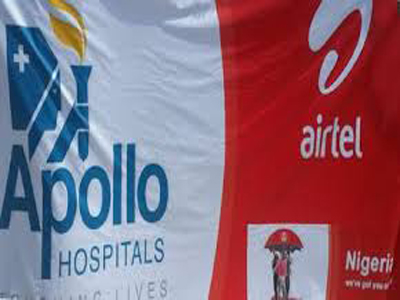 Bharti Airtel, which offers services in 16 African countries, and Apollo Hospitals have signed a Memorandum of Understanding (MoU) to enhance healthcare cooperation across Africa.
The service will enable Airtel Africa customers access personalised advice in real time, thereby bringing world-class healthcare services at their fingertips.
The MoU was signed by Sangita Reddy, Joint Managing Director of Apollo Hospitals Group, who was in Nairobi as a member of the Indian Business delegation accompanying the Prime Minister Narendra Modi to Kenya, and Raghunath Mandava, the Chief Operating Officer for Airtel Africa.
Airtel Africa will provide its customers with discounted consultation and enable easy payment options through Airtel Money or the customers airtime.
India receives a lot of patients from Africa for medical treatment and Apollo Hospitals has realised that some of the African patients traveling to India remain misguided about their health condition, which could instead be treated in Africa.
A few other patients wait far too long for treatment to reach a stage where cure is no longer possible.
Apollo Hospitals and Airtel Africa will launch "Ask-Apollo", which is a web and mobile enabled patient-centric service, which combines the expertise of Apollo doctors, with the convenience of consulting them at any time, from anywhere around the world.
The service allows one to talk to doctors, face-to-face through video conferencing, or connect with them via voice or e-mail.