Apollo Tyres decides to reduce capex by Rs 400 crore over coronavirus
Posted on 7th July 2020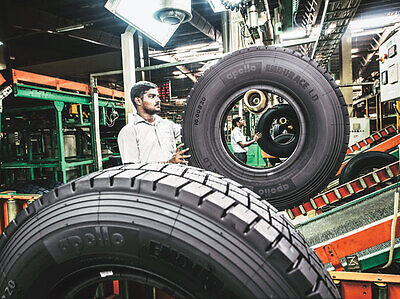 Apollo Tyres on Tuesday decided to cut capital expenditure by around Rs 400 crore for the year in India due to the pandemic. The company had initially planned around Rs 1,400-1,500 crore in India and about 20 million pounds for its European facility.

During an investors call, the company's CFO Gaurav Kumar said that the plan was to invest around Rs 1400-1500 crore for the current year, but it would be about somewhere between Rs 1,000-1,100 crore. Similarly, Apollo has taken a cut in European Operations as well, which now stands at 20 million pounds.

"This is a number which is as of today. It will continue to get monitored. Given that we are on a road of the Greenfield well, a number of machinery which are already on the high seas, etc., there is a certain amount of it which cannot be deferred, unfortunately. So the Rs 400 crore cut is what would be deferred. There may be an incremental possibility which we will continue to examine. But what was possible immediately has been cut," said Kumar.

Apollo is also targeting to reduce its fixed cost by around 20 per cent during the current year through a reduction in travel, virtual launches of products rather than participating in trade fairs, conducting online training programmes.

"Barring very critical items, all consultant engagements have been stopped. Advertisement and promotion expenses, selling expenses reduced sharply. All of that has been, and we are still in the process of doing our revised budget and it will continue to evolve given the fluid situation. But as we stand today we are looking at cutting it down 20 per cent," said Kumar.

Speaking about the company's capacity utilisation, he said in Kerala the plant is running at about 70%, while Gujarat and Chennai are more impacted where capacity utilisation levels are lower. Vadodara plant is at about 40 per cent and similarly, is the case for Chennai, the company is now ramping up production, he added.

The company sees strong demand for truck tyres, farm tyres, and two-wheeler tyres.

On the company's Indian Operations, he said the sales for the quarter was Rs 23.7 billion, a decline of 20 per cent. The company probably lost about Rs 500 crore of sales in March due to the crisis. All of this was essentially a volume impact. The prices have been fairly stable.

"While in the fourth quarter for the first time through the year the replacement volumes were also down 6%, but if we dissect it further and look at just January, February alone, we were growing at 10% and then the March impact where the replacement volumes were down nearly 35%, resulted in a 6% decline. OEM which had been sluggish through the year was the same in this quarter," he added.

OEM segment was down by nearly 40%.

On the outlook, Kumar expects sales to decline in Fiscal 2021 compared to the previous year because the OE business is still looking fairly weak and there is no promising outlook as well. But the fact that a majority of Apollo's business is replacement is a significant plus for the company, Kumar said.

Apollo saw a very sharp recovery on the replacement side, barring passenger car tyre segment, on all other product segments -- truck tyres, farm tyres, two-wheeler tyres. The company is seeing a very good recovery in the replacement segment. All the company's plants in India have started operations under the state government guidelines.

May sales are looking promising and the company expects to be around 50% of normal and if the things, and the business climate, continue to move toward more and more normalcy, then June should be even better.
Noida gets 400-bed Covid-19 hospital, CM Yogi Adityanath reviews facilities
Posted on 8th August 2020
Uttar Pradesh Chief Minister Yogi Adityanath on Saturday inaugurated a dedicated 400-bed government hospital for COVID-19 patients in Noida.

The facility is located in Sector 39 of the city and has come up in association with the Tata Trusts and the Bill and Melinda Gates Foundation, according to officials.
---
Gold price today at Rs 56,050 per 10 g; silver at record Rs 76,510 a kg
Posted on 8th August 2020
Gold prices today jumped to Rs 56,050 from Rs 55,350 per 10 gram, while silver climbed to Rs 76,510 from Rs 73,500 per kg, according to Good Returns website.

Gold jewellery prices vary across India, the second-largest consumer of the metal, due to excise duty, state taxes, and making charges.
---
US election: China would love to have me lose to 'sleepy' Biden, says Trump
Posted on 8th August 2020
US President Donald Trump on Friday (local time) said that China would love to have an election if he lost to his sleepy Democrat presidential candidate Joe Biden.

China would love for us to have an election where Donald Trump lost to sleepy Joe Biden. They would dream (that) they would own our country. If Joe Biden was president, China would rule our country, he told reporters here.
---
Facebook builds 600 affordable homes to address housing crisis in US
Posted on 8th August 2020
Facebook has produced and preserved approximately 600 affordable homes near its headquarters in Menlo Park, California, of which roughly 70 per cent are reserved for extremely low and very low-income residents.

The company said it is on track to creating approximately 750 affordable homes by 2022.
---
Amazon, Flipkart set to witness business worth $600 mn during sale events
Posted on 8th August 2020
E-commerce companies Amazon and Flipkart are expecting to witness a total business of about $600 million during their ongoing sale events. This is at least 25 per cent higher in terms of sales compared to the business these firms would have generated for such small scale events during pre-Covid times, according to the industry insiders and analysts. They are also witnessing an increase in volumes (number of orders) which is 40 per cent higher than the normal times. Walmart-owned Flipkart is running the 5-day 'Big Saving Days' sale till Monday, coinciding with Amazon's 48-hour Prime Day sale which ended on Friday night.
---
Be the first person to write a business review for Apollo Tyres decides to reduce capex by Rs 400 crore over coronavirus