Mahindra's in-house 'affordable' ventilator test starts, to go for govt approval soon
Posted on 31st March 2020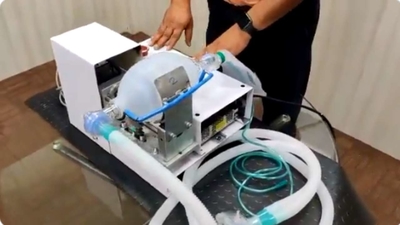 In an attempt to help the Government of India to fight the novel coronavirus pandemic, Mahindra group has come up with in-house ventilators, that will play a crucial role during these unprecedented times.

Mahindra's Igatpuri and Mumbai teams are working on an affordable respiratory device project and have already prepared the first ventilator prototype within days of the official announcement.

The first ventilator was created within 48 hours according to media reports.

After making the prototype, the company has now started the testing of its ventilator and will send approval to the govt of India soon. Dr. Pawan K Goenka, Managing Director, Mahindra & Mahindra went ahead to share a video on Twitter appreciating the effort made by the teams to make the in-house affordable respiratory device.

The video shared by Dr. Pawan K Goenka shows a working model of a ventilator. He also mentioned in his tweet that the packing of the device is yet to be done. He also asked netizens to come up with naming suggestions for the ventilator.

He further specified that they are awaiting approval from the government of India for the affordable respiratory device that Mahindra managed to develop in-house.

According to several media reports, the cost of one ventilator will be something around ₹7,500 but no official announcement has been made yet.
COVID-19 patient dies a day before hearing of his plea for bed in Delhi High Court
Posted on 5th June 2020
A petition moved by an 80-year-old COVID-19 patient in Delhi, praying for a bed in some government hospital with a ventilator facility, has been listed for hearing in the Delhi High Court on Friday. Ironically, before the court could pass any order, the patient succumbed to his illness on Thursday.

In his plea, the patient alleged that he fell ill on May 25 and was taken to a private hospital. There he was kept adjacent to a coronavirus patient and caught infection allegedly due to the negligence of the said hospital. He was then put on the ventilator.
---
---
---
Plea in Delhi HC to bring PM-CARES under RTI
Posted on 5th June 2020
A Public Interest Litigation (PIL) moved in Delhi High Court has sought directions that PM CARES Fund be brought under the ambit of Right to Information Act (RTI) and be made transparent.

The petition said that PM CARES is a 'public authority' within the ambit of Section 2(h) of the RTI and prayed for a direction to the trust to display the details of the fund collected and the purpose it is being utilized for, on its website.
---
Swiggy starts liquor home delivery in Bengal, says following safety norms
Posted on 4th June 2020
Food delivery platform Swiggy started on Thursday online processing and home delivery of alcohol in West Bengal after obtaining approvals from the state government.

The company is offering the service in Kolkata and Siliguri, days after first launching delivery in Jharkhand and Odisha.
---
Be the first person to write a business review for Mahindra's in-house 'affordable' ventilator test starts, to go for govt approval soon