Malaysia's Mahathir Mohamed returns as interim PM a day after resigning
Posted on 25th February 2020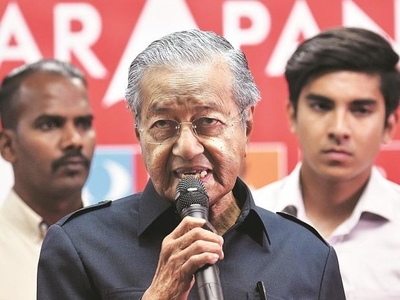 Malaysia's Mahathir returns as interim PM amid political uncertainty

Malaysia's Mahathir Mohamad went back to work on Tuesday with the new title of interim prime minister, a day after he resigned the leadership in a shock move that plunged the country into political turmoil.

Mahathir, who at 94 is the world's oldest government leader, made no comment as he arrived by car at his office in Putrajaya.

He disbanded his entire cabinet late on Monday after resigning as prime minister and agreeing to a request from Malaysia's king to stay on until a successor is named.

Mahathir's resignation broke apart an already fragile coalition with old rivals including Anwar Ibrahim, 72, that had scored a surprise election victory on an anti-corruption platform in 2018 but has since become increasingly unpopular.

It was not immediately clear how long Mahathir would remain in the interim role, when a new cabinet would be appointed or how the next government would be formed.

"For Malaysians, the trauma of uncertainty is hard to overstate," the pro-establishment New Straits Times newspaper wrote in an editorial.

The political crisis comes at a particularly bad time for the Malaysian economy, after growth fell to a decade low in the final quarter of last year. Mahathir had been scheduled to announce a stimulus package to deal with the coronavirus outbreak on Thursday.

The resignation left in doubt the pre-election promise Mahathir had made to Anwar that he would cede power before his five-year term ended in 2023.

It followed a sudden burst of political wrangling at the weekend, when some of Mahathir's allies were accused of plotting with the former ruling party to form a new government that would exclude Anwar. Mahathir, who had not set a date for handing over power, had appeared irritated that Anwar's backers were demanding a clear timetable.

Attorney General Tommy Thomas told reporters there was no time limit for how long someone can stay on as interim leader, and that person has all the powers of a full-time premier including that of appointing his own cabinet.

Constitutionally, any lawmaker who can command a majority in parliament can stake a claim to form government. The king then has to give his assent before a premier can be sworn in.

The leadership of the Pakatan Harapan coalition formed by Mahathir and Anwar ahead of the 2018 election was scheduled to meet later on Tuesday. It was not clear if Mahathir would attend the meeting, though Anwar was expected to.

A showdown is also possible between Anwar and an alliance of Bersatu President Muhyiddin Yassin and Azmin Ali, who on Monday was sacked from Anwar's party, political sources said.

Others have called for Mahathir to be re-nominated as premier.

Malaysia's stock market recovered slightly on Tuesday after falling to an eight-year low on Monday while the currency also rose after hitting a near six-month low.
'Switch of all lights in your homes for 9 minutes at 9 PM on April 5': PM Modi's appeal to India in video message
Posted on 3rd April 2020
Prime Minister Narendra Modi on Friday addressed the nation through a video message, in which he appealed to the citizens of India to come together to defeat the threat of the coronavirus disease (COVID-19) crisis, that is spreading like wildfire across the nation.

In a unique proposition, the Prime Minister asked every citizen to switch off all lights at their residences on April 5 at 9 PM for nine minutes and instead light a candle, a 'Diya', or their mobile's flashlights to mark India's fight against coronavirus.
---
Tablighi Jamaat patients making lewd gestures at nurses, roaming nude in hospital: Ghaziabad CMO writes to police
Posted on 3rd April 2020
Hours after Delhi government wrote to capital's police commissioner seeking deployment of adequate police force at the quarantine centres and hospital where people who attended the Tablighi Jamaat event in Nizamuddin Markaz have been kept, adjoining Ghaziabad's Chief Medical Officer (CMO) has written to the local police saying that the Jammat attendees have been roaming nude inside the MMG district hospital and making lewd gestures and remarks at the nurses.

In the letter, the CMO said that the inmates who have been put under observation are misbehaving with the hospital staff.
---
960 foreigners linked to Tablighi Jamaat blacklisted, visas cancelled
Posted on 3rd April 2020
Taking stringent action against the Tablighi Jamaat, Nizamuddin, the Centre on Thursday blacklisted 960 foreigners and cancelled their tourist visas after over their involvement in Jamaat activities. The government also said that necessary legal action will be taken against them.

Under the directions of Union Home Minister, Shri Amit Shah, the Ministry of Home Affairs (MHA) has blacklisted 960 foreigners, present in India on tourist visas, for their involvement in Tablighi Jamaat activities, the Ministry of Home Affairs said in an official statement.
---
British Airways to lay off 28,000 employees, 60% of its workforce
Posted on 16th March 2020
The United Kingdom's flagship airline British Airways (BA) will temporarily lay off 28,000 employees, which is a staggering 60% of its entire workforce, news agency PTI reported. The move comes amid the coronavirus disease (COVID-19) crisis which is spreading like wildfire across the world and paralysing the airline sector, among several others.

The airline, which has grounded most of its fleet due to the coronavirus, has been locked in talks with unions for more than a week.
---
Coronavirus: Total confirmed COVID-19 cases cross 10 lakh worldwide; more than 50,000 dead
Posted on 3rd April 2020
The number of 'confirmed' coronavirus disease (COVID-19) cases in the world crossed 10 lakh around late Thursday night, with the Coronavirus Resource Center at the John Hopkins University putting the total number of confirmed cases worldwide at 1,014,673 on Friday at 7 AM.

It is worth noting that it just took a little over 24 hours for the number of global cases to jump from nine lakh to 10 lakh.
---
Be the first person to write a business review for Malaysia's Mahathir Mohamed returns as interim PM a day after resigning