Graphite India slips 5%, nears 52-week low on Rs 353 crore net loss in Q3
Posted on 17th February 2020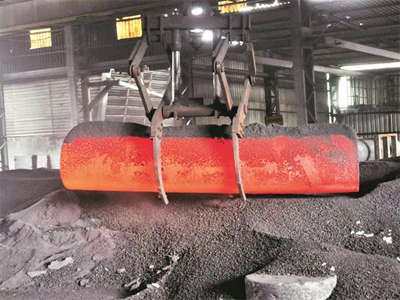 Shares of Graphite India slipped 5 per cent to Rs 268 on the BSE on Monday after it reported a consolidated net loss of Rs 353 crore in December quarter (Q3FY20), due to steep fall in electrode prices.

The graphite electrode manufacturer had posted a consolidated net profit of Rs 764 crore in the same quarter last fiscal. The stock was trading close to its 52-week low level of Rs 255 touched on October 9, 2019.

The company posted first quarterly loss in more than one decade. Earlier, in June 1997 quarter, it had posted net loss of Rs 2 lakh.

Graphite India during the quarter under review reported 65 per cent year-on-year (YoY) drop in its consolidated net sales at Rs 643 crore. It posted operating loss of Rs 445 crore in Q3FY20, against profit of Rs 1,149 crore in the year-ago quarter.

The lower volumes and realization has impacted the sales and margins as compared to same period last year. In addition, EBITDA (earnings before interest, tax, depreciation, and amortisation) was impacted due to fair value adjustment of inventory amounting Rs 490 crore in Q3FY20.

The management said that during the quarter, the company's performance was significantly impacted due to lower volumes and realizations. Furthermore, profitability declined mainly due to a non-cash fair value adjustment of inventory at net realizable value as per Ind AS, of Rs 490 crore in Q3FY20.

The lower steel production, graphite electrode demand was impacted due to the consumption of electrode inventory built up by many customers last year when electrodes were in short supply.

Overall, the demand for graphite electrode is expected to improve with the pick-up of steel production in developed nations having significant electric arc furnace (EAF) capacities. Further, realignment of key input prices in line with electrode prices is the need of the hour to support the industry. However, global slowdown in steel demand coupled with increased steel exports from China is expected to impact demand of electrodes, it added.
'Switch of all lights in your homes for 9 minutes at 9 PM on April 5': PM Modi's appeal to India in video message
Posted on 3rd April 2020
Prime Minister Narendra Modi on Friday addressed the nation through a video message, in which he appealed to the citizens of India to come together to defeat the threat of the coronavirus disease (COVID-19) crisis, that is spreading like wildfire across the nation.

In a unique proposition, the Prime Minister asked every citizen to switch off all lights at their residences on April 5 at 9 PM for nine minutes and instead light a candle, a 'Diya', or their mobile's flashlights to mark India's fight against coronavirus.
---
Tablighi Jamaat patients making lewd gestures at nurses, roaming nude in hospital: Ghaziabad CMO writes to police
Posted on 3rd April 2020
Hours after Delhi government wrote to capital's police commissioner seeking deployment of adequate police force at the quarantine centres and hospital where people who attended the Tablighi Jamaat event in Nizamuddin Markaz have been kept, adjoining Ghaziabad's Chief Medical Officer (CMO) has written to the local police saying that the Jammat attendees have been roaming nude inside the MMG district hospital and making lewd gestures and remarks at the nurses.

In the letter, the CMO said that the inmates who have been put under observation are misbehaving with the hospital staff.
---
960 foreigners linked to Tablighi Jamaat blacklisted, visas cancelled
Posted on 3rd April 2020
Taking stringent action against the Tablighi Jamaat, Nizamuddin, the Centre on Thursday blacklisted 960 foreigners and cancelled their tourist visas after over their involvement in Jamaat activities. The government also said that necessary legal action will be taken against them.

Under the directions of Union Home Minister, Shri Amit Shah, the Ministry of Home Affairs (MHA) has blacklisted 960 foreigners, present in India on tourist visas, for their involvement in Tablighi Jamaat activities, the Ministry of Home Affairs said in an official statement.
---
British Airways to lay off 28,000 employees, 60% of its workforce
Posted on 16th March 2020
The United Kingdom's flagship airline British Airways (BA) will temporarily lay off 28,000 employees, which is a staggering 60% of its entire workforce, news agency PTI reported. The move comes amid the coronavirus disease (COVID-19) crisis which is spreading like wildfire across the world and paralysing the airline sector, among several others.

The airline, which has grounded most of its fleet due to the coronavirus, has been locked in talks with unions for more than a week.
---
Coronavirus: Total confirmed COVID-19 cases cross 10 lakh worldwide; more than 50,000 dead
Posted on 3rd April 2020
The number of 'confirmed' coronavirus disease (COVID-19) cases in the world crossed 10 lakh around late Thursday night, with the Coronavirus Resource Center at the John Hopkins University putting the total number of confirmed cases worldwide at 1,014,673 on Friday at 7 AM.

It is worth noting that it just took a little over 24 hours for the number of global cases to jump from nine lakh to 10 lakh.
---
Be the first person to write a business review for Graphite India slips 5%, nears 52-week low on Rs 353 crore net loss in Q3