Goa minister urges Modi to mandate public hanging of rape-murder convicts
Posted on 7th December 2019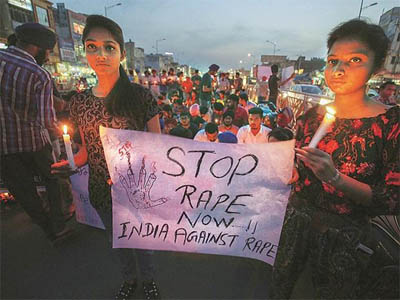 Goa minister Michael Lobo on Saturday demanded that public hanging of convicts in the rape-murder cases be made compulsory in the country for sending out a strong message in the society in order to curb crime against women.

He also urged Prime Minister Narendra Modi and Union Home Minister Amit Shah to bring amendments to the law to facilitate public hanging of such criminals.

His demand comes a day after all the four men, arrested for the rape and murder of a 25-year-old woman veterinarian in Hyderabad last month, were killed in an 'encounter' with police.

"Taking cognizance of the growing crime against women, PM Narendra Modi and Home Minister Amit Shah should make necessary amendments to the Indian Penal Code (IPC) in the Parliament in order to make capital punishment with public hanging compulsory for convicts in rape-and-murder cases," the Ports Minister told reporters here.

He said amendments should also be brought to set up fast track courts to ensure that justice is delivered to the victims within four months of the crime.

"The crime that happened in Telangana was not an ordinary one. It was not just a rape or murder, but a crime beyond imagination of any human being. This type of crime and those involved in such offences should not have any place in our society," the minister said.

"Such convicts need to be hanged publicly. A strong message has to go across all the men in India, who think law will not do anything and that they are beyond law," Lobo said.

"These men are not normal. They feel that whatever they do will go unchecked and unnoticed or someone will support them and they will come out. But that should not happen," he added.

Crime against women in India is on the rise only due to the failure in delivering justice on time and in the right manner, he said.
Nirbhaya case: SC to hear curative petitions by two convicts on Jan 14
Posted on 11th January 2020

A five-judge bench of the Supreme Court will hear on January 14 curative petitions of two of the four death-row convicts in the Nirbhaya case.

A bench of Justices N V Ramana, Arun Mishra, R F Nariman, R Banumathi and Ashok Bhushan will hear the curative petitions filed by Vinay Sharma and Mukesh at 1.45 pm.
---
Goa police arrests 8 people with demonetised currency worth Rs 1.5 crore
Posted on 11th January 2020

Eight persons were arrested for allegedly possessing demonetised currency notes worth Rs 1.5 crore, Goa police said on Saturday.

The demonetised currency was seized during a routine search of vehicles at the Pollem border check post in South Goa on Friday, deputy superintendent of police (Canacona) Kiran Paudwal.
---
Illegal apartment complex in Kerala demolished; SC order implemented
Posted on 11th January 2020

A high rise apartment complex was brought down through controlled implosion method as authorities began implementing a Supreme Court order to demolish four illegal water-front structures in Maradu municipality here on Saturday.

The residential complex was demolished at 11.18 am.

The 60-meter high 19-storey building, known as "Holy Faith H20, was levelled in seconds in a spectacular implosion.
---
Panasonic Life to invest Rs 600 crore for electrical equipment near Chennai
Posted on 11th January 2020

Panasonic Life Solutions will invest Rs 600 crore in India, initially spending Rs 294.7 crore to set up an electrical equipment and wiring manufacturing plant in SriCity near Chennai.

The plant will start work by October 2021, becoming Panasonic's eighth electrical equipment production base in India after facilities in north and west India.
---
Centre notifies Citizenship Act amid protests; SC to hear pleas on Jan 22
Posted on 11th January 2020

The Centre notified the Citizenship Amendment Act (CAA) on Friday. The notification comes nearly a month after Parliament passed it on December 11, and in the wake of sustained anti-CAA protests. The Supreme Court is set to hear petitions challenging the constitutionality of the law on January 22.

The Centre, by notifying the law, has indicated its resolve to implement it even as lawyers and retired judges, Opposition parties, activists, students and retired bureaucrats have criticised it as unconstitutional as it discriminates on the basis of religion.
---
Be the first person to write a business review for Goa minister urges Modi to mandate public hanging of rape-murder convicts