Mahindra & Mahindra nears 52-week low; stock slips 12% in one month
Posted on 6th December 2019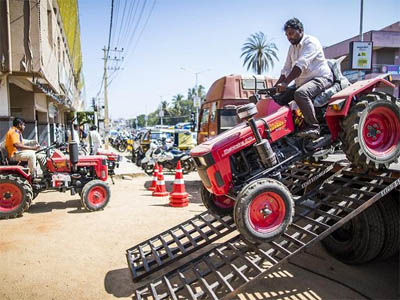 Shares of Mahindra & Mahindra (M&M) slipped 2 per cent to Rs 512 on the BSE on Friday and was trading close to its 52-week low level. The car & utility vehicles maker's stock is less than 2 per cent away from its 52-week low price of Rs 503, touched on August 14, in intra-day trade.
In past one month, M&M has underperformed the market by falling 12 per cent as the company's tractor sales delivered disappointing performance. In comparison, the benchmark index S&P BSE Sensex was up marginally by 0.33 per cent.

In November, M&M's tractor segment's volumes declined 19 per cent to 21,032 units, over the same month previous year. Within tractors, domestic volumes declined 19 per cent to 20,414 units, while exports were lower by 22 per cent to 618 units.

Yesterday, the Reserve Bank of India (RBI) cut the real GDP growth forecast for the second half (October-March) H2FY20 to 4.9 per cent to 5.5 per cent from 6.6-7.2 per cent earlier. Consequently, the real GDP growth forecast for FY20 has also been reduced sharply from 6.1 per cent earlier to 5 per cent (down by 240bp since the Feb'19 monetary policy meet).

While the RBI expects past measures such as monetary easing and the government's policy initiatives to spur domestic demand, weak domestic and external demand conditions have led to a cut in the growth forecast for FY20.

"Overall, an unexpected status quo confirms that the RBI prioritized rising inflation over grim economic growth. Our estimates suggest that inflation will remain close to or above 5 per cent by Mar'20, implying that a rate cut in the next MPC in Feb'20 is highly unlikely. Further, since our projections suggest that inflation will retreat toward 4 per cent only by Q3FY21, there is a good probability of a prolonged pause over the next 3-4 quarters," Motilal Oswal Securities said in a note.
Adani Gas crashes 14% on report of gas regulator's notice on non-disclosure
Posted on 24th January 2020

Shares of Adani Gas slipped 14 per cent to Rs 148 on the BSE in Friday's session on reports that Petroleum and Natural Gas Regulatory Board of India (PNGRB) has sent a notice to the company for failing to disclose crucial information regarding a scheme of arrangement with Adani Enterprises.

According to the report by TV channel CNBC Awaaz, Adani Gas has bid for gas projects using networth calculations of Adani Enterprises and that the company's shareholding changes and restructuring violated city gas distribution regulations.
---
Shiv Sena questions Centre on democracy ranking drop, economic woes
Posted on 24th January 2020

The Shiv Sena on Friday said there have been attempts to muzzle dissenting voices and this is one of the reasons for India slipping in the 2019 Democracy Index's global ranking. An editorial in Sena mouthpiece Saamana said a slowdown in economy gives rise to unrest and instability, and this was getting reflected in the prevailing situation in the country.

Now (after an economic slowdown) there is a slide in (India's) global democracy index ranking, the Marathi daily said.
---
---
Judge who issued death warrants against Nirbhaya rapists transferred to Supreme Court registry
Posted on 24th January 2020

A Delhi court judge who issued death warrants for all four convicts in Nirbhaya case has been transferred to the Supreme court registry.

Judge Satish Arora has been appointed as additional registrar in the Supreme Court on a deputation for a year.

Satish Arora had been hearing the petition of parents of Nirbhaya seeking to expedite the process of execution.
---
Companies announce clinical trials for vaccine against China virus
Posted on 24th January 2020

Clinical trials for a vaccine against the new virus sweeping China could be carried out in the summer, the head of an anti-epidemic coalition said on Thursday, as different companies announced research into the disease.

We can announce that we have three partnerships to develop vaccines against the novel coronavirus, Richard Hatchett, chief executive of the Coalition for Epidemic Preparedness Innovations (CEPI), said in Davos.
---
Be the first person to write a business review for Mahindra & Mahindra nears 52-week low; stock slips 12% in one month