Vodafone Idea will shut shop if govt doesn't provide relief: KM Birla
Posted on 6th December 2019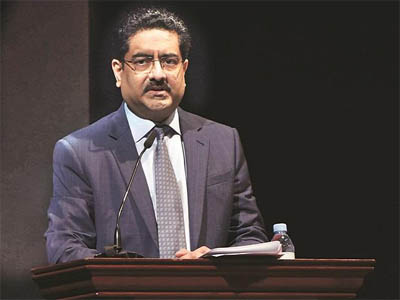 Vodafone Idea Ltd, India's third largest mobile service provider, will shut down if the government does not provide relief on the liability it faces in past statutory dues following a Supreme Court order, its billionaire chairman Kumar Mangalam Birla said on Friday. "If we we are not getting anything then I think it is end of story for Vodafone Idea," Birla said at the HT Leadership Summit when asked about the future of Vodafone Idea in absence of a government relief on payment of Rs 53,038 crore dues.

Birla's Idea Cellular and British telecom giant Vodafone plc's India unit had merged last year to compete with the onslaught of free voice calling and dirt cheap data unleashed by richest Indian Mukesh Ambani's Reliance Jio. In the process, it accumulated Rs 1.17 lakh crore debt and had just weeks back posted corporate India's biggest loss after it provisioned for the liability arising from the Supreme Court upholding the government's position on what base should statutory liabilities be calculated.

"It does not make sense to put good money after bad. That would be end of story for us. We will shut shop," he said in a response when asked if Vodafone Idea will put in more money. Market leader Bharti Airtel, Vodafone Idea and other telecom players have to pay as much as Rs 1.47 lakh crore in payment of telecom license fee and spectrum usage charge together with interest and penalty for past 14 years. Both Airtel and Vodafone Idea have petitioned the government for relief in waiver of interest and penalty, which will halve the dues, and also filed a review petition in the Supreme Court.

Birla was however hopeful of a relief from the government not just for the telecom sector but the industry as a whole to pull out the economy from a six-year low GDP growth of 4.5 per cent. "They (the government) have realised the fact that this (telecom) is a very critical sector. The whole digital india programme rests on this. This is a strategic sector," he said. The government, he said, has publicly stated that it wants three players from the private sector and one player from the public sector.

"I think that we can expect much more stimulus from the government because it is required for the sector to survive. If we weren't getting anything then I think it is end of story for Vodafone Idea," he said. The government had late last month deferred by two years the payment due to telecom companies for spectrum they bought in past auctions. This relief totalled Rs 44,000 crore for the industry but companies are expected to pay this due together with interest after the two year moratorium.

Asked about the specific relief sought, Birla said, "The big elephant in the room is AGR. Which is actually I think something which lies in the court of judiciary. I believe government can have a dialogue. This was a suit filed by the government against telecom service providers." Adjusted gross revenues (AGR ) refers to a percentage of which the telecom companies pay as statutory dues. The Supreme Court had upheld the government position that non-telecom revenues have to be included in the AGR for calculating dues.

"Since the government has won, it gives them headroom to talk to judiciary and try to find some of solution. I don't know which form or shape it takes," he added.
Nirbhaya case: SC to hear curative petitions by two convicts on Jan 14
Posted on 11th January 2020

A five-judge bench of the Supreme Court will hear on January 14 curative petitions of two of the four death-row convicts in the Nirbhaya case.

A bench of Justices N V Ramana, Arun Mishra, R F Nariman, R Banumathi and Ashok Bhushan will hear the curative petitions filed by Vinay Sharma and Mukesh at 1.45 pm.
---
Goa police arrests 8 people with demonetised currency worth Rs 1.5 crore
Posted on 11th January 2020

Eight persons were arrested for allegedly possessing demonetised currency notes worth Rs 1.5 crore, Goa police said on Saturday.

The demonetised currency was seized during a routine search of vehicles at the Pollem border check post in South Goa on Friday, deputy superintendent of police (Canacona) Kiran Paudwal.
---
Illegal apartment complex in Kerala demolished; SC order implemented
Posted on 11th January 2020

A high rise apartment complex was brought down through controlled implosion method as authorities began implementing a Supreme Court order to demolish four illegal water-front structures in Maradu municipality here on Saturday.

The residential complex was demolished at 11.18 am.

The 60-meter high 19-storey building, known as "Holy Faith H20, was levelled in seconds in a spectacular implosion.
---
Panasonic Life to invest Rs 600 crore for electrical equipment near Chennai
Posted on 11th January 2020

Panasonic Life Solutions will invest Rs 600 crore in India, initially spending Rs 294.7 crore to set up an electrical equipment and wiring manufacturing plant in SriCity near Chennai.

The plant will start work by October 2021, becoming Panasonic's eighth electrical equipment production base in India after facilities in north and west India.
---
Centre notifies Citizenship Act amid protests; SC to hear pleas on Jan 22
Posted on 11th January 2020

The Centre notified the Citizenship Amendment Act (CAA) on Friday. The notification comes nearly a month after Parliament passed it on December 11, and in the wake of sustained anti-CAA protests. The Supreme Court is set to hear petitions challenging the constitutionality of the law on January 22.

The Centre, by notifying the law, has indicated its resolve to implement it even as lawyers and retired judges, Opposition parties, activists, students and retired bureaucrats have criticised it as unconstitutional as it discriminates on the basis of religion.
---
Be the first person to write a business review for Vodafone Idea will shut shop if govt doesn't provide relief: KM Birla