92,000 BSNL, MTNL employees opted for VRS scheme, says Ravi Shankar Prasad
Posted on 4th December 2019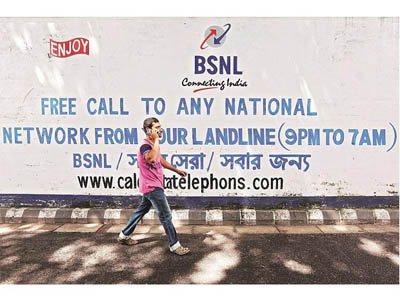 More than 92,000 employees of BSNL and MTNL have opted for voluntary retirement, Union minister Ravi Shankar Prasad said on Wednesday as he asserted that the government will make the two telecom companies profitable as they are strategic assets. The Communications Minister told the Lok Sabha that the merger of BSNL and MTNL will have pan-India foot print, synergy in operations, reduction of fixed costs and overheads, among others.

The merger would resultantly help the two companies to "provide better quality services to customers on a pan-India basis," he said. During the Question Hour, the minister said over 92,000 employees of BSNL and MTNL have opted for Voluntary Retirement Scheme (VRS). As part of revival efforts, VRS was introduced for the staff of the two telecom firms and December 3 was the last date for submitting the applications. The employee costs at both firms are high.

Both companies are strategic assets and the government would make them more professional and profitable, he emphasised.

He also said that whether it is floods in Kashmir or Tamil Nadu, cyclone in Odisha, BSNL provides free services. The Cabinet has approved administrative allotment of spectrum to BSNL and MTNL for providing 4G services. "With rollout of 4G services on a pan-India basis, BNSL/ MTNL will be able to provide high speed mobile Internet services in a data-centric market which will further improve the customer experience," the minister said.

MTNL operates in Delhi and Mumbai while BSNL is present in rest of India. JD(U) member Rajiv Ranjan Singh raised concerns about call drops and poor connectivity in the national capital, saying that if one tries 50 times on MTNL network, it is only around 5 times the calls get connected. In response, Prasad said there is need for technological upgradation.

To a supplementary by RSP leader N K Premachandran about poor connectivity in the national capital, the minister said installing a mobile tower in Delhi is very difficult and cited that earlier he had found it difficult to even install a tower in Parliament premises. Separately, Prasad said the Department of Telecommunications (DoT) has taken necessary steps and adopted strict norms for safety from Electromagnetic Field (EMF) emission from mobile towers.

"In India, norms for exposure limit for the Radio Frequency Field (Base Station Emissions) have been fixed ten times more stringent than safe limits prescribed by International Commission on Non Ionising Radiation Protection (ICNIRP) and recommended by World Health Organisation (WHO)," he added.

Shiv Sena member Sadashiv Kisan Lokhande said birds in small villages are getting affected by radiation from mobile towers.

In response, Prasad said birds are healthy and asked whether there is any evidence about adverse impact on birds. During the Question Hour, Speaker Om Birla again asked members to ensure that questions as well as answers by ministers are kept short so that more supplementaries can be taken up. The matter needs to be discussed, he added.
Gold prices steady at Rs 52,701 per 10 gram, silver rises to Rs 67,439 a kg
Posted on 14th August 2020
Gold prices on Friday was recorded at Rs 52,701 per 10 gram on subdued global cues and weaker dollar while silver prices rose to Rs 67,439 from Rs 66,256 per kg, according to Indian Bullion and Jewellers Association. The yellow metal has witnessed sharp volatility in the market as experts chart its direction after a massive slump from recent highs.

Gold jewellery prices vary across India, the second-largest consumer of the metal, due to excise duty, state taxes, and making charges.
---
Oil prices head for second weekly gain amid hopes for fuel demand recovery
Posted on 14th August 2020
Oil prices advanced on Friday and were heading for a second week of gains amid growing confidence that demand for fuel is starting to pick up despite the coronavirus pandemic that has slammed economies worldwide.

Brent crude was up 14 cents, or 0.3%, at $45.10 by 0043 GMT, heading for a gain of about 1.6% this week.
---
Hyderabad-based Biological E joins hands with J&J for Covid-19 vaccine
Posted on 14th August 2020
Hyderabad-based pharma company Biological E Limited (BE) has entered into an agreement with Janssen Pharmaceuticals for the development and manufacturing of Covid-19 drugs as well as Johnson &Johnson's (J&J) Covid-19 vaccine candidate.

The vaccine candidate is in phase 1/2a clinical trials.
---
Amazon enters online pharmacy space in India; to compete with Netmeds, 1mg
Posted on 14th August 2020
E-commerce giant Amazon has forayed into the online medicine segment and launched Amazon Pharmacy. The service has been started in areas with select pin codes in Bengaluru, while the company is learnt to be mulling scaling it up to other cities across India in the near future.

The service would allow customers to order prescription-based medication in addition to over-the-counter medicines, basic health devices and Ayurveda medication from certified sellers.
---
Bengaluru violence: 60 more including Congress corporator's husband arrested
Posted on 14th August 2020
A total of 60 more arrests have been made by the Bengaluru Police in connection with the violence that broke out in the city on August 11, taking the total number of arrests in the incident to 206. Among the new arrests is Kaleem Pasha, husband of Congress corporator from Nagwara ward Irshad Begum.

Pasha is said to have close political links with both the Congress party and SDPI.
---