Schools shut today, tomorrow as air quality deteriorates in Delhi
Posted on 14th November 2019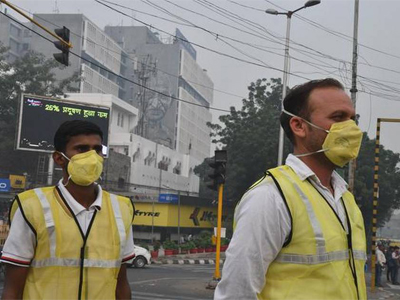 The schools in the national capital will be closed on Thursday and Friday, the Delhi government announced on Wednesday.

The city's air quality reached the higher end of the 'severe' category on Wednesday, even as the Centre's Task Force, meant to advise on implementing the Graded Response Action Plan, recommended that schools be shut and industrial activities be curbed till November 15.

Delhi's Air Quality Index (AQI) on Wednesday was 456 (severe), up from 425 (severe) on Monday, according to the 4 p.m. bulletin by the CPCB, which is the average of the past 24 hours. Several surrounding regions — Faridabad, Gurugram, Ghaziabad, and Noida also recorded 'severe' pollution levels.

Earlier this week, forecast agencies had warned of an incoming Western Disturbance — a weather system from Afghanistan that usually brings rain — over Delhi and parts of North India. These would lead to overcast conditions, higher moisture levels and prevent dust and pollutants from being flushed out. A drop in windspeed and unburnt particles from rice stubble in Punjab would exacerbate pollution levels.

"The overall Delhi AQI is at the higher end of the severe category... The air quality condition is likely to marginally improve by November 15, but reasonable improvement to 'very poor' category is expected only November 16," said SAFAR, a forecast agency.

"North-westerly winds and increased incidents of stubble burning (estimated to be 18% on November 11) have also contributed to deterioration... from November 14, winds are likely to be stronger resulting in better dispersion of pollutants," said the Task Force.

Chairman of the Centre for Chest Surgery, Sir Ganga Ram Hospital, Dr. Arvind Kumar said: "In 1988, patients of lung cancer were mostly known smokers. In 2018, 50% lung cancer cases are non-smokers." He warned, at a conference here, that Delhi is likely to see an explosion of lung cancer cases in the coming years.
IT raids in Delhi, Jaipur in tax evasion case against Rajasthan group
Posted on 13th July 2020
The Income Tax Department is conducting searches in four cities, including Delhi and Jaipur, in connection with a tax evasion case against a Rajasthan-based jewellery group, officials said on Monday.

They said the raids have been launched early morning in Delhi, Jaipur, Mumbai and Kota.
---
YES Bank declines for second straight day, slips 17% on heavy volumes
Posted on 13th July 2020
Shares of YES Bank extended their decline itnto second straight day, down 17 per cent to Rs 21.20 in the intra-day trade, on the BSE on Monday on the back of heavy volumes after the bank on Friday fixed floor price for its proposed follow-on public offer (FPO) at Rs 12 per share and a cap of Rs 13 per unit. In the past two trading days, the stock has tanked 20 per cent from a level of Rs 26.65 on the BSE.
---
---
Sachin Pilot likely to be sacked from Congress but won't join BJP: Sources
Posted on 13th July 2020
With the political developments in Rajasthan intensifying after Deputy Chief Minister Sachin Pilot revolted against the Ashok Gehlot led government, the Congres party is likely to sack the former as the president of Rajasthan Congress.

Raghuveer Meena likely to be appointed as new Congress state president in place of Sachin Pilot, sources quoted by Zee News claimed.
---
Coronavirus Outbreak: With 28,701 cases in a day, India's COVID-19 tally tops 8.78 lakh; death toll 23,174
Posted on 13th July 2020
As the coronavirus cases in India continue to spread rapidly, India is now just behind the United States and Brazil in terms of the total confirmed cases as it already overtook Russia to take the third spot in the list of worst-hit nations in the world affected by the coronavirus disease (COVID-19). It is, therefore, also the biggest epicenter of the coronavirus disease pandemic in Asia.

With over 28,800 new cases reported in the last 24 hours, India's COVID-19 count on Monday crossed the 8.78 lakh-mark, while the death toll has crossed the 23,000-mark as well.
---
Be the first person to write a business review for Schools shut today, tomorrow as air quality deteriorates in Delhi