Ashok Leyland signs bonus pact with union
Posted on 14th September 2019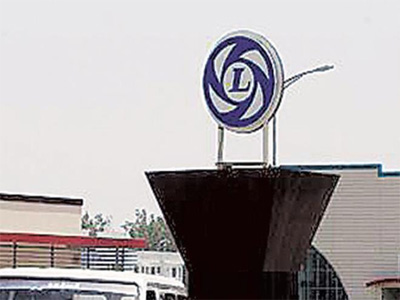 Hinduja group flagship Ashok Leyland (ALL) on Friday announced that it has signed a memorandum of understanding with Ashok Leyland Employees Union (ALEU), the recognised union, for an ex-gratia/bonus amount of Rs 1.75 lakh for the unionised category of employees at its Ennore plant (the mother plant) for the year 2018-19 (April 2018 to March 2019).

In a notice to employees, the company said that the payment would be pro-rated to the actual attendance and earnings thereof during the financial year of 2018-19. However, loss of earnings on account of permission/late in/early out and industrial accidents during the course of employment shall be excluded. The company further said that all applicable deduction/dues like income tax as applicable, insurance premium including excess premium paid by the company for the employees to the insurance company in 2018, credit society loans, bank loans, any other advances in the name of eligible employees and other deductions, if any, will be recovered from the Bonus amount.

The above mentioned payment will be made on September 16 (Monday) through bank transfers. The company also said that the ex-gratia/bonus will not be paid to all the trainees and apprecentices, employees who have been found guilty and dismissed for misconducts enumerated under Section 9 of the Payment of Bonus Act, where an employee has been found guilty of misconduct causing financial loss to the company, the amount of loss shall be deducted from the ex-gratia/bonus payable, the notice further said.

It may be recalled that the workers' union has been demanding 7% of the profit made last fiscal, but the management was adamant at 5% or 5.5%. The current bonus/ex-gratia is worked out to be around 5.42%, union sources said. All the 6,146 employees are expected to be benefited by this bonus, the union official then said.

The bonus announcement came in amidst ongoing production holidays the company had announced last week. With uncertainty looming large over the early demand revival in the CV sector as well as to avoid any inventory pile-up due to ensuing BS VI norms, ALL has extended its production holidays beyond Chennai plant to all other plants across the country for a large number of days.

After absorbing close to two weeks at its Chennai plant in the last few days, the company on Monday announced that it will absorb production holidays at its plants including Chennai (Ennore), Hosur, Pant Nagar, Alwar, Bhandara in September. The company said that due to continued weak demand, it has been decided to absorb production holidays across plants.

Except Hosur (1,2 and CPPS) for 5 days, the company has decided to go for a minimum of 10 days production cut across all other plants. A maximum of 18 days production cut will be absorbed at its Pant Nagar plant in Uttarkhand, followed by 16 days at its Ennore plant (Chennai). In the other two plants of Alwar and Bhandara, the company decided to cut 10 days of production during the month, the firm informed the stock exchanges.
Kerala plane crash: Air India praises Malappuram residents for saving lives
Posted on 10th August 2020
Air India Express has expressed its gratitude to people of Mallapuram, Kerala for help in a lane crash in which 18 people died Friday night.

In a tweet, the Air India Express said, Taking a bow to HUMANITY! A standing ovation from our hearts to the PEOPLE OF MALAPPURAM, Kerala, who had showered us with kindness & humanity during the uncertain incident. We owe you a lot! #ExpressGratitude.
---
Vodafone-Idea's fate hinges on the Supreme Court's AGR verdict today
Posted on 10th August 2020
For Vodafone Idea Ltd (VIL), the future course is closely pegged to today's Supreme court decision on the issue of tenure of payment of adjusted gross revenue (AGR) dues.

In the last hearing, held in July, the court had ended some confusion by clearly telling VIL and other operators that there would be no reassessment of the AGR dues calculated by the department of telecommunications (DoT). Operators had earlier claimed, based on their self-assessment, that the payable amount should be far less.
---
Gold prices at Rs 59,300 per 10 gm, silver jumps to Rs 74,210 a kg
Posted on 10th August 2020
Gold prices Monday jumped to Rs 59,300 from Rs 59,290 per 10 gram, while silver climbed to Rs 74,210 from Rs 74,200 per kg, according to Good Returns website.

Gold jewellery prices vary across India, the second-largest consumer of the metal, due to excise duty, state taxes, and making charges.
---
Paytm launches portable Android-based POS device for Rs 499 a month
Posted on 10th August 2020
Leading digital payment service Paytm on Monday launched an Android-based, pocked-sized point of sale (POS) device that is enabled with integrated billing software, camera for QR scanning and supports 4G SIM cards Wi-Fi and Bluetooth connectivity.

Available for an introductory monthly rental of Rs 499, the 'Paytm All-in-One Portable Android Smart POS' can accept orders and payments on the go.
---
PM Modi inaugurates submarine optical fibre cable connecting Chennai, Port Blair
Posted on 10th August 2020
Prime Minister Narendra Modi on Monday inaugurated the submarine Optical Fibre Cable (OFC) connecting Chennai and Port Blair through video conferencing.

He said that inauguration of the submarine Optical Fibre Cable in Andaman and Nicobar Islands will ensure high-speed broadband connectivity, fast mobile and landline telecom services and will give a big boost to the local economy.
---
Be the first person to write a business review for Ashok Leyland signs bonus pact with union