Road ministry sees good response to third TOT tranche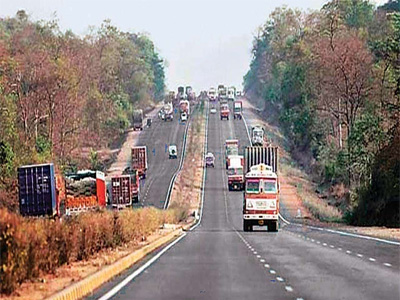 The Union Ministry of Roads and Highways is expecting a good response for the National Highway Authority of India's (NHAI) bid under the third tranche of 566.27 km of highways under the toll operate transfer (TOT ) despite the slowdown.
NHAI is targeting Rs 4,998.71 crore from monetisation of nine highway stretches of 566.27 km in Uttar Pradesh, Bihar, Jharkhand, and Tamil Nadu. The last date of bid submission is September 30.
About 27 investors have already shown interest in the TOT bundle on offer. At the roadshow here, the roads and highways minister Nitin Gadkari, who was accompanied by his deputy V K Singh, said there is a market appetite in the market as the TOT is a risk-free model. Senior officials from public and private sector banks and also representatives of leading institutional investors and private equity funds participated at today's roadshow.
Gadkari said that NHAI has got an unsecured loan of Rs 25,000 crore from State Bank of India for 10 years with three years of moratorium on repayments. He said it was the largest loan amount sanctioned to NHAI in one tranche by any institution.
The third bundle is a part of the 5,000-km projects planned earlier. The first round of TOT in February 2018 was a success. The winning bidder Macquarie offered Rs 9,691 crore as against the expectation of Rs 6,258 crore for 700 km highways. However, NHAI cancelled the second bundle that was spread over 584 km over four states as the bids that were received were far below expectations.
Crisil in its presentation said the bidder should have handled for a minimum period of two years at least two road projects, each of which is at least 56.63 km in length. For corporates the threshold financial capacity should be Rs 1,999.48 crore of net worth and for infrastructure fund houses it should be Rs 24,993.55 crore of assets under management.