NTPC gains from pre-poll thrust to coal supple
Posted on 30th May 2019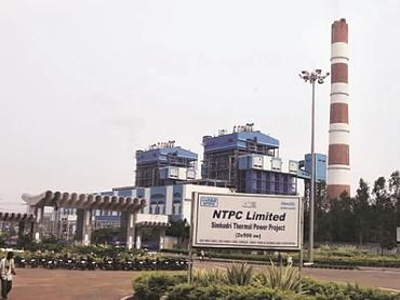 State-owned power generator NTPC gained from improved coal supply to its power plants in the pre-election season, as it was able to reduce its traditional under-recoveries stemming from fuel shortages. The company's fixed cost under-recoveries, which increases with fuel-related uncertainties, were at Rs 800 crore in FY19, 43% lower than FY18, as it received more fuel from Coal India and increased production from its own captive mines.

Under-recoveries due to coal shortage itself in FY19 was Rs 250 crore, down 69%.

NTPC reported a net profit of `11,750 crore in FY19 on a standalone basis, registering a year-on-year (y-o-y) increase of 13.6% and its revenue grew 8.2% to Rs 92,179.6. The company's Ebitda (earnings before interest, tax, depreciation and amortisation) increased 5.1% to Rs 22,771.5 crore, though its Ebitda margin went down 80 basis points y-o-y to 25.2% in the fiscal.

The power generation behemoth's fixed cost under-recoveries came down as its average plant availability factor (PAF) improved 146 basis points y-o-y to 87.3% on higher coal receipt. Fixed cost represents pre-determined expenditure components, including debt service obligation and risk-free returns. However, in order to claim fixed costs, plants need to display a minimum annual plant availability factor (PAF) of 83%.

The coal situation improved with the power ministry asking the coal and railway ministries to prioritise supply pithead power plants, as FE reported in early February, irrespective of their contractually entitled quantities so that they can run at full capacity utilisation levels. More than 77% of such pithead power generation capacity in the country are owned by NTPC.

To ensure constant generation in the pre-election fiscal, NTPC consumed 176 MT coal in FY19, up 4.5% y-o-y. Its captive Pakhri Barwadi coal mine produced 6.8 MT coal in FY19, 150% higher than previous fiscal. However, the company also had to raise imports by 228% to 1.1 MT to ensure adequate coal supply. NTPC's fuel costs increased 8.6% to `52,493.7 crore, while its generation output increased only 3.2%.

While the all-India average plant load factor (PLF) of thermal power plants stood at 61.1% in FY19, the same for NTPC's power plants — which have assured buyers — was at 76.7%. The company earned Rs 352 crore as PLF-linked incentive, which is 7.7% higher than FY18. About 23% of the country's electricity was generated by NTPC, which owns 16% of the total installed power production capacity.

Against the expectation of about 5,000 MW, NTPC could commercialise only about 1,700 MW of generation capacity in FY19. Its outstanding receivables from discoms was at around Rs 7,600 crore at the end of FY19, which analysts find to be a key negative for the company. The overdue is mainly on account of dues from Uttar Pradesh (`1,190 crore), Andhra Pradesh, Telangana and Karnataka.
Gold prices slump to Rs 48,900 per 10 gm, Silver rallying at Rs 51,950 a kg
Posted on 11th July 2020
Gold prices on Saturday fell to Rs 48,900 from Rs 49,100 per 10 gram, while silver climbed to Rs 51,950 from Rs 51,900 per kilogram, according to Good Returns website.

Gold jewellery prices vary across India, the second-largest consumer of the metal, due to excise duty, state taxes, and making charges.
---
Facebook plans to ban political ads before US Presidential election: Report
Posted on 11th July 2020
Facing intense criticism from all quarters, Facebook is planning to ban political ads on its platform like Twitter does as the US inches closer towards the presidential election in November, the media reported on Saturday.

According to a report in CNN Business citing sources, the potential ban on political ads to reduce the spread of disinformation has been under consideration since last fall.
---
RIL closes four Jio stake sale deals, receives Rs 30,062 cr from investors
Posted on 11th July 2020
After Facebook Inc, Reliance Industries has closed deals to sell a minority stake in its digital arm to four other investors, receiving a total of over Rs 30,062 crore.

In a regulatory filing, Reliance said it has closed the sale of 6.13 per cent stake in Jio Platforms with L Catterton, The Public Investment Fund, Silver Lake and General Atlantic.
---
Kolkata: Eden Gardens to be used as COVID-19 quarantine facility for police personnel
Posted on 11th July 2020
Kolkata Police can now use the galleries of Eden Gardens stadium as a makeshift quarantine facility, the Cricket Association of Bengal (CAB) on Friday said.

A meeting at Kolkata Police Headquarter, Lal Bazaar, took place at the Chamber of Special Commissioner Jawed Shamim. It was attended by CAB president Avishek Dalmiya.
---
India sees 27,114 new coronavirus cases, tally crosses 8 lakh-mark
Posted on 11th July 2020
In another highest single-day spike of coronavirus cases, India on Saturday reported 27,114 new cases in the last 24 hours. As many as 519 deaths were reported during this period.

With this, the country's total count has crossed the eight lakh-mark.

The total number of positive cases in the country stands at 8,20,916, including 2,83,407 active cases, 5,15,386 cured/discharged/migrated and 22,123 deaths, according to the Ministry of Health and Family Welfare.
---
Be the first person to write a business review for NTPC gains from pre-poll thrust to coal supple