Coal imports to surge to a record in 2019, shipments will climb 11%: Adani
Posted on 10th May 2019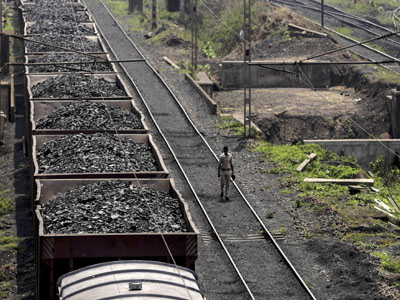 India's thermal coal purchases are expected to surge to a record this year and remain robust through the next decade as domestic supply lags demand, according to the country's largest importer.

Overseas shipments will climb almost 11% to 184 million metric tons during the financial year started April 1, and rise further to average about 200 million annually through the following decade, according Vinay Prakash, chief executive officer for coal and mining at Adani Enterprises Ltd. Generators designed to run on imported coal will keep fueling demand, while consumers close to the coast are also likely to favor imports due to the higher cost of railing domestic supply to their operations, he said in an interview.

India is seen maintaining its reliance on coal-fired power, which accounts for 70% of its electricity generation, even as the fuel emerges as a leading cause for the country's toxic air. The nation's continuing demand provides a lifeline for global exporters as other markets gradually shift toward renewable energy, including China, the world's biggest consumer and producer.

"Demand for imported coal will always be there, regardless of our domestic production," said Prakash. "Customers located near the coast may always find it cheaper to import because ocean freight is much cheaper than the railway freight they would need to pay if they get coal from Indian mines."

India will be a key destination for coal from Adani's Carmichael mine in Australia's Galilee basin, Prakash said. The group's planned 1,600 megawatt power plant in the eastern state of Jharkhand, may be supplied by the mine, along with customers in China, South Korea and Taiwan, he said.
UP cops arrest owners of bogus brokerage involved in Rs 4,122 cr DHFL scam
Posted on 7th December 2019

The economic offences wing (EOW) of Uttar Pradesh Police has arrested seven accused in the UP Power Corporation Limited (UPPCL) employees' provident fund (PF) scam, in which Rs 4,122 crore was illegally parked with private lender Dewan Housing Finance Corporation Limited (DHFL).

Those arrested included a senior DHFL official, a chartered accountant and the owners of bogus brokerage firms. With the new arrests yesterday, the number of those rounded up in the case has risen to 12.
---
NTPC inks Rs 5,000 crore term-loan pact with SBI for capex spending
Posted on 7th December 2019
Power generation company NTPC on Saturday said it has signed a term loan agreement for Rs 5,000 crore was signed with State Bank of India (SBI).

The loan facility has been extended at an interest rate linked to 3-month MCLR (marginal cost of funds-based lending rate) of the bank and has a door-to-door tenure of 15 years, NTPC said in a statement.
---
Priyanka Gandhi meets Unnao rape victim's family, attacks UP govt
Posted on 7th December 2019

Congress general secretary Priyanka Gandhi Vadra on Saturday blamed the BJP government in Uttar Pradesh for the death of the Unnao rape victim, following which she met the deceased's family members at their house and offered her condolences.

Hours after the death of the 23-year-old gang rape victim at a Delhi hospital, the Congress leader alleged that the "hollow law and order mechanism in UP" denied justice to survivors of sexual violations.
---
Goa minister urges Modi to mandate public hanging of rape-murder convicts
Posted on 7th December 2019

Goa minister Michael Lobo on Saturday demanded that public hanging of convicts in the rape-murder cases be made compulsory in the country for sending out a strong message in the society in order to curb crime against women.

He also urged Prime Minister Narendra Modi and Union Home Minister Amit Shah to bring amendments to the law to facilitate public hanging of such criminals.
---
Hyderabad cops file case against 4 rape accused after shooting them dead
Posted on 7th December 2019

A case was registered against four accused, arrested for the alleged rape and murder of a woman veterinarian near here last month and killed in an encounter, for 'attacking' the police personnel.

Case under IPC sections 307 (attempt to murder), 176 (omission to give notice or information to public servant by person legally bound to give it) and relevant sections of the Indian Arms Act were registered against the accused.
---
Be the first person to write a business review for Coal imports to surge to a record in 2019, shipments will climb 11%: Adani