GIC sells DLF's 70 million shares in block deal for Rs 1,344 crore
Posted on 9th April 2019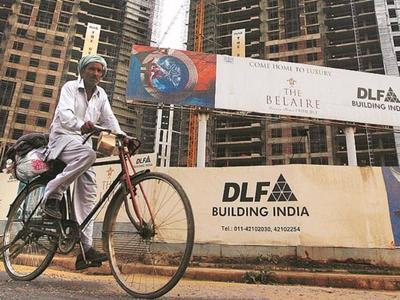 GIC, Singapore government's sovereign wealth fund, on Monday sold 70 million shares of the country's largest real estate developer, DLF, in a block deal for around Rs 1,344 crore.

The shares have been bought by existing investors who had pumped in Qualified Institutional Placement (QIP) programme at Rs 192. After the block deal broke, DLF share prices cracked by almost 8.4 per cent to close at Rs 184.60.

"As a long-term investor, GIC has steadily grown our investments in DLF, one of India's most established real estate developers, since 2011. Today, we remain invested significantly in DLF across various investment groups in our diversified portfolio. GIC will continue to strengthen our partnership with DLF to tap on investing opportunities in India's real estate sector," Lay Choon Mah, senior vice-president, corporate affairs and communications.

In 2016-17, GIC through its property arm had bought 70 million shares of DLF. GIC continues to hold its larger investments in DLF through commercial and residential arms. Their investment in DLF is valued at $1.8 billion. "This appears to be a trading call based on their portfolio optimisation and should not affect the strong relationship we have," DLF spokesperson said.

The company last month announced the launch of a QIP programme to raise Rs 3,175 crore. This is part of an earlier decision to cut its then massive debt, of Rs 28,500 crore only two years earlier. With the latest step, the aim is to bring this down to Rs 1,600 crore.

The QIP plan was approved by the board of directors in mid-December 2018, approved by the shareholders a month after. The debt total at end-December was Rs 7,224 crore.

Other than the QIP, the promoters would put in another Rs 2,500 crore, thus reducing the total of debt to a little less than Rs 1,600 crore.

The turnaround in this regard had begun in August 2017 when K P Singh and his family - the promoters - sold their entire 40 per cent stake in rental arm DLF Cyber City Developers (DCCDL) for Rs 11,900 crore. This comprised sale of a 33.34 per cent stake in DCCDL for Rs 8,900 crore to GIC, the Singapore government's sovereign wealth fund, and a buyback of the remaining shares worth Rs 3,000 crore by DCCDL.

DLF had also announced a second joint venture (JV) with global realty investment, development and management firm Hines. DLF Home Developers (DHDL), a wholly-owned subsidiary, and Green Horizon Trustee (an affiliate of Hines) had formally signed the JV, for developing a high-end commercial project in Gurugram, worth Rs 7,000 crore. Total investment by the two partners would be Rs 1,900 crore.
17 US states, DC file lawsuit against Trump's new visa policy for students
Posted on 14th July 2020
As many as 17 US states and the District of Columbia have filed a lawsuit against the Trump administration's new visa policy for international students, calling it a "cruel, abrupt, and unlawful action to expel them amidst the COVID-19 pandemic.

In its July 6 order, the US Immigration and Customs Enforcement (ICE) declared that the nonimmigrant students with F-1 and M-1 visas attending schools operating entirely online or taking only online courses will not be permitted to remain in the United States.
---
Telangana coronavirus update: State reports 1,550 new cases, 9 deaths
Posted on 14th July 2020
A total of 1,550 COVID-19 cases and nine deaths were reported in Telangana on Monday, said the state's health department.

The state's total COVID-19 cases now stand at 36,221, including 12,178 active cases and 23,679 recoveries.

The deadly virus has so far claimed 365 lives in the State.
---
Gold prices today at Rs 49,050 per 10 gm, silver jumps to Rs 52,210 a kg
Posted on 14th July 2020
Gold prices on Tuesday jumped to Rs 49,050 from Rs 49,010 per 10 gram, while silver climbed to Rs 52,210 from Rs 52,000 per kilogram, according to Good Returns website.

Gold jewellery prices vary across India, the second-largest consumer of the metal, due to excise duty, state taxes, and making charges.
---
5Paisa Capital hits 52-wk high after posting first-ever quarterly profit
Posted on 14th July 2020
Shares of 5Paisa Capital were locked in 5 per cent upper circuit at Rs 324.60 on the BSE on Tuesday after the company posted net profit of Rs 3.74 crore in June quarter (Q1FY20), against net loss of Rs 55 lakh in the year-ago quarter.

The company has reported quarterly profits for the first time since the launch of 5Paisa in March 2016. The stock was trading at its 52-week high level.
---
Tata Communications hits over 2-year high; stock zooms 112% in 3 months
Posted on 14th July 2020
Shares of Tata Communications were locked in the 5 per cent upper circuit for the second straight day on the BSE at Rs 700.55 on Tuesday, hitting an over two-year high in an otherwise weak market.

The stock of the Tata group company was trading at its highest level since December 15, 2017. In the past three months, it had rallied 112 per cent after the company delivered strong operating performance during the January-March quarter (Q4FY20). In comparison, the S&P BSE Sensex was up 18 per cent during the period.
---
Be the first person to write a business review for GIC sells DLF's 70 million shares in block deal for Rs 1,344 crore