Pulwama attack: Modi warns Pak, says security forces given full freedom
Posted on 15th February 2019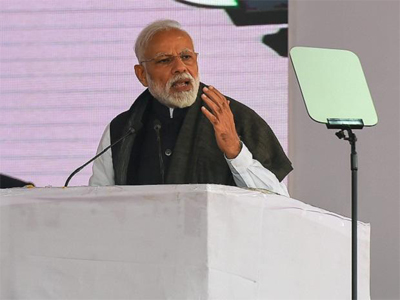 Prime Minister Narendra Modi on Friday promised a strong response to a car bombing in Kashmir that killed 40 paramilitary that his government blamed on Pakistan, ratcheting up tensions with the nuclear-rival.

The attack on a military convoy in Jammu and Kashmir where India has been battling an insurgency was the worst in decades and comes just months before Modi's ruling Hindu nationalists face a tight general election.

"We will give a befitting reply, our neighbour will not be allowed to de-stabilise us," Modi said in a speech soon after he called his security advisers to consider a response to the attack that has provoked an outpouring of anger on social media and demands for retribution.

Paying tributes to around 40 CRPF personnel who lost their lives in the Pulwama attack, he said, "Our security forces have been given full freedom (to carry out anti-terror operations). We have full faith in their bravery."

The Pakistan-based Islamist militant group Jaish-e-Mohammad (JeM) claimed responsibility soon after a suicide bomber rammed his car laden with explosives into a bus carrying Central Reserve Police Force personnel on Thursday.

The Indian government said it had incontrovertible evidence of Pakistan's involvement in the attack. Islamabad rejected the suggestion it was linked to the attack.

India will take all possible diplomatic steps to ensure the "complete isolation" of Pakistan, cabinet minister Arun Jaitley told reporters soon after the cabinet committee met at Modi's residence.

As a first step, this would include India removing most favoured nation (MFN) trade privileges given to Pakistan, Jaitley said.

"The ministry of external affairs will initiate all possible steps, and I am here referring to all possible diplomatic steps which have to be taken to ensure the complete isolation from the international community of Pakistan," he said.

But bilateral trade between India and Pakistan is barely $2 billion per year and Modi facing a tough election is likely to come under pressure for a more muscular response.

He took office in 2014 promising to tackle Muslim Pakistan, with which India has twice gone to war since independence from Britain in 1947

Kashmir is a Muslim-majority region at the heart of decades of hostility between India and Pakistan. The neighbours both rule parts of the region while claiming the entire territory as theirs.

The last major attack in Kashmir was in 2016 when militants raided an Indian army camp in Uri, killing 20 soldiers. Modi responded with a surgical strike on suspected militant camps across the border in Pakistan Kashmir weeks later.

Pakistan's Ministry of Foreign Affairs called the latest Kashmir attack a matter of "grave concern".

But in a brief statement early on Friday it added: "We strongly reject any insinuation by elements in the Indian government and media circles that seek to link the attack to the State of Pakistan without investigations."

The White House urged Pakistan in a statement "to end immediately the support and safe haven provided to all terrorist groups operating on its soil". It said the attack strengthens US resolve to step up counter-terrorism cooperation with India.
NTPC plant kills two birds with one stone: Converting Swachh Bharat into electricity generation
Posted on 20th March 2019
State-owned power producer NTPC Tuesday said its 200 kilo watt (kW) waste-to-energy plant in Karsada has achieved full generation capacity.

The plant is located in Karsada at Varanasi, Uttar Pradesh (UP)."Karsada plant has been able to achieve full load generation. Set up with an installed capacity of 200 kW, the thermal gasification-based pilot scale 24 tonne per day waste to energy plant has achieved full generation capacity," NTPC said in a statement.
---
RCom shares continue to gain, rally 10 per cent
Posted on 20th March 2019
New Delhi: Shares of Reliance Communications further zoomed 10 per cent to hit the highest trading permissible limit for the second day in a row on Wednesday after the company cleared dues of Swedish service provider Ericsson.

The scrip rose sharply by 10 per cent to Rs 4.84 -- its upper circuit limit -- on the BSE.
---
Vodafone Idea sets terms for USD 3.6 billion worth rights issue
Posted on 20th March 2019
Vodafone Idea Ltd, India's largest telecommunications company by subscribers, on Wednesday approved 250 billion rupees (USD 3.63 billion) rights issue at a sharp discount, sending its shares tumbling.

The deal is the second major fundraising by an Indian telco this year after Bharti Airtel Ltd announced a similar plan to reduce debt and fund operations in a market blighted by steep price competition.
---
Sensex, Nifty rise on sustained foreign fund inflow
Posted on 20th March 2019
Benchmark indices opened on a positive note on Wednesday on sustained foreign fund inflow ahead of March derivatives expiry.

However, gains were capped as Asian shares fell across the board in line with overnight drop in US stocks. Rising crude oil prices too worried investors.
---
The Centibillionaires: Bill Gates joins Jeff Bezos as the only two members of the $100 billion club
Posted on 20th March 2019
Bloomberg tracks the fortunes of some 2,800 billionaires. Of those, 145 are worth at least $10 billion, making them decabillionaires. Now, the world contains two centibillionaires simultaneously.

Microsoft Corp. co-founder Bill Gates, once the world's richest person, has again eclipsed the $100 billion threshold, joining Amazon.com Inc.'s Jeff Bezos in the exclusive club, according to the Bloomberg Billionaires Index.
---
Be the first person to write a business review for Pulwama attack: Modi warns Pak, says security forces given full freedom