Pulwama attack: Modi warns Pak, says security forces given full freedom
Posted on 15th February 2019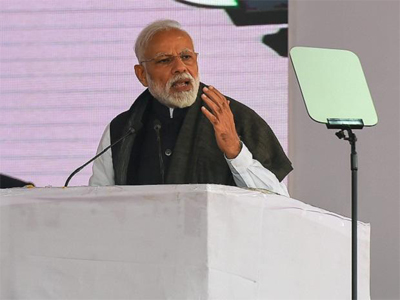 Prime Minister Narendra Modi on Friday promised a strong response to a car bombing in Kashmir that killed 40 paramilitary that his government blamed on Pakistan, ratcheting up tensions with the nuclear-rival.

The attack on a military convoy in Jammu and Kashmir where India has been battling an insurgency was the worst in decades and comes just months before Modi's ruling Hindu nationalists face a tight general election.

"We will give a befitting reply, our neighbour will not be allowed to de-stabilise us," Modi said in a speech soon after he called his security advisers to consider a response to the attack that has provoked an outpouring of anger on social media and demands for retribution.

Paying tributes to around 40 CRPF personnel who lost their lives in the Pulwama attack, he said, "Our security forces have been given full freedom (to carry out anti-terror operations). We have full faith in their bravery."

The Pakistan-based Islamist militant group Jaish-e-Mohammad (JeM) claimed responsibility soon after a suicide bomber rammed his car laden with explosives into a bus carrying Central Reserve Police Force personnel on Thursday.

The Indian government said it had incontrovertible evidence of Pakistan's involvement in the attack. Islamabad rejected the suggestion it was linked to the attack.

India will take all possible diplomatic steps to ensure the "complete isolation" of Pakistan, cabinet minister Arun Jaitley told reporters soon after the cabinet committee met at Modi's residence.

As a first step, this would include India removing most favoured nation (MFN) trade privileges given to Pakistan, Jaitley said.

"The ministry of external affairs will initiate all possible steps, and I am here referring to all possible diplomatic steps which have to be taken to ensure the complete isolation from the international community of Pakistan," he said.

But bilateral trade between India and Pakistan is barely $2 billion per year and Modi facing a tough election is likely to come under pressure for a more muscular response.

He took office in 2014 promising to tackle Muslim Pakistan, with which India has twice gone to war since independence from Britain in 1947

Kashmir is a Muslim-majority region at the heart of decades of hostility between India and Pakistan. The neighbours both rule parts of the region while claiming the entire territory as theirs.

The last major attack in Kashmir was in 2016 when militants raided an Indian army camp in Uri, killing 20 soldiers. Modi responded with a surgical strike on suspected militant camps across the border in Pakistan Kashmir weeks later.

Pakistan's Ministry of Foreign Affairs called the latest Kashmir attack a matter of "grave concern".

But in a brief statement early on Friday it added: "We strongly reject any insinuation by elements in the Indian government and media circles that seek to link the attack to the State of Pakistan without investigations."

The White House urged Pakistan in a statement "to end immediately the support and safe haven provided to all terrorist groups operating on its soil". It said the attack strengthens US resolve to step up counter-terrorism cooperation with India.
DLF's operating cash flow to rise in coming quarters
Posted on 25th May 2019
DLF's net sales bookings stood at `650 crore in Q4 – ahead of expectation for `600 crore. The mManagement guided for conservative 10% growth in pre-sales in FY20 mainly due to subdued NCR market and very low inventory in Crest project which contributed significantly to sales in FY19. Management guided for exit rentals of `37.5-40 bn at DCCDL (`27 bn currently), driven by addition of `4.5 bn of rentals from commencement of Cyberpark and Rs 4.25 bn of rentals from transfer of assets from DLF.
---
ITC Q4 results broadly in line with estimates
Posted on 25th May 2019
Q4 was broadly an in-line quarter led by modest performance in core cigarette business (8% volume growth/2-year CAGR at 2.5% and 10% Ebit growth), sustained profitability enhancement in FMCG and broad-based robust growth in other businesses. Punitive taxation notwithstanding, we believe, improving volume trajectory and pricing action in core cigarette business remain key catalysts. Inexpensive valuations (our reverse math suggests core cigarette business adjusted for other parts in our SoTP valuation trades at 21x Mar-21e earnings) and undemanding expectations lend additional comfort.
---
Bajaj Auto: Q4 was in keeping with expectation
Posted on 25th May 2019
Bajaj auto's Q4FY19 Ebitda at Rs 11.6 bn was in line with estimates (Nomura: `11.6 bn, Consensus: Rs 11.8 bn). While revenues were 2% higher than our estimate, Ebitda margin at 15.7% was a bit below our estimate of 16%. Management refrained from giving any volume guidance for FY20 given tough market conditions in India. It said 3W demand is likely to remain tepid in the near term due to a slowdown in India and Egypt. 2W exports are doing well in Africa but stagnant in LatAm and declining in the Middle East.
---
Nepal Police arrests Dawood aide Yunus Ansari, fake Indian currency worth Rs 7.5 cr million seized
Posted on 25th May 2019
Nepal police on Friday arrested underworld don Dawood Ibrahim's associate Yunus Miya Ansari along with three Pakistani and two Nepalese citizens possessing counterfeit Indian currency amounting to over Rs 7.5 crores, from the Tribhuvan International Airport in Kathmandu.

As per the police, Ansari along with others was arrested at 9:30 AM on Friday from the airport when they came to receive the counterfeit Indian Bank Notes.
---
---
Be the first person to write a business review for Pulwama attack: Modi warns Pak, says security forces given full freedom