Infosys ADS holders seek refund of $3.7 million in depository fees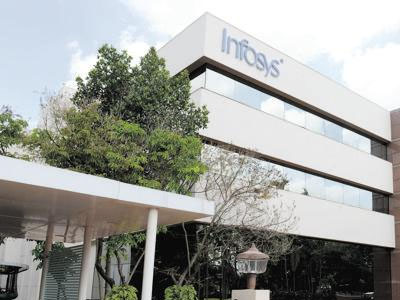 New Delhi: Holders of Infosys Ltd's American Depositary Shares (ADSs) have complained that the company's issue of bonus ADSs in September has added to their cost of owning the securities without any concomitant benefits. They have, in a letter to Infosys's chief financial officer M.D. Ranganath, asked the Bengaluru-based company to review its ADS programme and refund over $3.7 million to its ADS holders in depository fees collected by the firm on account of issuing new securities.
The development comes at a time when Infosys is still to name a successor to Ranganath, who decided to step down in August. On Thursday, Infosys named Jayesh Sanghrajka as the interim chief financial officer, effective 17 November.
"In our considered opinion, the consequent cost of your share dividend to the beneficial owners of Infosys ADSs is both unreasonable and excessive," George H. Gregor, managing partner of Global Capital Service Group Ltd, said in the 11 November letter. "We intend to speak with current ADS holders and the press to make them aware of your wanton disregard for investor costs and to discuss next steps and available remedies in this regard."
New York-based Global Capital Service Group, which offers advisory services to investors, said that Infosys should have refrained from charging issuance fees on the new ADS and the company could have either reduced the ongoing depository service fees paid by ADS holders or reduced the number of outstanding ADS.
In July, Infosys offered its shareholders an additional share for every share held as the company celebrated 25 years of stock market listing. Consequently, the number of ADSs also more than doubled to 745.58 million at the end of September 2018 from 372.79 million at the end of June. That led to an increase in the fees to own the ADSs.
In the year-ended March 2018, Infosys earned about $9 million in fees from the ADS programme.
An email sent to Infosys seeking comment went unanswered.
Some corporate advisory firms see merit in the latest claim raised by some ADS owners, which hold 17% equity in Infosys.
"Infosys is perceived to be a shareholder-friendly company. So the rationale of charging a fee on additional shares by the company does not make sense. After all, the company has over $5 billion in cash; so why will a company force some investors to complain for $4 million," said the head of a proxy-advisory firm, who did not want to be named.
Gregor said Infosys's decision to issue bonus shares has doubled the annual cost of remaining invested in Infosys ADSs.
"To an institutional investor such as, for example, Blackrock Inc., which previously held approximately 100 million ADSs, the position has now doubled to in excess of 200 million ADSs with zero added value to such investor. The delivery of additional ADSs cost Blackrock more than $1 million in ADS issuance fees charged by your depositary, and the continuing annual service fees charged by your depositary will double from approximately $4 million paid by Blackrock in 2017 (assuming they held a position of 100 million ADSs at that time) to more than $8 million in 2018 (assuming your depositary intends to collect another fee of $.01 per ADSs before the year is through)," Gregor wrote in the letter.