Ashok Leyland MD-CEO Vinod K Dasari resigns, to stay on till March 2019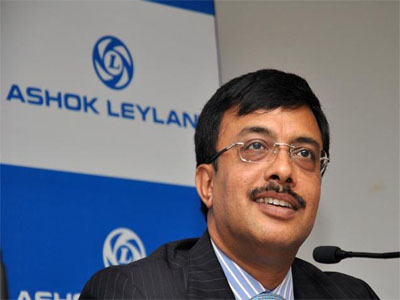 Ashok Leyland managing director (MD) and CEO Vinod K Dasari resigned from his post on Tuesday. He tendered his resignation at the board meeting held to announce the audited results of the company, a Hinduja Group flagship, for the second quarter.
The board of directors in-principle accepted his resignation. But he was asked to continue till March-end 2019 for finding a successor as well as smooth transition.
Announcing Dasari's exit at a press conference here, chairman Dheeraj G Hinduja said: "Vinod has decided to resign to pursue interests outside the company. He will be with us till March-end next year and will assist in finding a suitable successor as well smooth transition. As an interim solution and as per board director, I will assume the responsibility of executive chairman with immediate effect."
"I would like to place on record the contribution of Dasari in making Ashok Leyland a formidable force in the industry. He, along with his leadership team, steered the company to ensure significant all-round performance," Hinduja added.
In response to a question on whether the company would look inside or outside for a new MD, he said: "The resignation was sudden. The board needs some time to decide on the replacement. We will make it public once we decide on the successor."
"We don't see any vaccum. The firm is on a strong foot across all the fronts. We have a great team to take the company to a higher level of growth momentum," he added.
In his address, Dasari said: "My decision to leave is purely personal as I wish to pursue personal interests and continue my learning journey. Fourteen years in this company have been an incredible experience."
Ashok Leyland Q2 net profit jumps 37.49%
Ashok Leyland Tuesday reported a 37.49% jump in standalone net profit at Rs 459.57 crore for the September quarter fuelled by higher revenue.
The company had posted a net profit of Rs 334.25 crore during the same period of the previous fiscal, Ashok Leyland said in a stock exchange filing. During the quarter under review, Ashok Leyland's revenue from operations stood at Rs 7,607.98 crore, up 25.20% against Rs 6,076.38 crore during the July-September quarter of 2017-18.