Two terrorists killed, soldier martyred in encounter in north Kashmir's Bandipora
Posted on 14th June 2018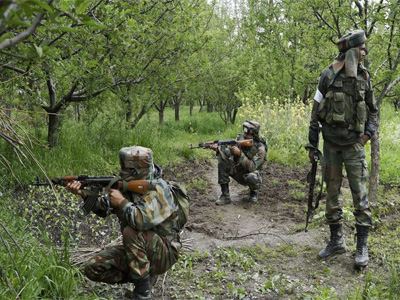 After days of combing, the Army finally managed to neutralise two terrorists deep inside the jungles of Panar in north Kashmir's Bandipora district. A soldier was also martyred in the encounter.

The operations started on June 9 when troops were attacked by the terrorists in the forest area. The area was immediately cordoned and operation to flush out the terrorists was launched.

Since the area was huge with dense forests, the attackers managed to change locations to avoid contact with forces. However, army plugged all entry and exit routes to prevent their escape.

Sources said there were multiple contacts (gun fights) with terrorists in all these days. However, after days, troops achieved success on Thursday when they neutralised two terrorists. However, the army lost one of its soldiers,

"Two terrorists killed and one army soldier martyred in the ongoing operation in Panar forests", said Colonel Rajesh Kalia, defence spokesman at Srinagar.

The killing has come on the day when crucial security review meeting is to be held in New Delhi to take a decision whether to extend the Ramzan ceasefire beyond Eid.

Director General of Police, Jammu and Kashmir, Dr Shesh Paul Vaid will represent the state in the meeting.

"There were many terrorist incidents particularly grenade attacks. Two of our cops were killed yesterday. But other parameters have shown an improvement. Stone pelting, killing of civilians and killing of security force personnel has decreased. We will give our inputs. Let us see", Dr Vaid told DNA.

Figures reveal that since Ramzan ceasefire on May 17, there have been 53 militancy related incidents across Kashmir, in which 33 people including 24 terrorists, four civilians and five security men were killed.

Of the total terrorists, 22 were killed near the Line of Control (LOC). The slain terrorists were either newly infiltrated or were trying to infiltrate from the other side of the LoC. Since the ceasefire is not applicable to the counter infiltration grid, therefore army carried out its operation against the infiltrators on the LoC.

Terrorists have carried 18 grenade incidents since the ceasefire in which 46 people including 17 security men were injured. Terrorists have looted two banks and snatched six rifles from the cops besides carrying out series of standoff attacks targeting the security forces.

On June 7, Union Home Minister Rajnath Singh chaired a security review meeting in which Chief Minister Mehbooba Mufti strongly advocated the extension of the Ramzan ceasefire.
L&T buys shares of Mindtree worth Rs44 crore through open market
Posted on 23rd May 2019
MUMBAI: Construction major L&T on Thursday bought shares worth about ₹44.16 crore of Mindtree through open market transactions.

According to the bulk deal data available with the NSE, the firm bought over 0.45 million shares, at an average price of ₹979.91 a share.
---
Paytm Payment bank turns profitable: Reports net profit of Rs 19 crore in FY19
Posted on 23rd May 2019
Paytm Payments Bank Limited (PPB) Thursday said it has turned profitable within its second year of operation, reporting a profit of Rs 19 crore for the financial year 2018-2019. PPBL claimed to lead mobile banking transactions with over 19 per cent market share as of March 2019.

"Nearly a third of the total mobile banking transactions in India are powered by PPB and it processes over Rs 3 lakh crore worth of digital transactions on an annualised basis," the company said in a statement.
---
NSE gets interim relief from SAT in co-location case
Posted on 23rd May 2019
The Securities Appellate Tribunal (SAT) on Wednesday stayed Sebi rulings that directed the National Stock Exchange to disgorge profits of over Rs 625 crore in the co-location case.

However, the tribunal directed the bourse to deposit Rs 625 crore with Sebi in two weeks. The exchange would have to continue to deposit revenues from the co-location facility to an escrow account.
---
Rupee rises 26 paise to 69.40/USD in early trade ahead of Lok Sabha elections outcome
Posted on 23rd May 2019
The rupee appreciated by 26 paise to 69.40 against the US dollar in opening trade Thursday, as counting of votes for the seven-phase Lok Sabha elections began across the country.

The counting exercise is on in over 4,000 counting centres. Most of the exit polls have predicted that the BJP-led National Democratic Alliance (NDA) is on course to retain power for a second term.
---
Hulst BV acquires additional 98,100 shares in NIIT Technologies
Posted on 23rd May 2019
New Delhi: Hulst BV has acquired additional 98,100 shares of NIIT Technologies from the open market, taking its shareholding in the mid-sized Indian IT firm to 32.04 per cent, a regulatory filing said on Thursday.

On Wednesday, Hulst BV had acquired 1.23 lakh shares of NIIT Technologies taking its shareholding in the company to 31.88 per cent.
---
Be the first person to write a business review for Two terrorists killed, soldier martyred in encounter in north Kashmir's Bandipora