Markets applaud Infosys on its silver jubilee, surges 23% on BSE in 2018
Posted on 14th June 2018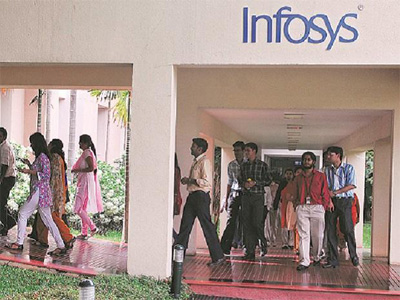 With Infosys all set to complete a quarter century on the Indian bourses, the company's share price has reflected the iconic journey of the tech services firm, touching an all-time high on Wednesday.

The share price of the Bengaluru-headquartered company touched a record high of Rs 1,284 on the BSE, surpassing the previous high of Rs 1,278 on June 3, 2016.

So far in 2018, the company has outperformed the market by surging 23 per cent, compared to a 5 per cent rise in the S&P BSE Sensex.

Starting its journey with a gross revenue of $5 million during its stock market debut on June 14, 1993, Infosys has reached dizzying heights, with a revenue of $10.93 billion in 2017-18.

The company's market cap is also close to $40 billion.

This is no mean feat, given that Infosys' initial share sale witnessed tepid response, and Morgan Stanley had to come to its rescue.
---
EU approves $7.5 bn acquisition of GitHub by Microsoft
Posted on 20th October 2018
The European Commission on Saturday announced it has approved the $7.5 billion acquisition of GitHub by Microsoft.

The Commission said that effective competition in the relevant markets would continue and Microsoft would have no incentive to undermine the open nature of GitHub's platform.
---
HDFC Bank net up 20.6% to Rs 50 bn in Sep quarter; gross NPAs rise 1.33%
Posted on 20th October 2018
Private lender HDFC Bank on Saturday reported a 20 per cent increase in its net profit to Rs 50.05 billion during the quarter ended September.

The bank's performance was in line with estimates, especially with healthy growth in the net interest income. The private sector lender had registered a net profit of Rs 41.51 billion in the July-September quarter of 2017-18 (FY18).
---
Amritsar train accident: Nitish questions public events near railway tracks
Posted on 20th October 2018
Expressing grief over the train accident in Punjab, Bihar Chief Minister Nitish Kumar has questioned the level of preparedness for the public event near railway tracks.

More than 58 people were mowed down by a train on railway tracks Friday evening at Joda Phatak area near Amritsar during Dussehra celebrations.
---
Phone makers in Europe to pay Google $40 per device to carry Google's apps
Posted on 20th October 2018
Android manufacturers will have to pay $40 per device to Google in Europe to be featured into Google Play Store and other mobile apps.

According to a report in The Verge on Friday, a confidential fee schedule shows costs as high as $40 per device to install the "Google Mobile Services" suite of apps.
---
Be the first person to write a business review for Markets applaud Infosys on its silver jubilee, surges 23% on BSE in 2018