Fuel retail: RIL, Essar ramp up presence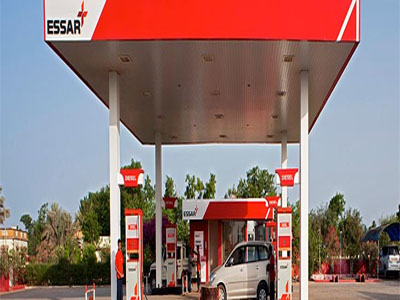 Thanks to decontrol of auto fuel prices and the reduced threat of a return of rigorous regulations, Reliance Industries and Essar Oil (Rosneft) have fast-tracked the process of strengthening their fuel retail network. These private-sector companies, which currently have a little over 5,550 retail fuel outlets —less than 10% of the total — will together add another 2,500 over the next couple of years. According to company officials, RIL is planning to add another 1,000 fuel retail outlets across the length and breadth of the country, which will take the total count of its outlets to 2,400, while Essar Oil will add 1,500 outlets in the next 18-24 months, to have a 6,000-strong network.
Essar added 1,000 outlets in FY18 after the company was taken over by Rosneft and a consortia of European trader Trafigura and Russian Fund United Capital Partners in a $12.9 billion deal in mid-2017. The company has added 3,000 retail outlets over the last three years. State-owned fuel retailers, IOC, BPCL and HPCL, have around 56,060 retail outlets at present. This is around 91% of the total network, which means that it is still a long haul for the private retailers to end the PSU dominance in the sector. The low share of private firms in retailing is despite their substantial share in the country's refining capacity and production (RIL and Essar together have close to 45% of the refinery throughput right now).
According to Ministry of Petroleum and Natural Gas (MoPNG) data, private players have more than doubled their modest share in the domestic fuel market since FY15 when the oil prices were deregulated. In high speed diesel (HSD) segment the private players have 8.2% market share in FY18 compared with 3.1% in FY16. In motor spirit (MS) segment these firms' share has improved to 6.8% in FY18 from 3.5% in FY16. The private players have performed better in terms of throughput per retail outlet in comparison with their PSU counterparts. In Q3FY18, Reliance Industries' total HSD volume grew 68% year-on-year, while MS volume grew 46%. Its 1,281 operational outlets achieved per pump throughput twice that of key competitors.
Madhur Taneja, CEO, Oil Retail at Essar Oil, believes, there is ample opportunity for every player to grow in the domestic market as the demand for petroleum products will maintain the current growth trajectory. Petrol volumes have grown by some 11% and diesel by around 5% year-on-year over the last couple of years. "Going ahead we see the demand for these products to grow, led by higher disposable income, increased penetration of 2-wheelers and government's focus on infrastructure.
This means there will be enough room for everyone in the market to grow together," Taneja added.