Kotak Mahindra Bank topples SBI to become India's 2nd largest bank by market cap
Posted on 16th April 2018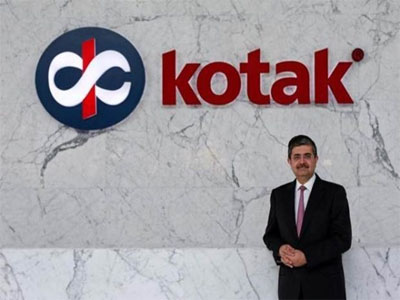 The Mumbai-based Kotak Mahindra Bank led by Asia's richest banker Uday Kotak became India's second-largest bank by market capitalisation on Monday surpassing India's largest bank by asset State Bank of India to grab the spot. Kotak Mahindra Bank is now behind the market capitalisation leader among all the banking scrips HDFC Bank which also features among the exhaustive club of Rs 5 lakh crore market capitalisation. Along with achieving the feature as country's second-largest bank by market capitalisation, Kotak Mahindra Bank came in the list of top 10 most valued companies on Bombay Stock Exchange.

Shares of Kotak Mahindra Bank rose as high as 2.22% to a day's peak of Rs 1,174.05 in the late afternoon deals to clinch the iconic place on Monday. Kotak Mahindra Bank topped a market capitalisation of Rs 2,23,732.67 crore on the day's high price and Rs 2,22,970.40 crore on the basis of the closing price of Rs on Bombay Stock Exchange. While, on the other hand, State Bank of India commands a market capitalisation of Rs 2,22,489.97 crore. At the end of Monday's dealing, Kotak Mahindra Bank's market capitalisation was Rs 480.43 crore higher than that of State Bank of India.

Shares of Kotak Mahindra Bank finished up 1.88% at Rs 1,170.05 on BSE while the stock concluded 1.82% higher at Rs 1,172.1 on NSE. Notably, Kotak Mahindra Bank is the fourth-largest private sector lender in the country after HDFC Bank, ICICI Bank and Axis Bank, in terms of asset size.

Among the stack of top 10 companies by market capitalisation on Bombay Stock Exchange, Tata group's cash cow Tata Consultancy Services, Mukesh Ambani-controlled Reliance Industries and Aditya Puri-led HDFC Bank have the market capitalisation above Rs 5 lakh crore. The list is followed by India's FMCG giant ITC, India's largest housing financier Housing Development Finance Corporation, another consumer goods behemoth Hindustan Unilever, Country's largest automaker Maruti Suzuki, India second-largest IT company Infosys, the oil explorer ONGC.

Over the course of last three days only, the stock of Kotak Mahindra Bank 3.36% to Rs 1,174 from the share price level of Rs 1,113.65 on NSE. Shares of Kotak Mahindra Bank have been broadly rising since 23 March 2018.
New Hyundai Santro launch on October 23; six reasons why company feels it will be winner again
Posted on 30th November -0001
Globally, it was called Hyundai Atos. When this tall car with a short bonnet and a vertical back was launched in India on September 23, 1998, Hyundai chose the name Santro—taken from Saint-Tropez, the French city famous for fashion—because the company wanted to project it as a 'fashionable' new car. It was the first uniquely-designed small car that was not a Maruti (Fiat had launched the forgettable Uno in 1996), and it appealed to customers.
---
Sensex, Nifty drop over 1%: Investors lose Rs 4 lakh crore
Posted on 20th October 2018
Investors have lost close to Rs 4 lakh crore in the last two trading sessions alone; the total wealth eroded since September is now Rs 22.3 lakh crore.

On Friday, the Sensex shed 463.95 points, or 1.3%, to close the session at 34,315.63 while the broader Nifty 50 pared 149.5 points, or 1.4%, to end at 10,303.55. With Friday's fall, the Nifty 50 has come off more than 12% from its August highs.
---
ArcelorMittal emerges as highest bidder for debt-laden Essar Steel
Posted on 20th October 2018
ArcelorMittal on Friday emerged as the highest bidder for Essar Steel, the company said in a release to the Luxembourg stock exchange.

"ArcelorMittal confirms it has been informed by the committee of creditors (CoC) for Essar Steel that it has been evaluated to be the H1 resolution applicant (the preferred bidder) in the corporate insolvency resolution process for Essar Steel," it said. The company will now enter into further negotiations with the CoC, ArcelorMittal added.
---
Soon you can pay cash and get bitcoin, other cryptocurrencies at nearby ATM
Posted on 20th October 2018
Even as the legal uncertainty on crypto currencies looms in India, crypto currency exchange Unocoin has launched its first ATM in Bengaluru. Through this ATM, traders can deposit physical cash (in rupees) in their crypto wallet and can trade in bitcoin and other cryptocurrencies.
---
Three-fourths of 419,600 H1B visa holders in 2018 are Indians: US report
Posted on 20th October 2018
Nearly three out of every four H-1B visa holders as of October 5 are Indian citizens, an official US report has said.

According to the US Citizenship and Immigration Services (USCIS), there were as many as 419,637 foreign nationals working in the US on H-1B visas as on October 5.
---
Be the first person to write a business review for Kotak Mahindra Bank topples SBI to become India's 2nd largest bank by market cap