Trump attacks Amazon over tax issues: Here's what the President could do
Posted on 30th March 2018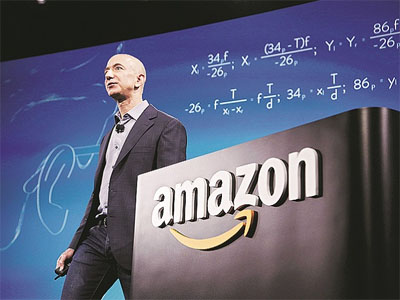 President Donald Trump renewed his long-running assault on Amazon.com Inc. with an early morning tweet Thursday. But what measures can he actually take against the online retail giant?

He could push for probes of consumer protection, privacy and antitrust issues. He could also step up his support for allowing states to collect sales tax on third-party purchases from Amazon, or seek to have the Postal Service charge more to deliver packages. And he could thwart Amazon's aspirations to win a multibillion dollar Pentagon contract for cloud services.

Even with those powers, Trump's ability to act has limits. Inquiries by the Justice Department or the Federal Trade Commission could take years and bear a high burden of proof. The FTC and other enforcement agencies guard their independence, as does the board of governors of the Postal Service. Changes to the tax law would require cooperation from Congress, which just passed a tax overhaul and may have limited appetite to reopen negotiations.

The feud pits the world's most powerful man against one of the world's biggest corporations -- a global titan with $684 billion in market capitalization and more than half a million employees. At stake is its reputation, revenue and, potentially, ability to continue to disrupt markets as it reshapes retailing.

Any move made by Trump that is perceived as revenge against Amazon founder Jeff Bezos for his ownership of The Washington Post would invite comparisons to President Richard Nixon, who, at the height of the Watergate scandal, threatened the Post's broadcast licenses.

Amazon didn't respond to a request for comment. While Amazon rose Thursday along with most U.S. stocks, the Trump attacks helped add to the shares' headwinds on Tuesday and Wednesday. An 8 percent drop marked Amazon's biggest two-day decline in two years.

White House spokeswoman Lindsay Walters told reporters aboard Air Force One Thursday that there are no specific plans to move against the company. "The president has expressed his concerns with Amazon," she said.
Gold price at Rs 48,750 per 10 gm, silver crosses Rs 50,000 mark
Posted on 2nd July 2020
Gold prices on Monday rose to Rs 48,750 from Rs 48,300 per 10 gram, while silver climbed to Rs 50,050 from Rs 48,550 per kilogram on Thursday, according to Good Returns website.

Gold jewellery price varies across India, the second-largest consumer of the metal, due to excise duty, state taxes, and making charges.
---
IDBI Bank's market-cap crosses Rs 50,000 cr, stock surges 51% in 2 weeks
Posted on 2nd July 2020
IDBI Bank on Thursday entered the coveted Rs 50,000 crore market capitalisation club after its share price hit a fresh 52-week high on the BSE. The stock was locked in the upper circuit band for the seventh straight day, up 5 per cent at Rs 48.20. It has surged 51 per cent in the past two weeks on the BSE.

Following the sharp rally on the counter, the bank's market capitalisation (market-cap) jumped to Rs 50,034 crore, higher by Rs 16,920 crore, from Rs 33,114 crore on June 18, 2020.
---
After CBI, ED set to charge GVK Group for Mumbai airport 'irregularities'
Posted on 2nd July 2020
The Enforcement Directorate (ED) is set to charge promoters of the GVK Group of companies for alleged money laundering, sources told Business Standard after the Central Bureau of Investigation (CBI) accused them of alleged irregularities to the tune of Rs 705 crore in running the Mumbai airport.

Mumbai International Airport Ltd (MIAL) is a joint venture between GVK, state-run Airport Authority of India (AAI) and foreign entities. AAI entered into an agreement with the two others for upgradation and maintenance of the Mumbai airport.
---
PM Modi invited to Ayodhya to inaugurate Ram temple construction
Posted on 2nd July 2020
Prime Minister Narendra Modi has been invited Ayodhya to inaugurate the construction work at the Ram Mandir site. The president of Ram Janmabhoomi Teerth Kshetra Trust, Mahant Nritya Gopal Das, on Wednesday said that he had written to Modi, requesting him to visit the sacred city.

We have written a letter to Prime Minister Narendra Modi requesting him to visit Ayodhya and inaugurate the construction activities of Ram temple. Pooja and other rituals have been ongoing for three months at the site, said Mahant Das.
---
Tuticorin custodial death case: Three more cops arrested by CBI
Posted on 2nd July 2020
The Crime Branch of Criminal Investigation Department (CB-CID) on Wednesday arrested three more cops in connection with the alleged custodial deaths of a father-son duo at a Tamil Nadu police station.

Sub Inspector Balakrishnan and constables Muthuraj and Murugan were arrested by the investigation agency on charges of murder under Section 302 of the Indian Penal Code.
---
Be the first person to write a business review for Trump attacks Amazon over tax issues: Here's what the President could do