Kotak Mahindra Bank becomes third largest bank by m-cap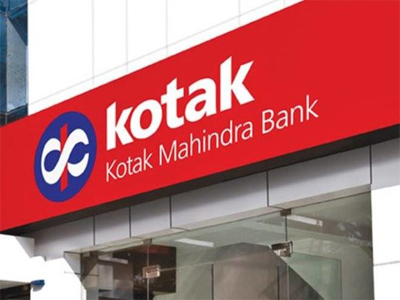 The pummeling of bank stocks isn't bad news for all banks. Kotak Mahindra Bank bucked the trend on Wednesday, with the stock ending in the green. In fact, the shares of the private lender advanced in three sessions of the last six when the Bank Nifty gave up over 6% of its value.
The private lender, which boasts higher market capitalisation than its gross advances, surpassed ICICI Bank in market value last week. On Wednesday, the market capitalisation of Kotak Mahindra Bank stood at Rs 2.06 lakh crore, Rs 22,531 crore more than that of ICICI Bank, Bloomberg data show.
On Wednesday, the gauge of bank stocks declined another 1.3%, or 314.35 points, to 24,134.10, a day after the Serious Fraud Investigation Office summoned heads of all lenders to Nirav Modi and Mehul Choksi group entities, for further information on the defaulting entities and their mechanics.
Canara Bank lost the most in the last six days, with a fall of 19.5%, followed by Punjab National Bank (14.7%) and ICICI Bank (12.3%). The largest public lender SBI declined 10.1% during the same period.
Mid-sized private lender Kotak Mahindra Bank, which launched the 811 first-of-its-kind digital bank, has seen its deposit base grow to 10.5 million from 8 million within the first six months of its launch. The product is known to be seeing one million downloads every quarter. The total deposits of the bank grew 9.1% on q-o-q to Rs 1.8 lakh crore in December 2017.
Analysts observed a moderate lending standard and relatively low proportion of stressed assets have helped the bank maintain good asset quality. As of December 2017, the bank had gross non-performing (GNPA) ratio of 2.31%, against 7.82% for ICICI Bank.
JPMorgan, which has an overweight rating on the stock, opined that the bank remains focused on improving the deposit profile with a higher thrust on retail and CASA deposits."We view this as a steady long-term performing stock with low earnings risks and impeccable asset quality backed by positive outlook for subsidiaries in the mid-term," said the brokerage.
Uday Kotak, the promoter, is reaping the benefits of the rally in the bank's stock. His personal wealth has grown by $3.75 billion to $10.75 billion since the beginning of 2017, showed the Bloomberg Billionaires Index. The promoters with 30% holding in the bank have been asked by the RBI to reduce their stake to 15% by March 2020.