CLSA and Deutsche Bank bullish on TCS shares after robust Q2 earnings
Posted on 13th October 2017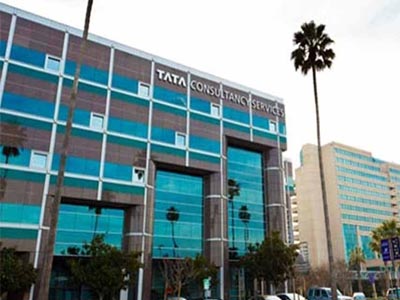 Global research and brokerage firms CLSA and Deutsche Bank are bullish on the shares of Tata Consultancy Services, after India's IT bellwether posted its second quarter (July-September) earnings yesterday, which beat analysts' expectations as consolidated profit rose, backed by robust volume growth and operational performance. CLSA has retained a buy call on the stock, increasing the target price to Rs 2,970, from the previous target of Rs 2,880. TCS shares continued to rise on Friday morning, and were trading at Rs 2,580.75 on NSE, up by more than 1.2% since the previous close. The revised target price implies an upside of more than 15% from the current market prices.

Deutsche Bank has retained a buy call on the shares with a target price of rs 3,000 from the previous target of rs 2,750, implying an upside of more than 16% from the current market prices. Deutsche bank says the robust earnings show indicate early signs of demand revival for TCS.

India's largest software services exporter, Tata Consultancy Services (TCS) on Thursday reported a net profit of Rs 6,446 crore for the three months to September, an increase of 8.4% quarter-on quarter, beating analysts' estimates. Operating margins stood at 25.1%, a good jump of 171 basis points sequentially. Bloomberg consensus estimates had forecast the IT major's net profit at Rs 6,287 crore on revenues of Rs 30,508 crore.

CLSA says that margin recovery was the key positive takeaway from TCS's quarterly earnings. Further, CLSA says that Q4 may offer better growth for TCS. However, the research firm pointed out that it was the third successive quarter of soft constant currency (CC) growth, impacted by softness in banking and financial services (BFS) and retail verticals.

Deutsche bank has increased the FY18-19 operating earnings forecast by 4-5%. Further, the global bank expects TCS to deliver 12.3% earnings CAGR over FY17-20. According to Deutsche Bank, the shares are attractively prices at 16 times FY19 earnings. TCS shares have returned a respectable 7% since january, at a time when the BSE IT Index has given abysmal 1.4% in the same period. Notably, the shares are up more than 4% in the last three months.
7th pay commission: Good news for Jammu & Kashmir employees
Posted on 24th April 2018
The government of Jammu and Kashmir has decided to implement the recommendations of the seventh pay commission. With this move Jammu and Kasmir has become first state to do so. The J&K employees would get their revised salaries from this month. The J&K government announced the good news from its twitter handle on Tuesday.
---
Trai vs Bharti Airtel, Idea Cellular: TDSAT stays predatory pricing order
Posted on 24th April 2018
In a relief to old operators, telecom tribunal TDSAT today put an interim stay on reporting requirement of 'segmented offers' and the new definition for ascertaining 'significant market power' for predatory pricing by Trai.

The Telecom Disputes Settlement and Appellate Tribunal (TDSAT) in its interim order today, however, placed a qualifier on the reporting requirements, saying the Telecom Regulatory Authority of India (TRAI) will be entitled to ask for details of segmented discounts or concessions "for analysis" but that "no penalty shall be imposed on that basis" till further orders are given in the ongoing appeals by Bharti Airtel and Idea Cellular.
---
ICICI Securities IPO under Sebi scanner
Posted on 24th April 2018
Mumbai: The stock market regulator Securities and Exchange Board of India (Sebi) has sought details of a large investment made by ICICI Prudential Mutual Fund in the flop IPO of affiliate ICICI Securities Ltd, two people aware of the matter said.

ICICI Securities had to cut its IPO size to Rs3,520 crore from the original target of Rs4,017 crore because of poor investor interest. Of this, a large chunk was bought by ICICI MF.
---
RIL surges 4%, adds Rs 22,000 crore in m-cap after Jio beats Airtel, Idea in monthly subscriber addition
Posted on 24th April 2018
Shares of Mukesh Ambani-controlled Reliance Industries Ltd surged nearly 4% on Tuesday emerging as the top gainers on BSE Sensex after Reliance Jio Infocomm Ltd outperformed India's largest telecom company Bharti Airtel Ltd and Idea Cellular Ltd in monthly subscriber addition in the month of February. According to the data released by the telecom regulator TRAI (Telecom Regulatory Authority of India) on Tuesday, Reliance Jio Infocomm added about 87.4 lakh new subscribers in February.
---
M&M's tractor business now worth twice as much as automotive division
Posted on 24th April 2018
Mahindra & Mahindra (M&M), the country's biggest tractor maker, has seen its market cap swelling by over Rs 100 billion since the start of the new financial year, giving it a valuation of Rs 1.03 trillion. The stock hit a new high of Rs 839 on Tuesday, showing a cumulative increase of over 12 per cent since the beginning of April.

The only visible trigger for this price increase is the forecast of a normal monsoon by private forecaster Skymet, as well as the India Meteorological Department (IMD).
---
Be the first person to write a business review for CLSA and Deutsche Bank bullish on TCS shares after robust Q2 earnings