CLSA and Deutsche Bank bullish on TCS shares after robust Q2 earnings
Posted on 13th October 2017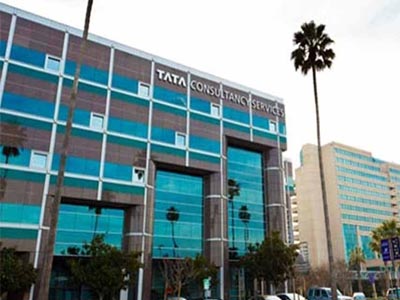 Global research and brokerage firms CLSA and Deutsche Bank are bullish on the shares of Tata Consultancy Services, after India's IT bellwether posted its second quarter (July-September) earnings yesterday, which beat analysts' expectations as consolidated profit rose, backed by robust volume growth and operational performance. CLSA has retained a buy call on the stock, increasing the target price to Rs 2,970, from the previous target of Rs 2,880. TCS shares continued to rise on Friday morning, and were trading at Rs 2,580.75 on NSE, up by more than 1.2% since the previous close. The revised target price implies an upside of more than 15% from the current market prices.

Deutsche Bank has retained a buy call on the shares with a target price of rs 3,000 from the previous target of rs 2,750, implying an upside of more than 16% from the current market prices. Deutsche bank says the robust earnings show indicate early signs of demand revival for TCS.

India's largest software services exporter, Tata Consultancy Services (TCS) on Thursday reported a net profit of Rs 6,446 crore for the three months to September, an increase of 8.4% quarter-on quarter, beating analysts' estimates. Operating margins stood at 25.1%, a good jump of 171 basis points sequentially. Bloomberg consensus estimates had forecast the IT major's net profit at Rs 6,287 crore on revenues of Rs 30,508 crore.

CLSA says that margin recovery was the key positive takeaway from TCS's quarterly earnings. Further, CLSA says that Q4 may offer better growth for TCS. However, the research firm pointed out that it was the third successive quarter of soft constant currency (CC) growth, impacted by softness in banking and financial services (BFS) and retail verticals.

Deutsche bank has increased the FY18-19 operating earnings forecast by 4-5%. Further, the global bank expects TCS to deliver 12.3% earnings CAGR over FY17-20. According to Deutsche Bank, the shares are attractively prices at 16 times FY19 earnings. TCS shares have returned a respectable 7% since january, at a time when the BSE IT Index has given abysmal 1.4% in the same period. Notably, the shares are up more than 4% in the last three months.
SEBI COMES OUT WITH LIST OF 1,677 DEFAULTERS
Posted on 14th August 2018
As many as 1,677 entities, including individuals, failed to pay penalties imposed by Sebi till the end of May, according to the regulator.

The list of defaulters as on May 31, 2018 "for non-payment of penalty imposed by Sebi through orders passed up to December 31, 2017" has been published on the regulator's website on Monday.
---
SBI shares continue to fall; down over 3 per cent
Posted on 14th August 2018
New Delhi: Shares of State Bank of India continued to fall for the second straight session on Monday, dropping over 3 per cent after the lender reported a hefty loss of Rs 4,876 crore for the June quarter.

The stock went down 3.17 per cent to end at Rs 294.80 on BSE. Intra-day, it slumped 4.15 per cent to Rs 291.80. At NSE, shares of the company fell 2.54 per cent to close at Rs 296.70.
---
Bitcoin slips below $6,000 to lowest since June as almost every other crypto nosedives
Posted on 14th August 2018
Bitcoin dropped below $6,000 and dozens of smaller digital tokens tumbled as this month's selloff in cryptocurrencies showed few signs of letting up. The largest digital currency fell as much as 6.2 percent to $5,887 as of 10:44 a.m. in Hong Kong, the lowest level since June, according to Bloomberg composite pricing. Ether sank 12 percent, while all but one of the 100 biggest cryptocurrencies tracked by Coinmarketcap.com recorded declines over the past 24 hours.
---
Debit cards: Paytm rules the roost in the virtual world but lags in real life
Posted on 14th August 2018
Given how every depositor gets a digital debit card, Paytm Payments Bank has in less than a year of its launch notched up a large outstanding debit card user base.

Reserve Bank of India (RBI) data show the mobile wallet-to-payments bank entity had 39.12 million outstanding debit cards at the end of May.
---
Air India says yet to receive equity infusion from government
Posted on 14th August 2018
National carrier Air India on Monday said it is yet to receive the equity infusion from the government to meet its working capital requirements after an airline's pilots' body claimed grounding of several aircraft due to lack of funds.

"There is no money for spares and maintenance of these aircraft. Some of them have been grounded for the last three months.
---
Be the first person to write a business review for CLSA and Deutsche Bank bullish on TCS shares after robust Q2 earnings