Markets: Sensex, Nifty open flat over macro economic data
Posted on 13th September 2017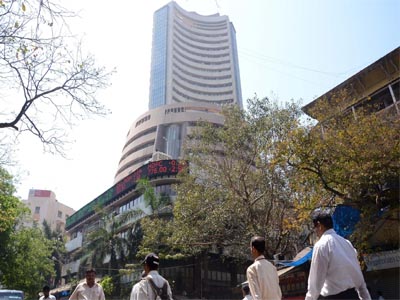 Key indices on Wednesday open flat over release of macro economic data. According to the data released by the Central Statistics Office on Tuesday, the industrial output has gone up by 1.2% in July from a year earlier.

Factory output, measured in terms of Index of Industrial Production, the cumulative growth for the period April-July this year stood at 1.7% on y-o-y basis.

At 9:18 am, the S&P BSE Sensex was trading at 32,150, down 8 points, while the broader Nifty50 was at 10,088, down 5 points.

Meanwhile, Asian markets surged up to a 10-year high over record highs on Wall Street, while the dollar's rise against the yen helped boost Japanese shares.

MSCI's broadest index of Asia-Pacific shares outside Japan was slightly lower, after earlier poking up to its highest level since October 2007. Australian shares added 0.2 percent, while Korean shares were 0.1 percent higher.

On Tuesday, the S&P 500, Dow Jones industrials and Nasdaq Composite all marked record finishes as investors' concerns faded about North Korean tensions as well as the impact of Hurricane Irma.

"In the U.S. we had a bit of unwinding of the fear trade that it's been going through and that's flowing through to us as well," said Mathan Somasundaram, a market portfolio strategist with Blue Ocean Equities in Sydney.
Sensex, Nifty start trade on choppy note, Maruti Suzuki down by 2%
Posted on 21st May 2018
Sensex, Nifty on Monday started trade on choppy notes, erasing early gains. The benchmark BSE Sensex, at 9:21 AM, was up by 49.29 points to trade at 34,905.67 while Nifty was at 10,607.00. Pharma and auto stocks witnessed weaknesses, the shares were down by 0.8 per cent. Sun Pharma, Maruti Suzuki India and Cipla - trading around 1-2 per cent lower - were among the top losers on the 50-scrip Nifty index.
---
TCS hits record high after fixing record date for 1:1 bonus issue
Posted on 21st May 2018
Tata Consultancy Services (TCS) hit a record high of Rs 3,585, up 2.4% on the BSE in otherwise subdued market, after information technology company fixed Saturday, June 2, 2018 as the record date for determining the entitlement of members to receive bonus shares in the ratio of 1:1.
---
Tata Power, Actis in fray to buy Essel's solar power plants
Posted on 21st May 2018
Tata Power Ltd and Actis LLP are in separate talks to buy the solar power business of Subhash Chandra's Essel Infraprojects Ltd, two people aware of the development said.

The interest from the Indian power producer and the UK-based private equity fund makes it a four-horse race for Essel's solar power assets which are spread across Uttar Pradesh, Odisha and Karnataka. Greenko Group and Hero Future Energies Pvt. Ltd are already vying for these assets.
---
SBI too will post Q4 loss, but how much?
Posted on 21st May 2018
Punjab National Bank (PNB) has reported a record Rs13,417-crore loss for the March quarter (Q4). All eyes are now on State Bank of India (SBI), the nation's largest lender.

It will certainly report a loss on Tuesday, more than what it had posted in the December quarter (Rs2,416 crore) but may not surpass that of PNB.
---
How Microsoft Garage is fueling ideas in Hyderabad
Posted on 21st May 2018
Creative ideas and garages go hand-in-hand in the tech world. So much so, that for tech giants such as Google and Microsoft and many more, the garage becomes an ideal location to pool in ideas to fuel innovative thoughts. 'The Garage', therefore, is a hallowed space in the tech world. At Microsoft, some of the interesting ideas that were developed into viable products in The Garage include Mouse Without Borders which allows you to control up to four computers from a single mouse and keyboard;
---
Be the first person to write a business review for Markets: Sensex, Nifty open flat over macro economic data