Gujarat Rajya Sabha polls: We've won a tough election, says Ahmed Patel
Posted on 9th August 2017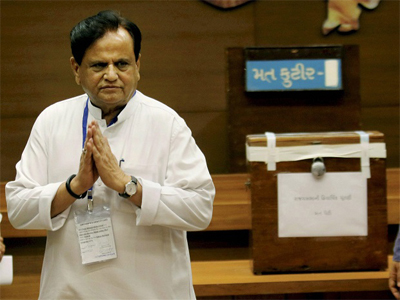 Congress candidate Ahmed Patel today beat the BJP nominee in a bitterly fought Rajya Sabha election in Gujarat after late night dramatic developments saw the Election Commission reject the votes of two dissident MLAs of the main opposition party for violating electoral rules.

Patel, political secretary to Congress president Sonia Gandhi beat Balwantsinh Rajput, till recently the party's chief whip in the state Assembly before defecting to BJP, polling 44 votes, in the first RS polls in Gujarat in two decades which saw a contest instead of official candidates of major parties getting elected unopposed. Rajput secured 38 votes.

BJP chief Amit Shah made his maiden entry into the house of elders and so did party nominee and Information and Broadcasting Minister Smriti Irani, clinching 46 votes each, an EC official said.

"This is not just my victory. It is a defeat of the most blatant use of money power, muscle power and abuse of state machinery," Patel, who secured a fifth Rajya Sabha term after the tough electoral fight, tweeted after his victory.

"I am happy and I thank my party leadership, my MLAs, party's rank and file who worked like a family. It was a tough election which we won," he said.

A defeat for Patel, apart from being seen as a personal setback to Sonia, would have left Congress rank and file hugely demoralised in a state where Assembly elections are to take place later this year.

The EC's decision to cancel the votes of two Congress MLAs brought down the requirement for an outright victory for a candidate to 44 from 45. Ahmed Patel secured 44, but would have won with even lesser number of votes given the fact that Rajput could clinch only 38.

Chief Minister Vijay Rupani said BJP would legally challenge the EC's decision rejecting the votes of two Congress MLAs who had backed his party.

Before counting was taken up following the Election Commission's order rejecting the votes cast by Bholabhai Gohil and Raghavjibhai Patel for allegedly showing their ballots to Amit Shah in violation of rules, a high-voltage drama unfolded at Nirvachan Sadan, the poll panel's headquarters in New Delhi. TV footages, however, showed that Patel displayed his ballot to an unidentified person present in the voting hall.

Congress' media in-charge Randeep Surjewala and spokesman Shaktisinh Gohil had earlier claimed the two disgruntled MLAs had shown their ballots to Shah.

The poll panel passed the order after viewing the video recording of the voting process, saying the two electors had "violated the voting procedure and secrecy of ballots."

The usually quiet polls for the upper chamber of Parliament turned acrimonious and chaotic after the Congress approached the Election Commission demanding cancellation of the votes of Gohil and Patel for having shown the ballots to people other than the party's authorised representatives.

Three delegations each of the Congress and BJP made a dash for 'Nirvachan Sadan' within a span of two hours, with the former demanding that the votes of Gohil and Patel be declared invalid, and the latter insisting that counting be taken up "immediately".

The poll panel, finally, accepted the Congress's contention and asked the returning officer to reject the votes of its two MLAs and proceed with counting.

That the contest for three Rajya Sabha seats would go down to the wire had become clear the very day when Balwantsinh Rajput, the Congress chief whip in the state Assembly until a few days ago, defected to the BJP and was fielded to take on Ahmed Patel, the high-profile political secretary to Congress president Sonia Gandhi.

According to the rules, voters for the Rajya Sabha elections have to show their ballots to authorised representative of their respective parties before casting them.

Terming Congress' objections as "baseless", a delegation of BJP leaders, including Union ministers Arun Jaitley, Ravi Shankar Prasad and Piyush Goyal, approached the EC demanding immediate counting of votes, contending that validity of votes once put in ballot boxes cannot be questioned.

Prasad said the Congress was acting out of fear of losing the poll, in which its senior leader Ahmed Patel is locked in a tight fight with a Congress rebel fielded by the BJP.

The BJP fancied its chances of getting a third candidate elected as, apart from Rajput, five other Congress MLAs had resigned with two joining the BJP with him, bringing down the Congress's strength in the 282-member House to 51 from 57. It hoped to make further inroads into the Congress' diminished flock of MLAs, which it did. However, that was not enough to ensure Rajput's victory.
&nbsp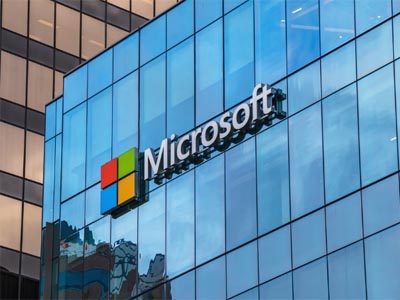 Powered by Microsoft's digital assistant Cortana,the "Invoke" smart speaker will be available starting October 22, the software giant and Samsung subsidiary Harman Kardon have announced.
"The Harman Kardon 'Invoke', Microsoft's answer to Amazon Echo and Google Home, will be available October 22", The Fortune reported late on Friday.
---
&nbsp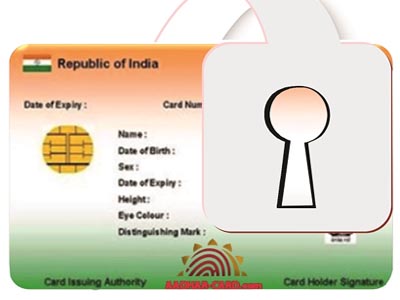 At a time when customers are rushing to link all their bank accounts with Aadhaar, the Reserve Bank of India (RBI) on Saturday clarified that it never issued any such directions and it was the decision of the Indian government.
The apex bank further clarified that in applicable cases, linkage of Aadhaar number to a bank account is mandatory under the Prevention of Money-laundering (Maintenance of Records) Second Amendment Rules, 2017.
---
&nbsp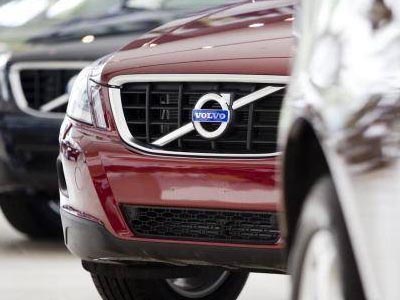 Stockholm: Sweden's AB Volvo reported a bigger-than-expected rise in quarterly core earnings on Friday, as a broad upturn in demand for heavy trucks more than offset costs stemming from a strained supply chain.
Sweden's biggest manufacturer by sales also raised its outlook for truck markets on both sides of the North Atlantic this year and forecast a further strong recovery in industry-wide sales of commercial vehicles in North America in 2018.
---
&nbsp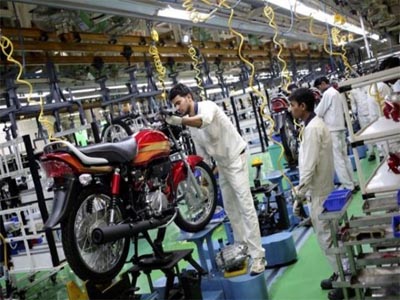 Demand for economy segment motorcycles — an indicator of the demand scenario in the rural market — is again on the rise in the first six months of the current financial year after staying subdued in the last three fiscals due to inadequate rainfall, the adverse impact of the demonetisation move and a ban imposed by the Supreme Court over the sale of BS III vehicles. In April-August, most of the Hero MotoCorp and TVS Motor offerings in the segment showed an improvement.
---
&nbsp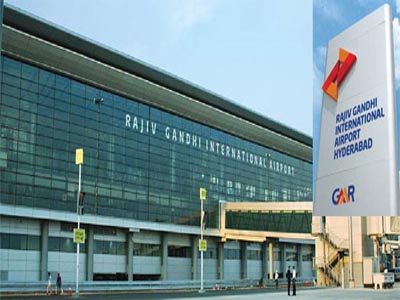 HYDERABAD: GMR Hyderabad International Airport has announced raising $350 million, or about Rs 2,276 crore, in the international bond market, reflecting the third consecutive US dollar bond offering by GMR Group.
GMR Hyderabad International Airport (GHIAL), a subsidiary of GMR Airports and step down subsidiary of GMR Infrastructure, in a statement on Friday said it plans to entirely refinance the outstanding rupee term loans and external commercial borrowings, apart from deploying them towards partial funding of proposed capital expenditure.
---
Be the first person to write a business review for Gujarat Rajya Sabha polls: We've won a tough election, says Ahmed Patel