Raees By Rail turns fatal, Shah Rukh Khan fan dies in Vadodara
Posted on 24th January 2016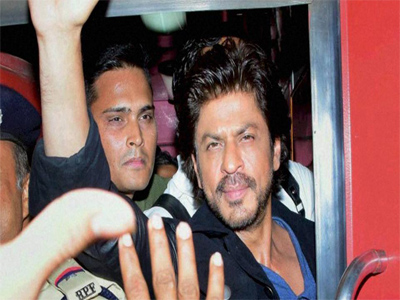 Bollywood Badshah Shah Rukh Khan's 'Raees' promotion by train turned fatal on Tuesday as one of his fans died in Gujarat's Vadodara.

Another person who is injured has been rushed to a hospital for immediate treatment.

Also watch Raees Movie Photo Album

While the actor did not step down from the train, choosing to wave at the crowds and urged them to watch the film on a loudspeaker, fans in Vadodara swarmed the railway platforms since several hours before the scheduled arrival of the train.

The two fans were injured in the crowd which had gathered to get a glimpse of the 'Dilwale' actor at the Vadodara Railway Station.

The police baton-charged the fans who had assembled to see their favourite hero.

On arriving in Surat, Shah Rukh had tweeted, "Thank u Gujarat. This is so beautiful. Thanks for waiting for Raees Surat."

Shah Rukh had last boarded a train to Mumbai from Delhi as a young budding artiste with starry dreams, and yesterday got onto a train to Delhi once again -- this time as a star to promote his film.

Ditching the usual air travel to go to a city for film promotion, Shah Rukh -- who is known for his marketing ideas -- took a train to Delhi to promote 'Raees' -- which will hit the screens on January 25.
---
BHEL bags orders worth Rs 10 bn from Telangana State Power Generation Corp
Posted on 20th June 2018
State-run power equipment maker BHEL has bagged two orders worth Rs 10 billion from Telangana.

The orders from Telangana State Power Generation Corporation (TSGENCO) are for supply and installation of emission control equipment at Kothagudem and Bhadradri thermal power stations, BHEL said in a statement.
---
Indian Oil to set up Rs 9 bn ethanol plant in Adityanath's pocket borough
Posted on 20th June 2018
Public sector behemoth Indian Oil is looking to invest almost Rs 9 billion in a greenfield second-generation ethanol plant in Uttar Pradesh.

The plant has been proposed in Gorakhpur, the pocket borough of chief minister Yogi Adityanath, who is keenly following up on the project.
---
Maruti dominates PV segment in May with 7 models in top 10 list
Posted on 20th June 2018
New Delhi, June 20 () Maruti Suzuki India (MSI) maintained its leadership position in the domestic passenger vehicle (PV) market in May as seven of its models featured in the top 10 selling brands.

According to the latest data from Society of Indian Automobile Manufacturers (SIAM), in the top 10 best selling PVs, Maruti's Alto retained the top position in May with the sales of 21,890 units as against 23,618 units a year ago.
---
No pure GST on petrol, diesel; 28% tax plus VAT on anvil under GST
Posted on 20th June 2018
New Delhi, June 20 () A peak tax rate of 28 per cent plus states levying some amount of local sales tax or VAT on petrol and diesel is likely to be the tax structure when the two auto fuels are covered under the GST regime, a top government official said.

The peak GST rate plus VAT will be equal to the present tax incidence, which is made up of excise duty, levied by the central government, and VAT charged by the states.
---
(1) Business Reviews for Raees By Rail turns fatal, Shah Rukh Khan fan dies in Vadodara
Raees Kumar wrote on 24-Jan-2017
Is he a freedom fighter? Should stop this kind of nonsense. Celebrities and politicians are misusing public properties to gain popularity and rich. Who is accountable for the death of an innocent person. Why should railways allow such yatra? Everybody knows how our infrastructure is strained because of high population and low infrastructure. People should boycott such celebrities making such nonsense. People should think who is benefiting of such activities. India please wakeup!!! It is never too late.