Raees By Rail turns fatal, Shah Rukh Khan fan dies in Vadodara
Posted on 24th January 2016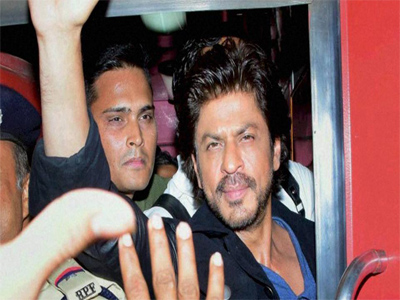 Bollywood Badshah Shah Rukh Khan's 'Raees' promotion by train turned fatal on Tuesday as one of his fans died in Gujarat's Vadodara.

Another person who is injured has been rushed to a hospital for immediate treatment.

Also watch Raees Movie Photo Album

While the actor did not step down from the train, choosing to wave at the crowds and urged them to watch the film on a loudspeaker, fans in Vadodara swarmed the railway platforms since several hours before the scheduled arrival of the train.

The two fans were injured in the crowd which had gathered to get a glimpse of the 'Dilwale' actor at the Vadodara Railway Station.

The police baton-charged the fans who had assembled to see their favourite hero.

On arriving in Surat, Shah Rukh had tweeted, "Thank u Gujarat. This is so beautiful. Thanks for waiting for Raees Surat."

Shah Rukh had last boarded a train to Mumbai from Delhi as a young budding artiste with starry dreams, and yesterday got onto a train to Delhi once again -- this time as a star to promote his film.

Ditching the usual air travel to go to a city for film promotion, Shah Rukh -- who is known for his marketing ideas -- took a train to Delhi to promote 'Raees' -- which will hit the screens on January 25.
Microsoft India most attractive employer brand, Amazon ranks second: Survey
Posted on 25th April 2018
Technology giant Microsoft India is the most 'attractive employer brand', followed by e-commerce major Amazon India, says a survey.

According to the findings of Randstad Employer Brand Research (REBR) 2018, the other most attractive employer brands in India include Hindustan Unilever, IBM India, ITC Group, Larsen & Toubro, Mercedes-Benz India, Samsung India, Sony India and Tata Consultancy Services.
---
ArcelorMittal, Numetal have pending cases, can't bid for Essar Steel: Kroll
Posted on 25th April 2018
Indian lenders will discuss a forensic audit report prepared by Kroll, a corporate investigations and risk consulting firm, which said bids by both ArcelorMittal and Numetal, a VTB Bank of Russia majority owned company, are ineligible to bid for Essar Steel. If the lenders decide to go ahead with the Kroll report, the first round bids by both ArcelorMittal and Numetal is likely to be rejected on Friday.
---
Wipro Q4FY18 results: Profit falls 20% to Rs 18 bn for the March quarter
Posted on 25th April 2018
Wipro on Wednesday posted over 20 per cent decline in its consolidated profit to Rs 18 billion for the March quarter, 2017-18.

The country's third-largest software services firm had registered a profit of Rs 22.67 billion in the year-ago period, as per Indian accounting norms.
---
SBI Life Insurance, HDFC Standard Life Insurance hit new highs
Posted on 25th April 2018
Shares of life insurance companies were trading higher in otherwise subdued market with SBI Life Insurance Company and HDFC Standard Life Insurance Company hitting their respective new highs on the BSE on Wednesday.

ICICI Prudential Life Insurance Company (IPRU) has surged 11% to Rs 460, extending its Tuesday's 7% gain after the company reported better than expected results for the financial year 2017-18 (FY18).
---
TATA Motors to rev up overseas focus
Posted on 25th April 2018
NEW DELHI: Tata Motors is working on revamping its product portfolio and entering new large markets to strengthen its overseas presence once vehicles developed on its recently-unveiled advanced modular platform start hitting the roads in 2019.

aAs part of its transformation, the automaker, which took the fourth spot in the local passenger vehicle market last year, has made significant changes to its exports strategy.
---
(1) Business Reviews for Raees By Rail turns fatal, Shah Rukh Khan fan dies in Vadodara
Raees Kumar wrote on 24-Jan-2017
Is he a freedom fighter? Should stop this kind of nonsense. Celebrities and politicians are misusing public properties to gain popularity and rich. Who is accountable for the death of an innocent person. Why should railways allow such yatra? Everybody knows how our infrastructure is strained because of high population and low infrastructure. People should boycott such celebrities making such nonsense. People should think who is benefiting of such activities. India please wakeup!!! It is never too late.