Sensex, Nifty hit new closing highs; ONGC soars 11.5%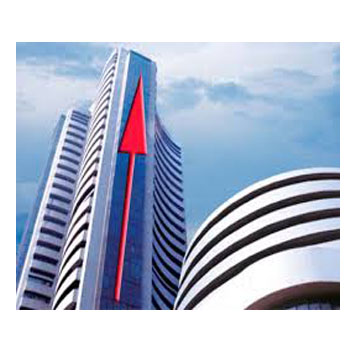 Mumbai: The 30-share benchmark S&P BSE Sensex and 50-share CNX Nifty rose to all-time highs in intra-day trade and at close for a second day on Friday as energy shares surged on optimism Prime Minister Narendra Modi will take a decision on raising natural gas prices by the end of this month.
The Sensex closed at a fresh high of 25,396.46 points, up 1.51%, or 376.95 points, while the Nifty ended at a fresh high of 7,583.40, up 1.46%, or 109.30 points.
In intra-day trade, the Sensex gained as much as 1.5%, or 376 points, to 25,395.81, while the Nifty rose as much as 1.5%, or 109.5 points, to 7,583.60 points, all time highs for both indices.
Among gainers, Oil and Natural Gas Corp. Ltd (ONGC) as much as 11.5% to Rs.467.95. The scrip closed 10.57% higher at Rs.464.
GAIL India Ltd rose 7.52% to Rs.420.35, while Reliance Industries Ltd (RIL) jumped 2.97% to Rs.1119.85, after reports that government will take a decision on revising natural gas prices by 1 July,
Among losers, Sesa Sterlite Ltd fell 2.53% to Rs.306.50, while Infosys Ltd shed 1.26% to Rs.2,999.80 after Prasad Thrikutam, global head of strategic sales, marketing and alliances and one of the highest paid executives at the company, resigned.
The S&P BSE Realty and S&P BSE Oil and Gas indices were the top sectoral gainers, up 5.02% and 4.82%, respectively.
Strides Arcolab Ltd surged 9.54% to Rs.599.70, after it said in a BSE notice that it has received US FDA approval for Methoxsalen Softgel Capsules.
Shares of oil marketing companies soared on reports of hike in prices of kerosene and LPG. Bharat Petroleum Corp. Ltd (BPCL) rose 1.74% to Rs.627.60, Hindustan Petroleum Corp. Ltd (HPCL) gained 1.96% to Rs.455.15, while Indian Oil Corp. Ltd (IOC) jumped 1.72% to Rs.373.20.
Shares of sugar companies rose after reports said government is planning to increase export subsidy. Bajaj Hindusthan Ltd soared 9.82% to Rs.30.75, Shree Renuka Sugars Ltd surged 13.44% toRs. 30.80, Dhampur Sugar Mills Ltd climbed 15.21% to Rs.66.65, Balrampur Chini Mills Ltd jumped 7.82% to Rs.84.10, while Triveni Engineering and Industries Ltd rose 10% to Rs.34.10.
Shares of realtors also rose. Sobha Developers Ltd surged 10.68% to Rs.508.45, Mahindra Lifespace Developers Ltd rose 3.02% to Rs.503.50, DLF Ltd jumped 6.10% to Rs.233.05, Anant Raj Ltd rose 7.58% to Rs.78.05, Phoenix Mills Ltd rose 5.18% to Rs.294.50, Housing Development and Infrastructure Ltd rose 3.49% to Rs.106.65, Unitech Ltd jumped 6.24% to Rs.32.35, Godrej Properties Ltd rose 2.41% to Rs.255.05 and Prestige Estates Projects Ltd climbed 6.45% to Rs.229.40.
Hindustan Zinc Ltd added 2.76% to Rs.173.10, after the government has decided to undertake fresh valuation and assessment of fair share value of Hindustan Zinc. The department of disinvestment has sought proposals from merchant bankers in handling valuation of Hindustan Zinc. The bids are sought through advertisement in newspapers on Friday.