Suzlon Energy soars 18% to hit over 5-year high amid heavy volumes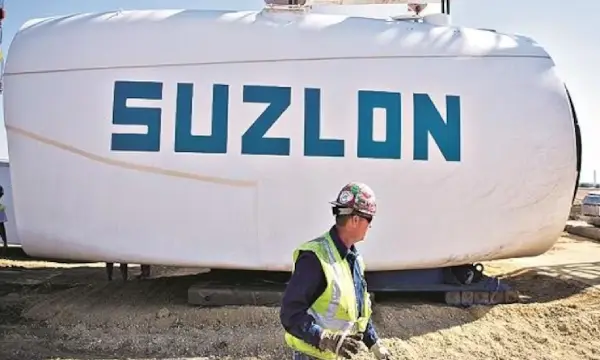 Shares of Suzlon Energy soared 18 per cent to hit over five-year high of Rs 14.39 in Wednesday's intra-day trade, amid heavy volumes. The stock of the country's largest renewable energy solutions provider traded at its highest level since February 2018.

In comparison, the S&P BSE Sensex was up 0.24 per cent at 62,942 at 12:41 pm. A combined 1,121 million shares, which represented 11.1 per cent total equity of Suzlon Energy changed hands on the NSE and BSE.

In the past three days, it zoomed 31 per cent, whereas so far in the current financial year 2023-24, the stock zoomed 82 per cent from Rs 7.9 on March 31.

The Suzlon Group is one of the leading renewable energy solutions providers in the world with 20 GW of wind energy capacity installed across 17 countries. Suzlon is India's No. 1 wind service company with the largest service portfolio of ~13.9 GW of wind energy assets.

The group has 5.9 GW of installed capacity outside India. The 3 MW Series wind turbine technology platform is the latest addition to its comprehensive product portfolio.

On Tuesday, Suzlon Energy announced that it crossed 20 GW wind energy installations milestone through 12,467 wind turbines installed across 17 countries that spans across six continents, solidifying Suzlon's position as a significant player in the global wind energy landscape.

"This milestone creates a concrete foundation for the company to build on for exponential growth in coming years and is a true Aatmanirbhar Bharat moment, wherein an Indian company is creating global benchmarks with turbines manufactured in India," said Girish Tanti, Vice Chairman, Suzlon Group.

According to the Ministry of New and Renewable Energy (MNRE), India currently has a total renewable energy capacity of 168.96 GW (as on 28th February 2023) with about 82 GW at various stages of implementation and about 41 GW under tendering stage. This includes 64.38 GW solar power, 51.79 GW hydro power, 42.02 GW wind power, and 10.77 GW bio-power.

Suzlon has become the first Indian wind energy company to reach 20 GW of worldwide wind energy installation and has a 33 per cent cumulative wind energy market share in India.

The improvement in balance sheet is on the back of the company's Operation and Maintenance Service (OMS) and Wind Turbine Generator (WTG) arms, along with industry tailwinds, restructuring, refinancing and a successful rights issue.

Suzlon's portfolio ranges from 225KW to the newly-launched 3MW-S414 series, which contributes 51 per cent of the current order book (1,542MW).

"Lately, the industry has seen positive developments: the GoI is expected to invite annual wind capacity bids of ~10GW across eight windy states, single stage closed bids and ISTS waiver for 25 years which offer a visible trajectory of the wind pipeline," said analysts at Emkay Global Financial Services.