Odisha train accident: Coach buried after another one falls on it, huge cranes, bulldozers called in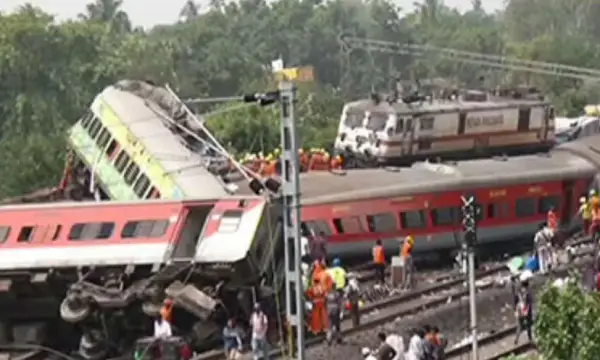 As rescue work continues unabated to pull out survivors and dead from the wreckage of the triple train crash in Odisha's Balasore district, one coach was buried into the ground due to the impact of another one falling on it. Rescuers have deployed huge cranes and bulldozers to raise the coach, PTI reported.

The coach "was pushed into the ground" as another from a neighbouring train collapsed on top of it, passengers were quoted as saying. Work is on to try and extricate the particular coach and retrieve the dead in it. A state disaster relief officer said "this will push up the death toll significantly."

Rescue workers are using gas torches and electric cutters to pull out passengers from the mangled steel of three trains involved in the accident. The major disaster that occurred on Friday evening involved two passenger trains and one goods train. 238 people have been killed in the accident so far while 900 have been injured and are being treated in several hospitals.

When viewed from a nearby hill, the accident scene appeared like train coaches had been thrown on top of one another by a powerful whirlwind. Railway tracks were nearly destroyed at the site as mangled steel coaches lay all over, with some mounted on others. Some bogies turned turtle due to the impact. Bloodied and disfigured bodies created a grotesque sight with some of the scenes at the site "too gory to describe".

200 ambulances, 50 buses and 45 mobile health units were deployed at the accident site alongwith 1,200 personnel. The crash is the fourth deadliest in India's history as per the available records. The crash occurred near Bahanaga Bazar station which is around 250 km south of West Bengal capital Kolkata and 170 km north of Odisha capital Bhubaneswar.