Kapil Dev says 'on road to recovery' after heart attack, overwhelmed with good wishes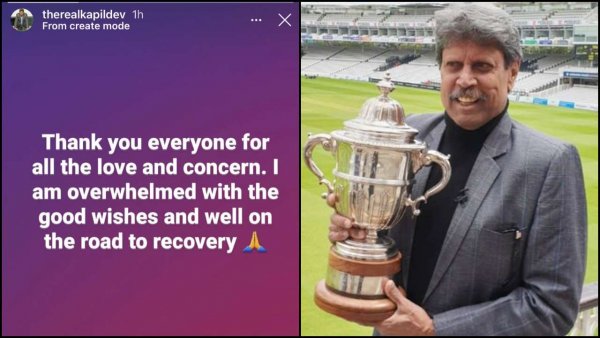 Legendary Indian cricket team captain Kapil Dev, who was admitted to hospital after suffering a heart attack, took to social media to tell fans he is 'on the road to recovery'.

He wrote, "Thank you everyone for all the love and concern. I am overwhelmed with good wishes and well on the road to recovery".

The all-rounder who led India to glory in the 1983 World Cup is said to be in a stable condition after undergoing angioplasty and he is out of danger.

The news was confirmed by journalist Teena Thacker who tweeted, "Legendary cricketer Kapil Dev @therealkapildev suffers a heart attack, undergoes angioplasty at a hospital in Delhi. Wishing him a speedy recovery."

Kapil Dev was admitted to Fortis hospital in New Delhi and was reported to be in a critical situation.

However, according to the latest press release from the hospital, it read, " Former Indian Cricket captain Mr Kapil Dev, age 62 years, came to Fortis Escorts Heart Institute (Okhla Road) emergency department at 1:00 am on 23rd October with a complaint of chest pain.

"He was evaluated and an emergency coronary Angioplasty was performed by Dr Atul Mathur, Director of Cardiology Department, in the middle of the night. Currently, he is admitted in ICU and under close supervision of Dr Atul Mathur and his team. Mr Kapil Dev is stable now and he is expected to get discharged in a couple of days.

Kapil Dev is credited to putting India on the world map as his India-led side defeated the West Indies in the 1983 World Cup final in Lord's. It was India's first-ever World Cup trophy.

Kapil Dev was also one of the leading all-rounders in world cricket as he smashed over 5000 runs in Tests and also took 434 wickets. His tally of wickets was the highest at one point in time but it has now been overhauled by many bowlers. Kapil Dev remains the highest wicket-taker by an Indian pacer in Tests.