Indiscipline will not be tolerated, says Rajasthan Congress chief Avinash Pandey
Posted on 13th July 2020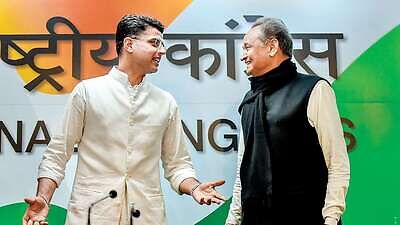 With the political logjam in Rajasthan continuously intensifying, the ruling Congress in the state has made it clear that it will not tolerate any indiscipline in the party.

The statement comes as the crucial Congress Legislature Party meeting is underway.

The CLP meeting will be attended by AICC observers Ajay Maken and Randeep Surjewala and AICC Incharge for Rajasthan Avinash Pandey.

According to Zee News sources, Congress is in no mood to pacify Sachin Pilot and he and his supporter MLAs are likely to be thrown out of the party.

Sources have claimed that despite the speculations, BJP's central leadership has hinted that Pilot would not join the party.

Earlier, a whip was issued to all the party MLAs to attend the meeting.

"Whip has been issued to give a message to all MLAs to be present and if anybody fails to come strict disciplinary action will be taken against any legislator who doesn't attend the meeting," Avinash Pandey had told news agency ANI.

On the issue of Deputy Chief Minister Sachin Pilot reportedly being in the national capital he said, "I have tried to speak to him and have sent messages to him also but he has not replied. Pilot is not above the rest. He is like other MLAs and will also have to face action. Party is ready to listen to Pilot but within the frame of discipline."

"No indiscipline will be tolerated but I am hopeful that he will turn up for the meeting," he added.

Many of the MLAs have told the observers that indiscipline should not be tolerated by the party and the party shouldn't come under any pressure of any leader.
Day after resigning as J&K L-G, GC Murmu appointed as next CAG
Posted on 7th August 2020
Former Jammu and Kashmir Lieutenant Governor Girish Chandra Murmu was on Thursday appointed the Comptroller and Auditor General of India (CAG), a day after he resigned as first LG of the newly carved out Union Territory.

The President has been pleased to appoint Girish Chandra Murmu to be the Comptroller and Auditor General of India with effect from the date he assumes charge of his office, a government order said.
---
PM to deliver inaugural address at conclave on Higher Education under NEP2020
Posted on 7th August 2020
Prime Minister Narendra Modi will deliver the inaugural address at the 'Conclave on Transformational Reforms in Higher Education under National Education Policy' on Friday through video conference.

The conclave is being organised by the Ministry of Human Resource Development (MHRD) and University Grants Commission (UGC).
---
Accused in rape of 12-year-old girl in Pashchim Vihar arrested, says Delhi Police
Posted on 7th August 2020
Delhi Police on Thursday said it has arrested the accused in the case of sexual assault of a 12-year-old girl in Pashchim Vihar area on Tuesday.

Earlier, cops said they were questioning the neighbours and scanning CCTV footage of the nearby area to identify the accused.

The city police are yet to reveal more information about the accused.
---
Sushant Singh Rajput death: Rhea Chakraborty, who once called for CBI probe, now questions FIR by probe agency
Posted on 7th August 2020
Rhea Chakraborty was the one who on July 16 had asked for a CBI enquiry in the Sushant Singh Rajput death case. Now, after CBI filed an FIR against her and 6 others, Rhea's lawyer Satish Maneshinde has said that CBI filing an FIR is illegal.

In a statement, Maneshinde said, The Bihar Government transferred a case with which it had NO Jurisdiction to investigate, to CBI instead of The Mumbai Police, which is the legal position.
---
Andhra government gears up to open colleges from October 15
Posted on 7th August 2020
Andhra Pradesh is gearing up to reopen colleges from October 15. In a review meeting at his camp office, Chief Minister YS Jagan Mohan Reddy has framed a set of guidelines and sought views from the officials of the higher education department.

Schools, colleges, and other educational institutions remained closed since March to contain the spread of COVID-19.
---
Be the first person to write a business review for Indiscipline will not be tolerated, says Rajasthan Congress chief Avinash Pandey