Gold standard of protection: Pune man gets mask made of gold worth Rs 2.89 lakh
Posted on 4th July 2020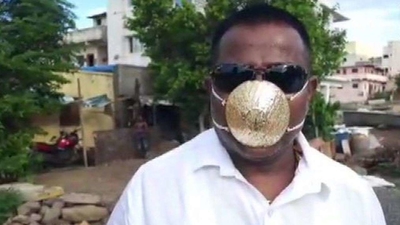 While the government has made wearing a mask in public places mandatory, people are using whatever they find to cover their face to safeguard themselves from coronavirus.

However, a Pune man has gone a little more extravagant and got a face mask made of gold that costs a whopping Rs 2.89 lakh.

A resident of Pimpri Chinchwad of the Pune district, Shankar Kurade has gone overboard to protect himself and others around him with the gold face mask.

Notably, it's just the mask that has been made of gold. The threads used to tie the mask are normal threads that have been spared of the golden adventure.

Speaking about the mask, Kurade said that it's a thin mask with minute holes so he isn't facing any difficulty in breathing. However, he was doubtful about the effectiveness of the gold mask.

"It's a thin mask with minute holes so that there's no difficulty in breathing. I'm not sure whether this mask will be effective," he was quoted by news agency ANI as saying.

Maharashtra is the worst COVID-19 state in India with close to 2 lakh cases and 8,376 deaths.
Noida gets 400-bed Covid-19 hospital, CM Yogi Adityanath reviews facilities
Posted on 8th August 2020
Uttar Pradesh Chief Minister Yogi Adityanath on Saturday inaugurated a dedicated 400-bed government hospital for COVID-19 patients in Noida.

The facility is located in Sector 39 of the city and has come up in association with the Tata Trusts and the Bill and Melinda Gates Foundation, according to officials.
---
Gold price today at Rs 56,050 per 10 g; silver at record Rs 76,510 a kg
Posted on 8th August 2020
Gold prices today jumped to Rs 56,050 from Rs 55,350 per 10 gram, while silver climbed to Rs 76,510 from Rs 73,500 per kg, according to Good Returns website.

Gold jewellery prices vary across India, the second-largest consumer of the metal, due to excise duty, state taxes, and making charges.
---
US election: China would love to have me lose to 'sleepy' Biden, says Trump
Posted on 8th August 2020
US President Donald Trump on Friday (local time) said that China would love to have an election if he lost to his sleepy Democrat presidential candidate Joe Biden.

China would love for us to have an election where Donald Trump lost to sleepy Joe Biden. They would dream (that) they would own our country. If Joe Biden was president, China would rule our country, he told reporters here.
---
Facebook builds 600 affordable homes to address housing crisis in US
Posted on 8th August 2020
Facebook has produced and preserved approximately 600 affordable homes near its headquarters in Menlo Park, California, of which roughly 70 per cent are reserved for extremely low and very low-income residents.

The company said it is on track to creating approximately 750 affordable homes by 2022.
---
Amazon, Flipkart set to witness business worth $600 mn during sale events
Posted on 8th August 2020
E-commerce companies Amazon and Flipkart are expecting to witness a total business of about $600 million during their ongoing sale events. This is at least 25 per cent higher in terms of sales compared to the business these firms would have generated for such small scale events during pre-Covid times, according to the industry insiders and analysts. They are also witnessing an increase in volumes (number of orders) which is 40 per cent higher than the normal times. Walmart-owned Flipkart is running the 5-day 'Big Saving Days' sale till Monday, coinciding with Amazon's 48-hour Prime Day sale which ended on Friday night.
---
Be the first person to write a business review for Gold standard of protection: Pune man gets mask made of gold worth Rs 2.89 lakh