India's COVID-19 tally crosses 5 lakh mark; more than 18,000 cases reported in a day
Posted on 27th June 2020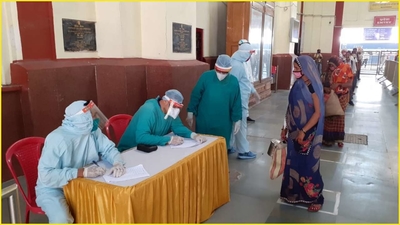 As the coronavirus cases in India continue to spread rapidly, India is now just behind the United States, Brazil, and Russia in terms of the total confirmed cases. It is, therefore, the biggest epicenter of the coronavirus disease pandemic in Asia and the fourth worst-affected nation in the world.

With over 18,000 new cases reported in the last 24 hours, India's COVID-19 count on Saturday crossed the five lakh-mark, while the death toll has crossed the 15,600-mark as well.

At 9:30 AM on this day, the COVID-19 tally in the country has reached 5,08,953 cases, which includes 1,97,387 active cases; 2,95,881 cured, discharged, or migrated patients, and 15,685 deaths.

According to the Union Ministry of Health and Family Welfare, as many as 18,552 new COVID-19 cases and 384 deaths were reported in the country in the last 24 hours, marking a significant spike. In fact, this is the highest single-day spike yet.

Maharashtra continues to be the epicenter of the coronavirus spread where the number of cases has witnessed an even large spike recently. According to the Health Ministry, Maharashtra has the highest number of cases with 1,52,765 positive cases of COVID-19 infection and 7,106 deaths.

Notably, Mumbai, the financial capital of the country, has become the hotbed of the coronavirus spread in the state where the number of cases has crossed the 72,100-mark and the death toll has topped the 4,100-mark as well. At 9:30 AM on this day, the COVID-19 tally in Mumbai showed 72,175 cases and 4,179 deaths.

One of the real challenges in Mumbai is controlling the disease contamination in Asia's biggest slum -- Dharavi, which is an extremely densely-populated region.

Maharashtra is followed by Delhi with 77,240 cases. The national capital crossed Tamil Nadu to take up second place in the list due to a recent massive surge in the number of cases.

Tamil Nadu is third on the list with 74,622 cases.

After Tamil Nadu comes Gujarat, where the COVID-19 figure stands at 30,158 cases with 22,038 patients recovered and 1,772 fatalities. Uttar Pradesh has reported 20,943 cases of which 13,583 have recovered and 630 patients are dead.

Rajasthan has reported 16,660 positive cases so far of which 13,062 patients have recovered and 380 patients have lost their lives due to the virus. In West Bengal, as many as 16,190 people have confirmed COVID-19, of which 10,535 recovered and 616 people succumbed to it.

In Kerala, which reported the country's first COVID-19 case, 3,877 people have been detected positive for coronavirus so far.

The Delhi government said that the highest number of tests in a single day (around 21,144.tests) was conducted on Friday. "Delhi is now following the strategy of very aggressive testing and isolation," said Chief Minister Arvind Kejriwal on this day.

The central government still keeps denying that community transmission is taking place in India.
Noida gets 400-bed Covid-19 hospital, CM Yogi Adityanath reviews facilities
Posted on 8th August 2020
Uttar Pradesh Chief Minister Yogi Adityanath on Saturday inaugurated a dedicated 400-bed government hospital for COVID-19 patients in Noida.

The facility is located in Sector 39 of the city and has come up in association with the Tata Trusts and the Bill and Melinda Gates Foundation, according to officials.
---
Gold price today at Rs 56,050 per 10 g; silver at record Rs 76,510 a kg
Posted on 8th August 2020
Gold prices today jumped to Rs 56,050 from Rs 55,350 per 10 gram, while silver climbed to Rs 76,510 from Rs 73,500 per kg, according to Good Returns website.

Gold jewellery prices vary across India, the second-largest consumer of the metal, due to excise duty, state taxes, and making charges.
---
US election: China would love to have me lose to 'sleepy' Biden, says Trump
Posted on 8th August 2020
US President Donald Trump on Friday (local time) said that China would love to have an election if he lost to his sleepy Democrat presidential candidate Joe Biden.

China would love for us to have an election where Donald Trump lost to sleepy Joe Biden. They would dream (that) they would own our country. If Joe Biden was president, China would rule our country, he told reporters here.
---
Facebook builds 600 affordable homes to address housing crisis in US
Posted on 8th August 2020
Facebook has produced and preserved approximately 600 affordable homes near its headquarters in Menlo Park, California, of which roughly 70 per cent are reserved for extremely low and very low-income residents.

The company said it is on track to creating approximately 750 affordable homes by 2022.
---
Amazon, Flipkart set to witness business worth $600 mn during sale events
Posted on 8th August 2020
E-commerce companies Amazon and Flipkart are expecting to witness a total business of about $600 million during their ongoing sale events. This is at least 25 per cent higher in terms of sales compared to the business these firms would have generated for such small scale events during pre-Covid times, according to the industry insiders and analysts. They are also witnessing an increase in volumes (number of orders) which is 40 per cent higher than the normal times. Walmart-owned Flipkart is running the 5-day 'Big Saving Days' sale till Monday, coinciding with Amazon's 48-hour Prime Day sale which ended on Friday night.
---
Be the first person to write a business review for India's COVID-19 tally crosses 5 lakh mark; more than 18,000 cases reported in a day