PM Modi's economic package 'cruel joke on country': Sonia Gandhi
Posted on 23rd May 2020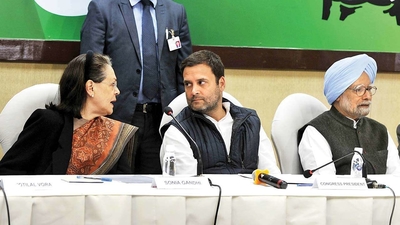 Congress president Sonia Gandhi on Friday termed Prime Minister Narendra Modi's announcement of the economic package to deal with the COVID-19 crisis as a "cruel joke on the country" as 22 opposition parties accused the Central Government of "unabashedly usurping" powers of states and abandoning any pretence of being democratic.

Besides Congress chief, West Bengal Chief Minister and TMC head Mamata Banerjee, Maharashtra Chief Minister and Shiv Sena chief Uddhav Thackeray, Jharkhand Chief Minister and JMM leader Hemant Soren and NCP supremo Sharad Pawar and DMK leader M K Stalin were those who attended the meeting.

Addressing the leaders, Gandhi said the government is uncertain about the criteria for enforcing the lockdown with no exit strategy and has "cruelly ignored" scores of migrant workers and the 13 crore families in the bottom half of the population.

"The government has abandoned any pretence of being democratic and all power is now concentrated in only one office -- the PMO," she said.

"The prime minister's announcement of a grand Rs 20 lakh crore package on May 12 and the finance minister spelling out its details over the next five days have turned out to be a cruel joke on the country," she added.

During the meeting, held via video conference, Congress leader Rahul Gandhi said there would be economic devastation if the poor were not helped urgently with cash and free rations.

AK Antony, Ahmed Patel, Ghulam Nabi Azad, Adhir Ranjan Chowdhury and Mallikarjun Kharge were other senior Congress leaders who attended the meeting.

Other opposition leaders present in the video conference were JD(S) leader HD Deve Gowda, besides CPI-M's Sitaram Yechury, CPI's D Raja, Sharad Yadav (LJD), Omar Abdullah (NC), Tejashwi Yadav (RJD), Jitan Ram Manjhi (HAM), Upendra Kushwaha (RLSP), Jose K Mani (KC-M), Badruddin Ajmal (AIUDF), Jayant Chaudhary (RLD).

The opposition parties also issued a joint statement, saying that the Centre has failed in discharging its responsibilities in a timely, effective and sensitive manner during the pandemic.

The economy has collapsed and all sections of society face acute distress, with livelihoods having been destroyed and many lives lost, they said.

Grand announcements have been made by the government but they have not done anything meaningful to alleviate the sufferings of people and address the pressing concerns of farmers, migrants and other workers, the statement said.

"In fact, the Union government has unabashedly usurped powers vested in the States undermining the constitutionally guaranteed federal democracy," it said, adding this is not the time for the Centre to indulge in "showmanship or one-upmanship", but this is the time for a gigantic and collective endeavour.

"It is important that the government reaches out and engages in a dialogue with all political parties in a systematic manner, listen seriously to the suggestions that we have to make, activate Parliamentary institutions like Standing Committees and be genuine in helping the states financially and otherwise," the parties said in the statement.

They also demanded a direct cash transfer of Rs 7,500 per month to families outside the Income tax bracket for 6 months, an immediate cash assistance of Rs 10,000 along with free ration and free transportation for migrant workers to their native places.

The BJP hit back at the Congress, saying that the party was playing "cynical" politics over the COVID-19 crisis as Sonia Gandhi and her "family" have "indulged in drama" at the time of a national catastrophe.

In a statement after the opposition meeting, BJP spokesperson and MP GVL Narsimha Rao said it is the Congress president and her daughter Priyanka Gandhi Vadra who have "played cruel jokes and cynical politics on migrant workers."

"They did nothing for migrant workers except the mother-daughter duo making some grand announcements. Except indulging in drama and petty politics at a time of national crisis, Sonia and her family did nothing to contribute to nation's united fight against the pandemic," Rao said.

"Never before have a principal opposition party indulged in such cynical politics and the Congress will pay a political price for playing negative politics," the Rajya Sabha MP claimed.
Gold prices slump to Rs 48,900 per 10 gm, Silver rallying at Rs 51,950 a kg
Posted on 11th July 2020
Gold prices on Saturday fell to Rs 48,900 from Rs 49,100 per 10 gram, while silver climbed to Rs 51,950 from Rs 51,900 per kilogram, according to Good Returns website.

Gold jewellery prices vary across India, the second-largest consumer of the metal, due to excise duty, state taxes, and making charges.
---
Facebook plans to ban political ads before US Presidential election: Report
Posted on 11th July 2020
Facing intense criticism from all quarters, Facebook is planning to ban political ads on its platform like Twitter does as the US inches closer towards the presidential election in November, the media reported on Saturday.

According to a report in CNN Business citing sources, the potential ban on political ads to reduce the spread of disinformation has been under consideration since last fall.
---
RIL closes four Jio stake sale deals, receives Rs 30,062 cr from investors
Posted on 11th July 2020
After Facebook Inc, Reliance Industries has closed deals to sell a minority stake in its digital arm to four other investors, receiving a total of over Rs 30,062 crore.

In a regulatory filing, Reliance said it has closed the sale of 6.13 per cent stake in Jio Platforms with L Catterton, The Public Investment Fund, Silver Lake and General Atlantic.
---
Kolkata: Eden Gardens to be used as COVID-19 quarantine facility for police personnel
Posted on 11th July 2020
Kolkata Police can now use the galleries of Eden Gardens stadium as a makeshift quarantine facility, the Cricket Association of Bengal (CAB) on Friday said.

A meeting at Kolkata Police Headquarter, Lal Bazaar, took place at the Chamber of Special Commissioner Jawed Shamim. It was attended by CAB president Avishek Dalmiya.
---
India sees 27,114 new coronavirus cases, tally crosses 8 lakh-mark
Posted on 11th July 2020
In another highest single-day spike of coronavirus cases, India on Saturday reported 27,114 new cases in the last 24 hours. As many as 519 deaths were reported during this period.

With this, the country's total count has crossed the eight lakh-mark.

The total number of positive cases in the country stands at 8,20,916, including 2,83,407 active cases, 5,15,386 cured/discharged/migrated and 22,123 deaths, according to the Ministry of Health and Family Welfare.
---
Be the first person to write a business review for PM Modi's economic package 'cruel joke on country': Sonia Gandhi