Coronavirus Pandemic: Global COVID-19 death toll stands at 33,509; more than 7 lakh infected across the world
Posted on 30th March 2020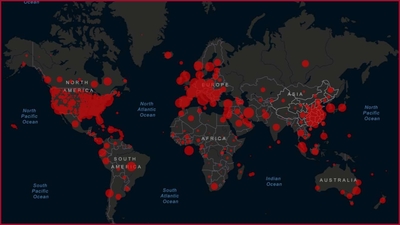 The global coronavirus death toll crossed 33,000 on Sunday, as New York state in the United States alone reported around 1,000 deaths on this day, which is more than 40% of the country's death toll. The death toll in Italy, which had crossed 10,000 on Saturday, stood at 10,774 by the end of Sunday.

The numbers, however, look especially grim for the US. With 132,637 confirmed COVID-19 cases, the number of affected people in the US is the highest in the world. Figures released Sunday morning showed 678 coronavirus deaths in New York City alone, while the New York state, which continues to be the epicenter of the pandemic in the U.S., neared 1,000 deaths.

At 12:15 AM on Monday, the Johns Hopkins University's coronavirus database put the number of affected people world at 704,095, with the figure rising every passing minute. According to the database, 33,509 people have been killed by COVID-19 so far, worldwide.

In Europe, Italy has reported the highest number of deaths at 10,779 while the death toll in Spain is 6,606.

The number of cases in Italy reached 97,689 with 5,217 more cases being recorded in the last 24 hours.

Spain reported 5,564 new cases on Saturday, taking the total to 78,799.

The number of deaths in Iran crossed 2,500-mark. The Johns Hopkins University database put the number of deaths in Iran at 2,640 with the total number of confirmed cases at 38,309.

In India, the number of total cases crossed the 1,000-mark on Sunday, and currently stands at 1,024. The government on Tuesday had imposed a nationwide complete lockdown for 21 days with only essential personnel allowed to come out of their homes.

The number of global cases this month has seen a dramatic jump. While it took 67 days from the detection of the first case to reach one lakh, most of them in China, it took 11 days to infect another one lakh people. The number of cases rose exponentially after that as it took only four days to reach from 2 to 3 lakh and three days to add another one lakh cases as it crossed 4-lakh mark on Tuesday. It has added nearly three lakh cases in the next four days after Tuesday.
Over 90 held for planning to protest near Visakhapatnam's LG Polymers plant
Posted on 6th June 2020
Visakhapatnam police on Friday arrested over 90 people, including leaders and workers of Left parties who were going to protest at LG Polymers plant, the site of the gas leak incident on May 7 that killed 12 people.

We arrested them as they hadn't taken permission for the protest. A FIR filed against 96 people of Left parties, South ACP Swaroopa Rani said.
---
Gold price today falls to Rs 46,696 per 10 gm; silver at Rs 47,800 per kg
Posted on 6th June 2020
Gold price today fell from Rs 46,767 to Rs 46,696 per 10 gram, while silver slipped from Rs 47,930 to Rs 47,800 per kilogram, according to India Bullion and Jewellers Association (IBJA).

The gold jewellery prices vary across India — the second-largest consumer of the metal — due to excise duty, state taxes and making charges.
---
57 Buffalo police officers quit tactical unit to protest suspension of two colleagues who pushed 75-year-old protester
Posted on 6th June 2020
Atleast 57 members of the police tactical unit in Buffalo, New York resigned from the team on Friday to protest the suspension of two colleagues for pushing a 70-year-old man to the ground outside the City Hall on Thursday during the ongoing protests, the local media reported.

Two members of the Buffalo Police Department`s Emergency Response Team were suspended after the incident which was filmed on camera was released by a local radio station.
---
Coronavirus Outbreak: With nearly 10,000 cases in a day, India crosses Italy as 6th worst-hit nation; tallest spike yet
Posted on 6th June 2020
The coronavirus cases in India continue to spread rapidly as the country has marked significant and consecutive highest jumps in the COVID-19 tally over a major part of the last two weeks. With nearly 10,000 new cases reported in the last 24 hours, India's COVID-19 count on Saturday hit a new high - 2,36,657, overtaking Italy to take the sixth spot among countries with the highesr caseload of the virus.

At 9:30 AM on this day, the COVID-19 tally in the country has reached 2,36,657 cases, which includes 1,15,942 active cases; 1,14,073 cured, discharged, or migrated patients, and 6,642 deaths.
---
Toyota to hike price of Camry Hybrid & Vellfire models from next month
Posted on 6th June 2020
Toyota Kirloskar Motor (TKM) on Friday announced it would increase the price of Camry Hybrid Electric Vehicle and The Vellfire with effect from next month.

It has been necessitated due to the substantial rise in exchange rate, the company said in a statement.
---
Be the first person to write a business review for Coronavirus Pandemic: Global COVID-19 death toll stands at 33,509; more than 7 lakh infected across the world