Paid leave must for those quarantined, daily wagers during lockdown: Noida
Posted on 30th March 2020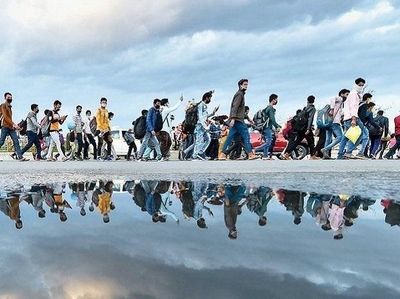 Amid an exodus of thousands of daily wage earners from Delhi-NCR to their far-flung homes, at towns and villages across North India, Nodia administration passed an order to give 28-day mandatory leave to any employees infected with coronavirus. Along with that the industries closed due to the lockdown will also have to pay their dail wagers along with leave during the 21-day nationwide lockdown due to coronavirus outbreak.

In the order passed late on Saturday night by the Gautam Buddh Nagar district administration, any worker or employee infected with the virus and quarantined either at hospital or at home will be given the paid leave by their employer across Noida and Greater Noida. It also mentioned that shops, industries and factories closed because of the lockdown will have to give daily wage along with leave to their workers and labourers during the closure period.

Gautam Buddh Nagar District Magistrate B N Singh said the Uttar Pradesh government has already declared the pandemic as a "disaster" and the lockdown has been ordered with an objective to contain the virus from spreading.

"Workers and employees who are infected with coronavirus (Covid-19) and those quarantined for suspected coronavirus for treatment will get 28 days' paid leave.

This will be done only when such patients produce a certificate of treatment to their employers upon being discharged as healthy," Singh said.

"All such shops, commercial facilities and factories, which have been closed temporarily because of the order of the state government or the district administration, will provide paid leave to their workers and labourers for the duration of the closure," he said in the order.

Arrangement should be made by such establishments to make the payments to their workers and labourers on March 30 and 31 or April 3 and 4, depending on their situation, the order stated.

Singh said he has invoked the powers vested in him as the district magistrate under the National Disaster Management Act, 2005 to issue this order and any violation of it would attract legal action.

Action will be taken against offenders under Section 51 of the Act, which provides for one year of imprisonment or financial penalty or both and two years of jail if violation of the order causes any loss to life or property, the order stated.

People can use the administration's integrated control room number (0120-2544700) to report any related violation, the district magistrate said.

Gautam Buddh Nagar has recorded 32 cases of coronavirus till Sunday, a Health Department official said.

The administration had in an order passed on Saturday asked landlords to collect rent from their worker-tenants only after a month, with reports claiming that migrant workers had set off to their homes as they did not have money to pay rent.

The administration has already sought financial support from those willing to help it in the fight against the coronavirus.

Those willing to contribute can make donations in the name of the district magistrate, Gautam Buddh Nagar to account number 30049902873 of State Bank of India with IFSC code SBIN0005106 or send a demand draft or cheque also, Singh said in his appeal to the people.

Separately, the administration has also formed 30 teams for monitoring that essential items, including food items and medicines, are being made available to people and sold at correct rates.

Chief Development Officer Anil Kumar Singh has been appointed as the nodal officer for these teams which will also check black marketing, hoarding and profiteering, if any, across Noida and Greater Noida, officials said.
Over 90 held for planning to protest near Visakhapatnam's LG Polymers plant
Posted on 6th June 2020
Visakhapatnam police on Friday arrested over 90 people, including leaders and workers of Left parties who were going to protest at LG Polymers plant, the site of the gas leak incident on May 7 that killed 12 people.

We arrested them as they hadn't taken permission for the protest. A FIR filed against 96 people of Left parties, South ACP Swaroopa Rani said.
---
Gold price today falls to Rs 46,696 per 10 gm; silver at Rs 47,800 per kg
Posted on 6th June 2020
Gold price today fell from Rs 46,767 to Rs 46,696 per 10 gram, while silver slipped from Rs 47,930 to Rs 47,800 per kilogram, according to India Bullion and Jewellers Association (IBJA).

The gold jewellery prices vary across India — the second-largest consumer of the metal — due to excise duty, state taxes and making charges.
---
57 Buffalo police officers quit tactical unit to protest suspension of two colleagues who pushed 75-year-old protester
Posted on 6th June 2020
Atleast 57 members of the police tactical unit in Buffalo, New York resigned from the team on Friday to protest the suspension of two colleagues for pushing a 70-year-old man to the ground outside the City Hall on Thursday during the ongoing protests, the local media reported.

Two members of the Buffalo Police Department`s Emergency Response Team were suspended after the incident which was filmed on camera was released by a local radio station.
---
Coronavirus Outbreak: With nearly 10,000 cases in a day, India crosses Italy as 6th worst-hit nation; tallest spike yet
Posted on 6th June 2020
The coronavirus cases in India continue to spread rapidly as the country has marked significant and consecutive highest jumps in the COVID-19 tally over a major part of the last two weeks. With nearly 10,000 new cases reported in the last 24 hours, India's COVID-19 count on Saturday hit a new high - 2,36,657, overtaking Italy to take the sixth spot among countries with the highesr caseload of the virus.

At 9:30 AM on this day, the COVID-19 tally in the country has reached 2,36,657 cases, which includes 1,15,942 active cases; 1,14,073 cured, discharged, or migrated patients, and 6,642 deaths.
---
Toyota to hike price of Camry Hybrid & Vellfire models from next month
Posted on 6th June 2020
Toyota Kirloskar Motor (TKM) on Friday announced it would increase the price of Camry Hybrid Electric Vehicle and The Vellfire with effect from next month.

It has been necessitated due to the substantial rise in exchange rate, the company said in a statement.
---
Be the first person to write a business review for Paid leave must for those quarantined, daily wagers during lockdown: Noida