Banks of future will be very different, says RBI governor Shaktikanta Das
Posted on 25th February 2020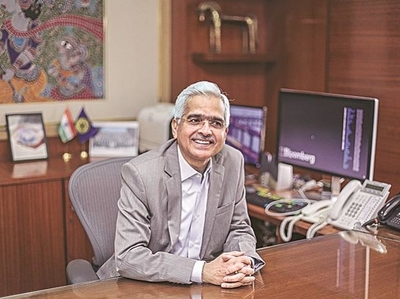 Banks of the future would be extremely different from now, and regulating the distinct segments of these banks would be a challenging task, Reserve Bank of India (RBI) Governor Shaktikanta Das said on Monday.

Therefore, an integrated framework for resolution of financial firms operating in India could be expected in the near future as that would add to the resilience of the financial system, Das said at the annual banking event of Mint.

Financial technology companies (fintechs) are posing challenges to the existing banks, but big technology companies, or BigTechs, are also entering the financial services industry in a significant way. Some BigTechs are depending on their data-network activities, while venturing into payments, money management, insurance, and lending activities.

"At present, financial services are only a small part of their business globally. But given their size and reach, their entry into financial services has potential to bring about the rapid transformation of the financial sector landscape," Das said.

The entry of these firms have many potential benefits, and they can easily provide basic financial services to the masses at cheap cost, he said.

But the advent of fintechs and BigTechs are a challenge to banks, as well as banking regulators. While banks have to imbibe these new technology and business practices to remain competitive, banking regulators, on the other hand, Das said, "have to focus on achieving a balance between promoting innovation and applying a measured/proportional supervisory and regulatory framework."

"All these mean that the future of banking will not be a continuation of the past.

We would see a very different banking sector, in terms of structure and business model, in the coming years," the RBI governor said.

There would be different categories of banks. The first segment could be large Indian banks with domestic and international presence, for which merger of public sector banks are already taking place. The second segment could be mid-sized niche banks, and the third segment could be smaller private sector banks, small finance banks, regional rural banks, and co-operative banks. The fourth could be of digital players, which may act as service providers directly to customers or through banks by acting as their agents or associates.

In any case, the conventional banking system would make way for next-generation banking, with a focus on digitisation and modernisation, where the need for brick-and-mortar branches would be reviewed continuously.

The decision by the National Payments Corporation of India (NPCI) to set up a subsidiary focusing on taking the Unified Payments Interface (UPI) model to other countries would help enhance global outreach of India's payment systems, the RBI governor said. A new umbrella entity for retail payments, for which draft guidelines have been released, would also intensify competition and further innovation in the retail payments space.

According to Das, despite the recent decline in impaired assets and a significant improvement in provisioning, "profitability of the banking sector remains fragile".

Even as capitalisation has improved, "the sector continues to encounter challenges from events like those around the telecom sector", he said. "Consequently, the overhang of non-performing assets (NPAs) remains relatively high, which is weighing on credit growth."

Banks now have shifted their focus away from large infrastructure and industrial loans towards retail loans, but this diversification strategy has its own limitations. "Further, sector-specific pockets of stress need policy attention," the governor said, adding, proper due diligence and risk-pricing in lending are of prime importance so that health of the banking sector is not compromised while ensuring adequate flow of credit to productive sectors of the economy.

"As the Indian banking sector is propelled forward to a higher orbit, banks would have to strive hard to remain relevant in the changed economic environment by reworking their business strategies, designing products with the customer in mind and focusing on improving the efficiency of their services," Das said.
Telangana CM KC Rao urges PM Modi to extend lockdown till 1st week of June
Posted on 7th April 2020
As confusion around the extension of the lockdown continues to trouble people, Telangana Chief Minister K Chandrasekhar Rao on Monday Prime Minister Narendra Modi to extend the lockdown beyond April 14 to so that the spread of coronavirus in India can be contained.

I'm requesting the PM to talk to all CMs and take a call to extend the nationwide lockdown up to the first week of June, otherwise we cannot control coronavirus pandemic. Even a small country like Singapore is extending lockdown for one more month. Ours is a huge country, Rao said.
---
Global coronavirus death toll nears 75,000; over 13 lakh confirmed COVID-19 cases worldwide
Posted on 7th April 2020
The number of coronavirus cases worldwide has crossed 13 lakh with more than 74,000 deaths, according to the Johns Hopkins University tracker.

The tracker recorded 1,347,676 cases worldwide and 74,744 deaths. Out of the 13 lakh COVID-19 patients, 277,331 have recovered from the disease.

The United States, which has now become the epicentre of the coronavirus, recorded over 20,000 new cases and 1100 new deaths from COVID-19 between Sunday and Monday, according to the university tracker.
---
British PM Boris Johnson taken to ICU as coronavirus symptoms worsen
Posted on 7th April 2020
British Prime Minister Boris Johnson has been taken into intensive care after his coronavirus symptoms worsened on Monday, Downing Street has said.

UK foreign secretary Dominic Raab has taken charge as Johnson was moved to the ICU at St Thomas' Hospital in London on Monday.

Johnson was tested coronavirus positive ten days ago but remained home. He went to the hospital on Sunday night after he continued to have a fever despite self-isolating for more than the stipulated seven days.
---
Coronavirus death toll crosses 10,000 as US enters 'toughest week'
Posted on 7th April 2020
The coronavirus death toll in the United States crossed 10,000 on Monday as the country entered what officials describe as the toughest week.

According to Johns Hopkins University's coronavirus tracker, there are 368,079 COVID-19 cases in the US and 10,923 deaths.

So far, 19,828 infected people have fully recovered.
---
Oil prices skids after Saudi-Russia talks, stocks jump on Covid-19 slowdown
Posted on 6th April 2020
Oil prices skidded on Monday after Saudi-Russian negotiations to cut output were delayed, keeping oversupply concerns alive, while stocks jumped as investors were encouraged by a slowdown in coronavirus-related deaths and new cases.

In currency markets, sterling fell after the British Prime Minister was admitted to the hospital following persistent coronavirus symptoms as the pandemic rapidly spreads.
---
Be the first person to write a business review for Banks of future will be very different, says RBI governor Shaktikanta Das